Yesterday we had some technical difficulties and missed our deadline, which we apologize for to our everyday readers. It rarely happens but when it does we feel bad. Thanks for the emails and concern checking up, it is always appreciated.
Now onto today's thoughts...
With the recent strength in the markets we have been buyers. We have focused on value and only bought those stocks with momentum when they have had pullbacks. It is a trader's/stock picker's market so we must recognize that and play by those rules. We are pondering what to do this morning with some of our gains over the course of the next few weeks but at this time will probably ride the current move out as Japan seems strong and so too does China. Our price targets for buying certain names which we have pointed out as trades still hold.
Chart of the Day:
One has to ask, is the liquidity being created by Japan not only benefiting them but US markets as well? They are fighting deflation at home by taking measures to create inflation and with all the liquidity and the cheapening of the Yen, is it far fetched to believe that some of that money is making its way ashore to the US? We think not, and this chart seems to agree...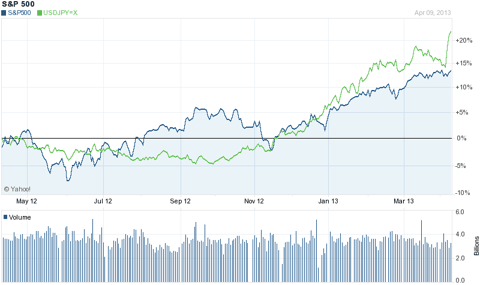 Chart courtesy of Yahoo Finance.
We have economic news due out today, and it is as follows:
MBA Mortgage Index (7:00 a.m. ET): N/A
Crude Inventories (10:30 a.m. ET): N/A
Treasury Budget (2:00 a.m. ET): -$107.0 Billion
FOMC Minutes (2:00 a.m. ET): N/A
Asian markets finished mostly higher today:
All Ordinaries -- down 0.12%
Shanghai Composite -- up 0.02%
Nikkei 225 -- up 0.73%
NZSE 50 -- up 0.57%
Seoul Composite -- up 0.77%
In Europe markets are higher this morning:
CAC 40 -- up 1.26%
DAX -- up 1.13%
FTSE 100 -- up 0.77%
OSE -- up 0.72%
Retail
The big news out of retail is that Ron Johnson is out at JC Penney (NYSE:JCP), but the bad news for shareholders is that the replacement that the company named underwhelmed the market and shares actually traded lower on this news. We were in the camp which thought that an early dismissal for the chief would surely stoke some bullish sentiment as the company would revert back to normal retailing and quit the path where they disregard almost all of the rules of retailing, not to mention brand building. With this drop and the short ratio at over 44% combined with the fact that Johnson is now out, we are no longer in the bear camp here based on the facts as we see them. That does not mean we are bullish, it just means it is a very crowded trade at this point and a double could very well be possible on any good news, no matter how insignificant in the grand scheme of things. We would rather sit this one out and simply watch the fireworks.
Like most we were a bit stunned yesterday that KPMG resigned as the auditor for Herbalife (NYSE:HLF). Once the reason became known the news was not so shocking as it is the move one must make when in the business but we were left to shake our head and simply wonder. The news could have caused serious problems for Herbalife's shares had a halt not been issued and the circuit breakers which were put in years ago and continue to be updated were not in place had a halt not been issued as the company is already fighting for its credibility with Bill Ackman and initial news of an auditor resignation would most certainly have been a sell on the news and wait for the dust to settle before venturing back in type of play. Make no mistake, Herbalife did nothing wrong here and full blame lies on KPMG, the rogue partner and KPMG's very own internal controls. We predict that FASB and/or the SEC will now issue new oversight and ethics rules requiring those employees of an audit firm working on a publicly traded entity to now have their portfolios screened by an internal compliance team at those firms and have documentation for all trades in accounts, either updated monthly, quarterly or annually (our pick being quarterly).
Biotechnology
We noticed a name pop up which we have not discussed in some time as we were waiting for its shares to retrace after its large run-up on the success of one of its drugs. We are talking about Keryx Pharmaceuticals (NASDAQ:KERX) which rose $0.38 (10.35%) to close at $8.10/share on volume of 10.2 million shares in yesterday's session. The price action was due to reports that an opinion was going to be rendered regarding the company's patents for Zerenex, the drug whose results set fire to the share price. The company has been rumored a buyout candidate since those results but one worry for investors is whether the drug is fully covered or not by patents and that is something which will need to be sorted through before full price can be realized here. We are more bullish of this name now than we were before based on the pullback and this support found around the $7/share area, but questions still remain.
Shares pulled back, although not as much as we thought they would, and have since built a solid base. With support built around the $7/share level and the breakout on the tail-end of the chart, we are finding ourselves turning bullish.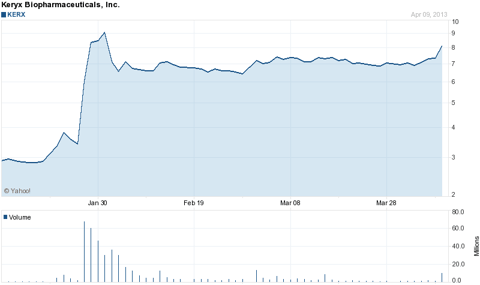 Chart courtesy of Yahoo Finance.
We are aware that the company's drug was supposedly found to be ineffective in the United States during its trials, however BioCryst (NASDAQ:BCRX) is seeing a spike in its share price on another bird flu outbreak in China. The data surrounding the company's Permavir drug has confounded us as it showed little efficacy over a placebo during a trial, yet was pushed by the US's own CDC in order to combat the flu virus in the worst cases here in the US during breakouts. The drug is also approved overseas in Asia and has been stockpiled by other nations around the world. The trial could have been flawed, but investors are being presented with another trading opportunity here which has rewarded us and readers in the past. We are not buyers here, but we did want to point out the trading opportunity for readers this morning.
So long as the music continues to play this shall be an interesting trade, but with past setbacks readers should be aware of the risks of playing the stock for flu vaccine exposure.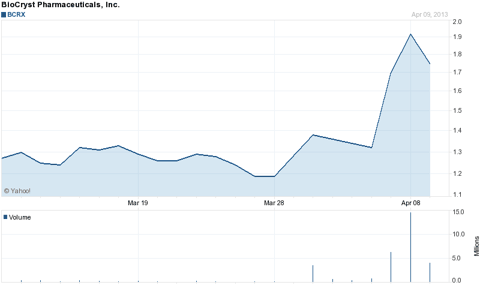 Chart courtesy of Yahoo Finance.
Technology
Speaking of past winners perking back up, 3D Systems (NYSE:DDD) saw its shares tick higher yesterday as well. By past standards it was a modest move for the stock, as it rose just over 4% to close at $32.71/share, but it seems to be drawing more interest lately. As readers should remember, this is a name which we said we thought would bottom around $30/share and although we did not view it as an investment for retirement portfolios or as a long-term play, we were bullish on it for short-term plays if a new uptrend could be formed. In our experience, most of the time a base is built before a new uptrend is begun in these micro raging bull markets, and with the current state of financial markets and the price action in the shares here it certainly seems that a good quarterly report could ignite the fire so to speak.
This chart shows the bottom the stock put in and the small rise since then with a bit of an uptrend in place on the lower end and a bit of base building being done with this trading that has taken place over the past few weeks.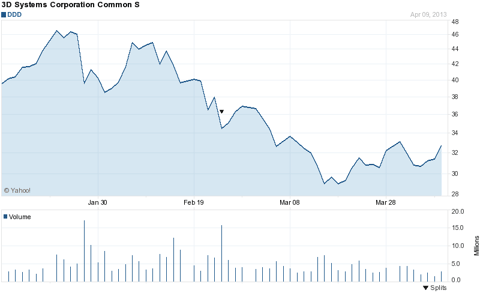 Chart courtesy of Yahoo Finance.
Disclosure: I have no positions in any stocks mentioned, and no plans to initiate any positions within the next 72 hours. I wrote this article myself, and it expresses my own opinions. I am not receiving compensation for it (other than from Seeking Alpha). I have no business relationship with any company whose stock is mentioned in this article.