BioDelivery Sciences (NASDAQ:BDSI) is on track to file a new drug application with the FDA this summer for its Bunavail treatment for opioid dependence, one of two Phase 3 candidates in its product pipeline.
"If all goes according to plan, in mid-2014, we should have an FDA decision on the approvability of Bunavail and be preparing a submission for an NDA on our chronic pain product, BEMA buprenorphine," president and CEO Mark Sirgo, says in an interview with BioTuesdays.com. "NDA filings and positive clinical readouts are important value-driving events ahead of us."
At the end of March, BioDelivery acquired a patented topical clonidine gel for the treatment of painful diabetic neuropathy from Arcion Therapeutics. Evidence has shown that clonidine stimulates an inhibitory receptor in the skin associated with pain fibers which, when activated, is believed to attenuate the pain associated with this condition.
"Though we remain focused on preparing our Bunavail NDA for filing in the coming months and completing our BEMA buprenorphine chronic pain Phase 3 trials, this product acquisition allows us to build our pipeline, while applying our expertise in pain product development, utilizing the FDA's 505(b)(2) regulatory process, and diversifying outside of opioid therapy and our BEMA technology," Dr. Sirgo says.
The 505(b)(2) regulatory process typically allows companies to bring new applications of proven therapeutics to market faster, with less risk and less cost, because they can reference preclinical and clinical data from the originating company. "We specialize in reinventing proven therapeutics," he adds.
In a Phase 2 study, Arcion found a significant treatment difference in a planned subset analysis of diabetic patients who had documented evidence of "functioning pain receptors" in the skin of the lower leg. In the trial's overall population that included patients without "functioning nerve receptors," there was a trend favoring topical clonidine gel.
BioDelivery plans to begin the preparatory process for conducting a confirmatory Phase 2b study with the gel in the latter part of 2013, with data becoming available possibly before the end of 2014. If the study meets its endpoint, the company will proceed with the Phase 3 clinical trial. BioDelivery estimates the annual peak sales potential of the gel to be in excess of $300-million.
In a new research report, William Blair analyst, Tim Lugo, figures the gel could reach market in 2016, which, he said, lines up well with BioDelivery's other pipeline products. He expects a launch of Bunavail in 2014 and BEMA buprenorphine for chronic pain in 2015. "The diabetic neuropathic pain market will be significant, and we view this deal as favorable, given the diversification to the company's previously opioid-focused pipeline and the lack of Drug Enforcement Agency constraints surrounding topical clonidine," he wrote. He rates the stock as "outperform" with an $11 price target, based on a peak-year sales estimates and the probabilities of success for Bunavail and BEMA buprenorphine. The stock closed at $4.28 on Friday.
In 2012, BioDelivery was the best performing stock in the Russell 3000, climbing 435% to close at $4.31 at the end of last year. Dr. Sirgo thinks that the 2012 performance was driven by: the company's licensing agreement in January with Endo Pharmaceuticals for BEMA buprenorphine for chronic pain, which is worth up to $180-million plus percentage royalties in the mid-to high-teens; initiation of two Phase 3 trials for BEMA buprenorphine; a positive outcome in a pivotal Bunavail pharmacokinetic study and safety study; and a $40-million financing.
BioDelivery's BEMA technology, which stands for BioErodible MucoAdhesive, consists of a small polymer film that is applied to the inner lining of the cheek. The BEMA films are designed to adhere to the oral mucosa in less than five seconds, optimize delivery of a drug across the oral mucosa and completely dissolve within 15-to-30 minutes. Patents on the technology continue until 2027.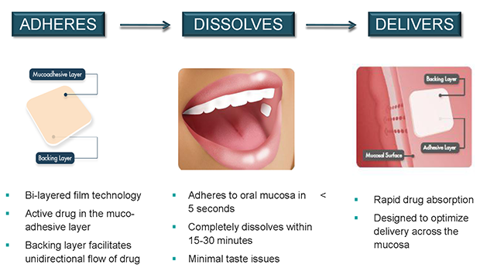 BEMA (BioErodible MucoAdhesive) Advantages
BEMA buprenorphine is the low-dose formulation of buprenorphine for the treatment of chronic pain, while Bunavail is the high-dose formulation of buprenorphine which, combined with the drug, Naloxone, treats opioid dependence. The first product developed and marketed using the BEMA technology was Onsolis, a transmucosal film containing fentanyl for the management of breakthrough pain in certain cancer patients. The product has been approved in the U.S., Canada and the EU, where BioDelivery's commercial partner, Meda Group of Sweden, launched the product as Breakyl last October.
BioDelivery and Meda have submitted a proposal to the FDA to reintroduce Onsolis into the U.S. If approved, the original Onsolis formulation may be on the market during the second half of 2013, while stability data is collected on a newly formulated version of Onsolis. The new data could be submitted to the FDA before the end of 2013 and, if approved, could allow for the introduction of the new formulation during 2014.
Dr. Sirgo explains that buprenorphine is a Schedule 3 opioid, with a lower propensity for addiction and abuse, and has fewer prescribing limitations than Schedule 2 opioids such as morphine. Buprenorphine provides potent pain relief comparable to morphine, with potentially fewer opioid side effects, such as respiratory depression, constipation and cognitive dysfunction. "So, we think we have a very differentiated product," he adds.
There are a number of buprenorphine products already approved for pain, including four-day and seven-day transdermal patches. "It's difficult to titrate patients to pain control when you have to switch patches every seven days, compared with one day with our product," Dr. Sirgo points out. He figures BEMA buprenorphine has a potential market opportunity in excess of $500-million a year as an alternative to hydrocodone combinations such as Vicodin. Approximately 130 million, or nearly half of all opioid prescriptions, are written for hydrocodone combinations to treat pain.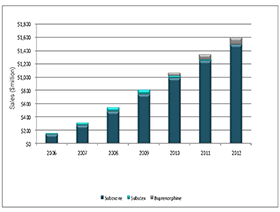 Suboxone Sales
On the other hand, the market for opioid dependence is dominated by a single branded product, Suboxone, which had sales of more than $1.5-billion in 2012. The drug is sold by Britain's Reckitt Benckiser. Suboxone contains buprenorphine and Naloxone, the same ingredients in BioDelivery's Bunavail. According to Dr. Sirgo, Reckitt Benckiser's decision to voluntarily discontinue Suboxone sublingual tablets several months ago and replace the product with a film formulation reshaped the dynamics of the opioid dependence market. Reckitt has converted approximately 80% of its patients to the Suboxone film prior to the entry of generic Suboxone tablets a few weeks ago.
"Our focus has always been on their film market, because we knew generic competition was coming for the tablet market," he contends. "The move by Reckitt had a very positive impact for us." BioDelivery's research suggests that Bunavail has the potential to capture 20% to 25% of the Suboxone market, representing peak-year sales of approximately $250-million.
Dr. Sirgo says the company is having partnering discussions to market Bunavail in the U.S. and, at the same time, is considering selling the product itself. "One way or the other, we'll make a commercialization decision in the second half of this year for the U.S. and the EU, where we do plan to partner the product," he adds.
There are compelling reasons for BioDelivery to go it alone without a partner in the U.S., he says, pointing to a narrow marketing channel and concentrated prescriber base for Suboxone. About 5,000 physicians account for 90% of Suboxone sales, and 75% of prescribing psychiatrists and primary care physicians for Suboxone are east of the Mississippi River.
He notes that BioDelivery could use a contracted sales force of 50-to-75 reps to launch Bunavail. "Buprenorphine is well established in the treatment of opioid dependence, so we only need to inform the medical community of our unique delivery system and the benefits it offers to patients as the next transmucosal film on the market," he adds.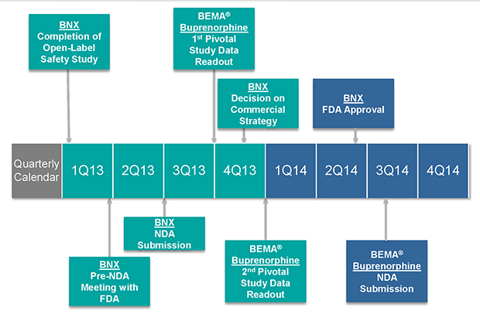 BDSI: Projected Milestones
Disclosure: I have no positions in any stocks mentioned, and no plans to initiate any positions within the next 72 hours. I wrote this article myself, and it expresses my own opinions. I am not receiving compensation for it. I have no business relationship with any company whose stock is mentioned in this article.