Exxon Mobil (NYSE:XOM) will report its first-quarter 2013 financial results on April 25, 2013. With the recent run up in the stock market let's review its 2012 financial results to see if this stock should be purchased ahead of its earnings release, and take a look at catalysts that may propel this stock higher. Demand for energy will continue to increase as the global population grows and Exxon Mobil is well positioned to take advantage with its global presence, integrated supply chain, efficient cost controls and oil extracting technology. Because Exxon has the reputation of being the most successful integrated oil company over the long term, based on metrics such as return on invested capital, it is important to pay careful attention to price to ensure that the stock offers a good enough margin of safety. At current prices, I don't believe Exxon to be extremely attractive, but buying on dips the stock can offer decent value, with an excellent balance sheet that limits the downside.
Exxon Mobil is the world's largest integrated oil company and largest producer of natural gas. The company has several competitive advantages that should allow it to consistently produce high returns on capital. Exxon Mobil's size, integrated supply chain, and financial strength produced a high return on capital employed of 25.4% in 2012. The company predicts that oil will continue to be the number 1 global energy source and natural gas will become the number 2 energy source displacing coal. I believe demand and supply patterns will fluctuate in the short-term but over the long-term demand will rise and supply will shrink. Over the next three decades the company projects that global energy demand will increase by 35% as the global population grows to 9 billion, with most of the demand coming from developing nations such as India and Africa.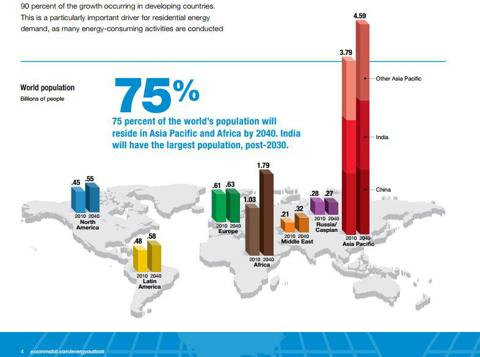 (Source Exxon Mobil Outlook 2013 - pdf)
Countries with national oil companies have been increasing their control over their energy resources, which has presented issues for large publicly traded oil companies. Exxon Mobil has an advantage with its technical expertise, which will continue to allow the company to access oil via partnerships with developing countries. Today it has successful partnerships with various countries such as Russia (Rosneft partner) and Iraq. Its technical expertise has also allowed Exxon's partners to extract energy resources in hard to reach rock formations once considered uneconomical to produce. Exxon Mobil has been a leader in oil extracting technology using horizontal drilling, hydraulic fracturing, and deepwater drilling. Its technical expertise and financial strength will enable the company to have reliable energy supplies to meet growing demand.
Exxon Mobil sets itself apart from the competition with its integrated downstream and chemical operations. Having a global network of refineries and chemical facilities working together gives it the ability to control costs and remain on budget, which helps in boosting the company's bottom line. Exxon Mobil's net income was $44.88 billion in 2012, up $3.82 billion from $41.06 Billion in 2011. Exxon's AAA rating is deserved due to the company's conservative financial make-up. If energy prices decline in the short term, and if over-leveraged competitors run into financial difficulty, there could be opportunities for Exxon to make attractive acquisitions to grow its reserve base. Exxon also has the flexibility to issue additional debt at incredibly low rates, which could be used to reduce the shares outstanding even further. Ultimately, aside from the XTO acquisition, which was done near peak natural gas prices, Exxon has been an astute allocator of capital. Exxon Mobil became the largest producer of natural gas with that high-priced acquisition of XTO. As the world shifts toward less carbon intensive energy sources the company predicts that natural gas will become the 2nd major energy source by 2025, and expects demand to increase by 65% by 2040.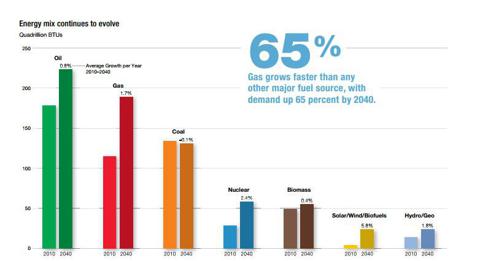 (Source Exxon Mobil Outllok 2013 pdf)
Exxon Mobil has some attractive growth assets in Russia, Canada, and the Gulf of Mexico, but one concern is that it will always have the need to replace energy reserves, which may lead to future over-priced acquisitions that decrease shareholder value. Overall I believe management has done a good job with its capital allocation. Management has continually bought back shares and paid dividends. Exxon Mobil had operating cash flow of $56.2 billion in 2012, up $0.8 billion from 2011, and will continue to generate billions of operating cash flows. This operating cash will allow them enough flexibility for CAPEX, dividends and share buybacks.
In 2012, Exxon Mobil generated $9.70 of earnings per share. Management purchased $21.1 billion in stock in 2012, reducing shares by 4.9% to 4.5 billion shares outstanding. The company paid a dividend of $2.18 per common share, up $0.33 from $1.85 per share in 2011 (Source Exxon Mobil 2012 10K). I believe that management is likely to continue increasing the dividend, and management should be ready to purchase additional shares in the low 80s if the opportunity presents itself. At a recent price of $88.59, Exxon trades at about 10x forward earnings and offers a 2.54% dividend yield, which is higher than the S&P 500 dividend yield of 2.13%, and dividends have increased 59% since 2008. I believe Exxon Mobil to be attractive and from the chart below it shows the company has outperformed the S&P 500 over the last 20 years; I believe this outperformance will continue especially if one factors in dividend reinvestment.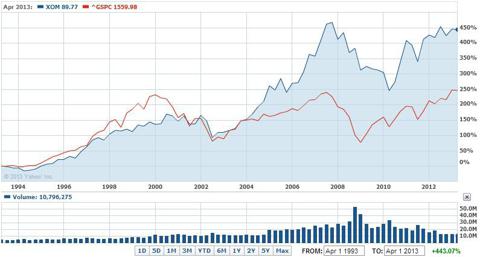 Although global economic growth is still sluggish, Brent crude oil is still above $100 per barrel, while natural gas has risen. Low U.S. natural gas prices pulled down its earnings in 2012, but looking at a one-year natural gas price chart we can see that natural gas prices have moved up from a 52-week low of $1.92 per mmBtu to $4.17 mmBtu, and additionally several major wall street firms have raised forecasts on U.S. natural gas prices for 2013 due to low inventories and record demand. Goldman Sachs raised its U.S. natural gas price forecast to $4.40 per mmBtu from $3.75 and recommended buying $4.20 call options on November 2013 gas futures, while Morgan Stanley raised its forecast price to $3.93 per mmBtu from $3.66. Natural gas prices are up 23% year to date, and if prices continue to rise as the trend on the chart below shows then this would help to increase earnings for Exxon Mobil in 2013.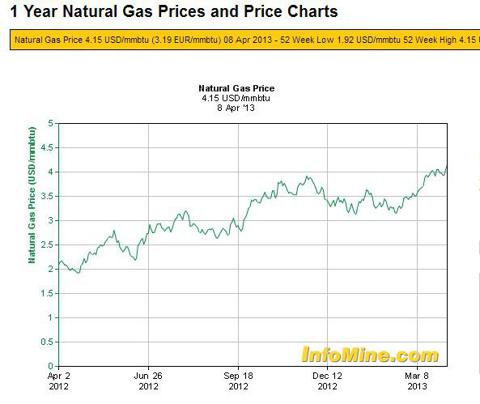 I believe Exxon Mobil's strong financial position coupled with its new investment opportunities will give it the avenue to grow profits in the next few years. Concerns on replacing reserves should not be an issue as its developments in the Gulf of Mexico (Lucius and Hadrian Projects), Canada (Kearl Oil Sands Project), and Russian Artic should prove lucrative over time, while some of these projects are already delivering to its proved reserves of which total 25.2 BOEB (billion oil-equivalent barrels). Also having a large refining capacity in the Gulf of Mexico will help to increase earnings as production picks up in this area. Exxon Mobil currently has a resource base of over 87 BOEB and in 2012 it added 1.8 BOEB, which was 115% of its 2012 production and the 19th consecutive year that additions of BOEB replaced production by more than 100%.
With record low interest rates and governments printing money, I believe exposure to energy stocks could help investors protect against inflation. I believe energy prices will continue to increase and Natural gas will become an important source of energy. Exxon Mobil technological expertise in refining and chemicals should lead to continued increases in margins, while upstream operations should continue to see increases in production. I believe Exxon Mobil should earn about $10-$12 per share in 2013, which is about $1.25 above the mean of Wall Street Estimates, and would also expect the dividend to be increased by 5%. At current prices of the high $80s investors are getting income in a stable company with a strong balance sheet and good upside potential as I believe the stock will be above $100.00 by year end, (10 multiple at $10 EPS puts the stock at $100) and may appreciate more rapidly if management pursues more stock buybacks and increases the dividend. I recommend using a dollar cost averaging approach and buying the stock on dips.
Disclosure: I am long XOM. I wrote this article myself, and it expresses my own opinions. I am not receiving compensation for it (other than from Seeking Alpha). I have no business relationship with any company whose stock is mentioned in this article.