Last week, I wrote an article titled: "What Do You Need To Do Before The Next Market Meltdown?" That article identified and discussed four options that investors have with the market today. My favorite was the option, "Sit tight, do nothing, and ride out the storm."
Now, while the meaning of "doing nothing" might be different for each investor, for me, that involves pretty much little more than rebalancing my portfolio once or twice a year. That's my notion of "doing nothing."
You see, as primarily a Dividend Growth Investor, I believe in purchasing stock in companies that have a history of paying dividends; increase those dividends on an annual basis; increase those dividends at a rate that is greater than inflation; and have the earnings power to continue raising those dividends in the future.
What I Know:
One of my favorite companies is Colgate-Palmolive (NYSE:CL). I started accumulating Colgate back in 1984, along with Coca-Cola (NYSE:KO), Kimberly-Clark (NYSE:KMB), Johnson & Johnson (NYSE:JNJ) and Procter & Gamble (NYSE:PG).
The reason I invested in these particular companies was not because I was some kind of stock picking genius. I bought them because my friends worked for those companies and they would tell me about how well their companies were doing. They were purchasing stock in their 401k programs, in much the same way that I was with Coca-Cola.
Like my friends, I saw that there was tremendous upside to Coca-Cola with the aggressive consolidation of bottling operations, the brands and packages we were rolling out to the market, and the profitability that our business model created. The decision to invest in their companies as well as my own was predicated on the fact that they were companies that had "great stories."
In 1984, a dollar was worth a lot more than a dollar is worth today. A 1984 dollar is worth around $2.20 in today's purchasing power. So the average guy or gal was not swinging for the fences when they invested in the stock market by making large single purchase decisions.
Instead, dollar cost averaging was a pretty standard investment practice and that is the approach that I decided to take with many of my investments and is something that I still practice today.
What You Should Know:
If an investor purchased Colgate-Palmolive in $1000 increments, every January from 1984 until 2013, that investor would be very happy with how things worked out. Let's take a look at a table of $1000 dollar purchases made the first week of January since 1984.
(click to enlarge)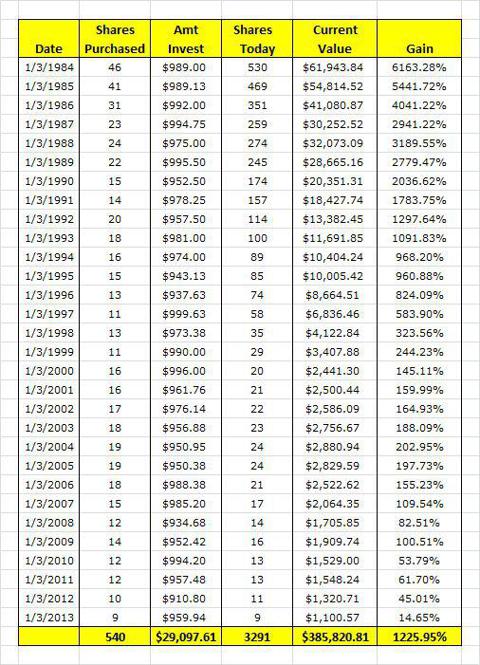 Following this strategy over the last 29 years, you would have invested $30,000 in Colgate-Palmolive stock. Today, that investment would be worth $385,820 with dividends reinvested.
Colgate-Palmolive is a Dividend Champion, having increased dividends annually for the last 50 years. The dividend growth rate (DGR) for CL has been: 5 years, 11.75%; 10 years, 12.98%; and 25 years 11.15%.
Colgate-Palmolive stock has split three times since 1984. There were 2:1 splits in May 1991; May 1997; and June of 1999. Based on the current dividend of $2.72 a share, Colgate-Palmolive would be paying this investor $8951 in dividends annually and at the current price, that would purchase an additional 70-80 shares this year alone.
Conclusion and Summary:
As a Dividend Growth Investor, I believe that creating a portfolio of core stock holdings is an important component of the strategy. In my opinion, Colgate-Palmolive is one of those "core holdings."
Over the past 29 years, Colgate-Palmolive has grown in value, through good markets and bad; has increased dividends on an annual basis; and has rewarded long-term holders of stock in the company with a great return on their investment.
In this particular article, I wanted to show how Colgate-Palmolive has performed relative to those good and bad markets and I wanted to demonstrate that the notion of market timing to purchase positions in the company was not much of a factor. Could an investor have done better by targeting "entry points?" I'm not sure. I've never been really good at finding the "best" entry point. I do know that if a company is priced at a value to its intrinsic net worth, then investors should feel comfortable making a purchase.
What I do know is this. Quality pays for itself in the long run. Colgate-Palmolive is just one of many quality companies that have rewarded investors in the past and it will reward investors in the future, regardless of market corrections.
Disclosure: I am long KO, CL, PG, KMB, JNJ. I wrote this article myself, and it expresses my own opinions. I am not receiving compensation for it (other than from Seeking Alpha). I have no business relationship with any company whose stock is mentioned in this article.