Introduction
Recently Hanwha SolarOne (HSOL) reported its 4Q12 and full year 2012 results, which shed some light on its strategic moves and deployments that may be neglected by analysts who are frequently looking at high ranked PV players in terms of shipment and revenue. HSOL is one that has a unique position in the solar industry and looks to be different from other Chinese competitors. Hanwha SolarOne is originally Solarfun Power Holding first listed on NASDAQ in 2006 (SOLF), a Chinese manufacturer of photovoltaic ingots, wafers, cells and modules. It was renamed in 2011 after the acquisition by Hanwha Group, one of Korea's top conglomerates, HSOL incorporates its legacy of low cost manufacturing in China with project development and financing backed up by the parents company and other Hanwha affiliates all over the world. HSOL's buy-in of German Q.CELLS last year definitely not only strengthens its crystalline cell and module technology and manufacturing, but also benefits its revenue distribution. With the launch of Hanwha Q.CELLS, HSOL all of a sudden becomes the third largest solar manufacturer with 2.3GW capacity across Germany, Malaysia and China supplying any regions in the world without the negative impact of a trade war prevailing in the PV industry.
Business outlook
Since 2010 HSOL has almost no business expansion in terms of shipment, which is 798MW, 844MW and 830MW respectively for 2010, 2011 and 2012. The first quarter of 2013 shipment forecast is 300MW, which will be the historical high and 50% shipment increase Q/Q. The main reason is that HSOL has integrated Q.CELLS' capacity and sales channels, but this is not the whole story. HSOL has had a toll manufacturing relationship with Q.CELLS for years and part of Q.CELLS shipment should had been counted in its previous annual shipment. Therefore, the 1Q13 shipment forecast rise indicates more of HSOL's business penetration success in emerging markets. In addition, based on HSOL's whole year shipment forecast of 1.3-1.5GW, which will outpace market growth, 1Q shipment number is not the end of story. Sequential quarterly shipment increases are quite possible, and a record-breaking season could be expected all along this year.
Geographic diversification and visibility of HSOL revenue will mitigate the risks impeding its 2013 yearly shipment target. HSOL business of year 2013 is well balanced in terms of tolling/own brand and regions, which are 29% tolling business, together with North America, China, South Africa, Japan and other emerging markets range from around 10-20%.
Operation risks
HSOL is not good at cost reduction and Opex control. Currently, cost per watt is 0.64 and 4Q12 GM is -2.6% if excluding non-cash provisions, which does not deviate from industry levels too much. The cost could be further lowered in 1Q13 as the polysilicon price drops below $20/kg. With the scale of economy in 2013, it could be expected that HSOL's cost per watt will be in line with its competitors. Opex's percentage of revenue is at 44%, which is significantly higher than leading peers, whose are below 20% right now.
HSOL has little chance to be profitable in 2013. If ASP and polysilicon price is stabilized, together with cost reduction of at least 15%, Opex control below 15% as a percent of revenue and more shares of business in high margin regions like Japan, U.S., then the turning point of profitability may appear at least by the end of 2013.
Debt burden
The biggest challenge right now that PV companies are facing is debt repayment. The key players' total debt to equity ratio of 4Q12 is shown as follows. (Data source: Yahoo Finance.)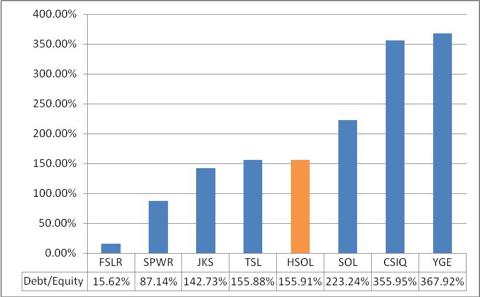 HSOL seems intermediately leveraged among peers, and HSOL has shortcut to reach low cost capital from its parent, Hanwha group, just like SPWR's Total. Financing issues are less bothersome to HSOL, especially for its EPC business expansion.
Technology differentiation
Actually there is almost no technology differentiation among most Chinese solar companies in terms of product offerings. HSOL has got a exclusive opportunity to precede in the industry after attaining Q.CELLS, the long standing solar cell technology leader with plentiful knowledge of solar cell efficiency technology and quality manufacturing process. HSOL is targeting multi-cell efficiency beyond 18% in near term and over 20% in longer term.
Trade war
The anti-dumping ruling from US and EU (most likely) against Chinese-produced PV products has or will damage the top line of Chinese manufacturers. Though HSOL has main manufacturing base in China, it is about to stay away from this trouble as HSOL could take advantage of Q.CELLS manufacturing facility in Germany and Malaysia to supply US and EU regions without any constraints. This will much help HSOL 's penetration in US and EU in advance, while its competitors are planning to move manufacturing lines out of China to avoid high taxes for shipping into US and EU.
Summary
HSOL could be a survivor and maybe a winner eventually after this round of industry insolvency and consolidation, due to its robust financing back up, balanced geographic business presence, diversified manufacturing bases and leading crystalline cell/module technology. The weak point of HSOL right now is cost control and how to lower LCOE (Levelized Cost of Electricity), which are common issues that every manufacturer is facing, while HSOL's differentiation and strength is not easily duplicated. HSOL's unique position will make its success in the PV industry possible.
Disclosure: I am long HSOL. I wrote this article myself, and it expresses my own opinions. I am not receiving compensation for it (other than from Seeking Alpha). I have no business relationship with any company whose stock is mentioned in this article.