One of the impacts I am observing from the Fed's zero interest rate policy and the need to protect the "big banks from failure" is it is changing the way in which business loans are being made. Investors are dissatisfied with making little to no yields on money market, treasuries or high grade credit investments, so they are moving money into riskier investments. Wall Street is obliging the yield seeking investor with companies structured to intermediate between borrowers and lenders with the promise of higher returns in the process - thus the driving force behind the "shadow banking sector."
The riskiness of the shadow banking activities is well documented. Most recently investors witnessed how this market overheated from 2004 to the S&P peak in August 2007 driven largely by real estate and securitized mortgages. The shadow banks were the primary offenders in the mess, and the big banks such as JPMorgan (NYSE:JPM) and Bank of America (NYSE:BAC) were ask, told, cajoled and pushed by the Fed largely at tax payer expense to clean up the mess. And the work still continues.
And now we have returned to the pinnacle of 1566 on the S&P in March 2013 and a new leadership group in the shadow banking sector has emerged showing exceptionally high growth rates. But most of the concerns in the market about Fed policy seem to center on inflation. From my research, it is beginning to become clear that defending against the inflation phantom should not be the income investor's primary worry at this point in time. The bigger concern is most likely to be slow growth, deflation pressures and the resulting financial instability caused by current Fed policy.
I "cut my teeth" in business as a commercial lender at NCNB in 1984-86. Many who do not know the history now only see Bank of America. But those who were in the business at the time know Hugh McColl and his military style and approach to growing the bank. But beyond the operational supremacy behind the bank's growth was a "middle market" lending machine. NCNB put many businesses in business by taking a chance and managing the relationship through time - meaning we not only made the loans to middle market companies, we also made money on the deposits, the trust funds for the kids, the cash management accounts, and fees for everything banking. The loans were many times very risky, and it was only the relationship that made the numbers work.
Flash forward to 2013, and I am not sure the "too big to fail" banks are even allowed to use the words "middle market" with their regulators, at least as far as lending is concerned. Sure these companies are still banking the clients, but in many cases they are outsourcing the loans to get rid of the risk on their balance sheet. And now I see many major banks getting approval to use excess capital to buy back shares to satisfy shareholder demand for a return even as they have large excess reserves available for lending.
In contrast to the lack of bank lending, capital is being deployed into small and mid-market companies in 2013 at high rates. Commercial loan obligations (CLOs) are even back in vogue after a hiatus post the 2008 crash.

As the above chart shows, it is the re-emergence of the securitization market for leveraged loans that is driving capital deployment in the business lending market, just as it did in the 2005 to 2007 timeframe. And where are the banks in this process you ask? Don't look for them on the frontlines. They are the margin lenders in this perverse capital deployment activity which is forcing money from safer investments right into the teeth of the risk involved in extending this type of credit. The front-line soldiers are the purchasers of the securitized assets. The front line soldiers are the shareholders in Business Development Corporations, or BDCs, that are actively booking leveraged loans, securitizing leveraged loans, or even buying securitized loans. Very likely the only place you will find a major bank in this process is in the "leveraged" part of "leveraged loan." Instead of making a loan, they now only make 20-40% of a loan.
I personally find this a very risky way for a financial system to work. And, in the case of the mortgage market in the mid-2000s it led to an explosion in money chasing bad home loans. Just add a naive insurer (NYSE:AIG) to the mix and you have a party which ended in a run on the "shadow banks" involved.
I write this diatribe to put in context why it is important to track companies that are filling the lending "void" left by many major traditional banks in order to get a true read on the U.S. and even world economy. I cover one such company in this article - Prospect Capital Corporation (NASDAQ:PSEC). It is a very interesting finance company. On the company's asset ledger on December 31, 2012, a new line item appeared - CLO Debt and Residual Interest to the tune of $437M (14% of investments), reflecting the securitization machine is now getting cranked up on Wall Street again. This was in addition to a very aggressive year over year increase in investment volume of 77%. It may or may not be indicative of a bad thing for shareholders right now, but it is indicative of fast growing risk-taking being fed by money being chased by Fed Policy into company's promising high yield.
Prospect Capital Overview
Prospect Capital is a closed-end, externally managed non-diversified investment company that has elected to be treated as a business development company, or BDC, under the Investment Company Act of 1940. The company is a financial services company that primarily lends to and invests in middle market privately-held companies.
The company invests primarily in first and second lien senior loans and mezzanine debt, which in some cases includes an equity component. The company also buys investments in collateralized loan obligation (''CLOs'') which are subordinated to senior loans and are generally unsecured. BDC investments are concentrated in companies with annual revenues of less than $500 million and enterprise values of less than $250 million. A typical investment involves a secured loan of less than $100 million with some form of equity participation.
The companies in which Prospect Capital invests are typically highly leveraged, and, in most cases, are not rated by national rating agencies. If such companies were rated, they would typically receive a rating below investment grade (between BB and CCC under the Standard & Poor's system).
Prospect Capital has been a public company since July 27, 2004. It is publicly traded under the symbol PSEC.
Prospect Capital Balance Sheet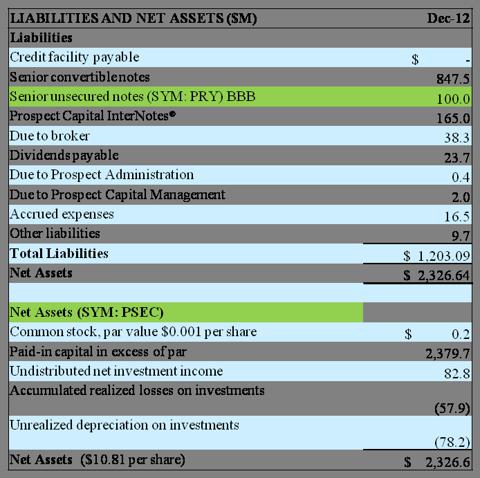 The above table shows a portion of Prospect Capital's balance sheet showing Liabilities and Net Assets as of December 31, 2012.
Net Asset Value Analysis
The table below shows the net asset value of Prospect Capital as of December 31, 2012, was $10.81, an increase of 1.1% year over year.

Prospect Capital's traded share price as of 4/05/2013 was $10.83. This is a 0.16% premium to the net asset value as of year-end.
Also note the 98.4% growth in Net Asset Value year-over-year. This is very rapid growth year over year and resulted from new shares being issued to quickly grow investments during the year and to acquire an 80% interest in First Tower, an installment loan provider specializing in secured personal installment loans, retail financing, mortgage loans, and optional products that include credit-related insurance.
Distributions And Return on Investment
The table below shows Prospect Capital's shareholder distribution history over the past five years. It shows a steep drop in the distribution rate in 2010, and a slow increase since that time. In the most recent distribution announcement the company showed a solid increase of 5.8%. This increase in distributions is a signal that recent asset buys are viewed by management as providing a sustainable return increase.

The yield as a percentage of share value has traded in a range of 11% to 14%.
Investment Income Analysis
As a Regulated Investment Company, a major portion of the income that Prospect Capital must distribute is interest on its investments. To sustain an increasing pay-out ratio the company must be able to grow interest yield on its investments relative to the number of shareholders in the BDC. In today's interest rate environment achieving an expanding yield based on interest income is a very challenging task.

As the above table shows, Prospect Capital has a record of managing investment yield in the range of 12% - 13%. In the second half of 2012 there was a major shift upward in investment yield. The change in mix in the company investments included the addition of a consumer financing subsidiary through the acquisition of First Tower, and the swapping of equity participation interests in companies for a CLO residual and debt interest. Both of these changes substantially increased the current interest yield. Time will tell whether the asset acquisition and mix change will create a permanent move up in returns for the company.
The other major component in the distributable income for a RIC is realized net short-term capital gains in excess of realized net long-term capital losses. The table below shows the performance of Prospect Capital on this measure.

Realized losses have been most typical over the past 5 years at Prospect Capital. However, the company loan performance in 2011 and 2012 is slightly better than the competition, possibly reflecting a better than average underwriting process.
However, realized losses over time are the general rule in a small to medium size finance company BDC structure. The accounting in this structure does not accrue any allowance for bad debts - and there will be bad debts, particularly as a function of overall economic activity. Additionally Prospect Capital is absorbing the acquisition of First Tower. In most cases an acquisition comes with skeletons in the closet. A five-year average for realized losses at Prospect Capital at 2.66% of investments is probably below what should be expected. The reason it is low currently is the tremendous growth in the investment portfolio. Defaults typically occur in the bad times, not good times, and just as sub-prime loans in the mortgage industry, the initial period after a loan is made is typically calm until the real issues start to surface. If you review the pipeline of unrealized losses, there are $73M in potential issues shown in Q4 which if recognized will lower distributable income available in coming quarters. So, the default level, after a year of acquisitions and increased investment risk, should be expected to increase and must be monitored closely.
The more interesting figure I track is a 5 year return on Net Asset Value of the business. Over the past five years accounting for the decline in NAV over time due to investment write-offs and any share issuance dilution (or accretion), and the distributions received, the annual rate of return to a shareholder in Prospect Capital has been 5.00%. This rate of return is far less than the "fat" current yield of 12.0% - but still relatively better than other companies in this market segment for the time period.
Investment Portfolio Quality and Performance - Critical Review Essential
The growth in Prospect Capital's investment portfolio over the past year has been very high. Since December 2011, the year over year growth was a very rapid 77.0%.

Growth at such a high rate in a market where other firms are also growing very quickly must be analyzed critically. To do this analysis, I look at the change in the composition in the investment portfolio and the riskiness of the investments being taken onto the balance sheet. The 10-K and 10-Q reports of BDCs are very poor in grading the riskiness of the investment assets, and Prospect Capital is no exception. So, I make this assessment with a simple weighted grading of the portfolio as shown in the table below.

The table shows that on average the investments in Prospect Capital's portfolio are skewed toward first and second lien loans, which is the company's charter. The 3.86 score is useful in comparing the portfolio to other BDC portfolios. The other aspect of the score is that it can be compared to points in the past to review the trend in the composition of the Prospect Capital portfolio. The declining score year over year shows that the company is increasing the riskiness of its portfolio when putting its capital to work. When combined with the interest yield analysis, you get a picture that the company has at least managed to increase reward (interest yield) in the process of adding risk.
Overall the portfolio quality is increasing in risk, and does warrant continual review. However, it is has not yet materially changed in risk composition since 2008. However, the 1st quarter of 2013 appears to be another very high growth rate quarter for lending, so underwriting quality needs to remain on the radar.
Company Leverage Analysis
Prospect Capital is a leveraged investment company, but by market standards the management team has not shown any tendencies to push the limits. Under the 1940 Investment Company Act, Prospect Capital is restricted from borrowing against its total assets such that its asset coverage ratio goes below 200%.

At the present time, Prospect Capital is within the 2:1 asset coverage ratio limit at 3:1.
Prospect Capital's debt structure shows increased reliance on publicly traded markets and less on secured lines from financial institutions:
The company has a $650M Pledged Asset Credit Facility negotiated with a syndicate of lenders led by Prospect Capital Funding, LLC. The amount outstanding on the facility as of 12/31/2012 was $0.
The company has issued a series of convertible notes to finance its growth. Currently the company has $ 847.5M in convertible notes outstanding with interest rates ranging from 5.375% - 6.25%, with maturities ranging from Dec 2015 - 2019. The conversion price per share for the notes currently ranges from $11.35 to $12.54. The issue for shareholders currently is potential dilution should conversion occur over the next 3-5 years. At 24% of the current capital structure, a shift from an average 5.75% interest expense to 12% distribution payable will have a maximum estimated dilutive impact of approximately 12% if all debt is converted.
On May 1, 2012, Prospect Capital issued $100M in aggregate principal amount of 6.95% senior unsecured notes due 2022 and callable on 5/15/2015. These notes will be our direct unsecured obligations and rank equally with all unsecured senior indebtedness. The debt is rated BBB by S&P and is exchange traded under the symbol (PRY).
Prospect Capital has an agreement with Incapital LLC, to issue and sale from time to time up to $500M of Prospect Capital InterNotes®. On 12/31/2013 there was $165M outstanding in InterNotes® debt financing. The notes are direct unsecured senior obligations and will rank equally with all of the company unsecured senior indebtedness outstanding. Currently the notes issued have stated interest rates ranging from 4.50% to 6.63% with a weighted average rate of 5.92%. The notes mature between July 15, 2019 and December 15, 2042.
The debt structure at Prospect Capital appears well managed and not overly leveraged. The company has a safety line of credit which they are not utilizing in place to absorb issues if the credit markets dry up for any reason. The price action on the newly issued exchange traded debt (PRY) has been above par ($25) since issuance. This is a relatively good signal from the market.
Finance Company Peer Group Comparison
In order to more broadly assess the risk and potential relative return of Prospect Capital, I have developed a matrix to compare the company to market peers like Fifth Street Finance Co (NYSE:FSC) and PennantPark Corporation (NASDAQ:PNNT).

On a relative basis, Prospect Capital has a medium risk investment portfolio and an above average current yield. The company has a more conservative capital structure with which to manage issues should market events occur, as long as they don't lever up in their current lending activities. It is trading on par with its net asset value currently, most likely due to the overhang of dilution from senior convertible debt, and potentially because of the unknown risk with the recent acquisition of First Tower.
Bottom Line
The review of Prospect Capital shows the following areas that investors need to be aware of and constantly monitoring going forward:
Post First Tower acquisition performance, particularly as it relates to loan performance and recognized write-offs
CLO performance as the residual interest invested in is large, and the performance of the equity portion of securitized interests can be volatile and unpredictable
The competition for middle market loans is very high currently, which has historically been Prospect Capital's strength. Near term lower pricing and loan quality in middle market lending is likely to erode net interest income going forward.
Prospect Capital also has the overhang of potential 12% dilution if the company net asset value increases above $12 and the convertible debt exchanges into shares.
Economic activity continues to be slow, and the extremely high lending activity in this shadow banking market is in sharp contrast to the indicators. The pace of growth seems more in response to Fed Policy than to actual real growth - and hopefully this will not result in another busted market as in 2007 in the next 18-36 months. Investors need to be vigilant and ready to cut back positions if financial instability due to overheating of the sector starts to emerge.
I am neutral on the shares at the current price level. I rate the company bonds (PRY) a buy, if you can actually enter the investment at a yield to call above 4%, and a yield to maturity of 6% or greater. Should the bonds not be called in 2015, you will own an investment grade asset that is well collateralized with a mid-term maturity of 2022 that can withstand most economic downturns.
Disclosure: I am long BAC. I wrote this article myself, and it expresses my own opinions. I am not receiving compensation for it (other than from Seeking Alpha). I have no business relationship with any company whose stock is mentioned in this article.