Oil production in the United States came into 2012 at 5.8 million barrels per day and is now (unbelievably) at 7.15 million barrels per day.
There have been really only two unconventional oil fields that have driven this increase.
The Bakken in North Dakota: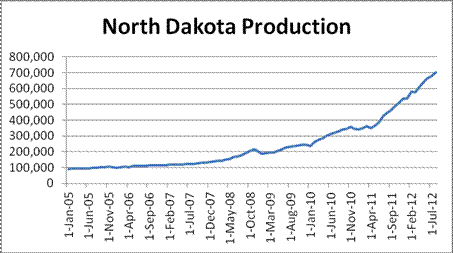 And then the Eagle Ford in Texas: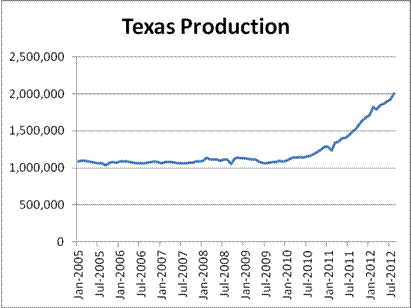 Independent producers like EOG Resources (EOG), Chesapeake Energy (NASDAQ:CHK) and Continental Resources (CLR) having been leading the charge and growing oil production very quickly.
I Don't Believe Recent Growth Is Repeatable
I'm going to go out on a limb here and say that while American (and Canadian) oil production growth is going to continue for a long time, the surge experienced in 2012 is not repeatable south of the border.
Why?
For two reasons.
One is that the big increase in rigs that moved from natural gas to oil in 2012 creates a one-time surge.
Two is that the high decline nature of these high decline tight oil wells make them a very fast moving treadmill to run against in order to grow production.
I'll try and demonstrate what I mean.
The chart below is from Canadian unconventional oil producer Petrobakken (PBKEF.PK) and is what production from a resource play well (tight/shale oil) looks like: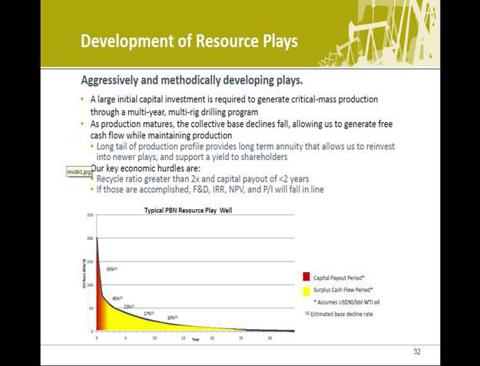 Production comes on very strong initially at over 200 barrels per day and declines very quickly. By the end of the first year that production has dropped to 75 barrels per day. With each passing year the decline rates lessen before settling in at about 10% per year.
The economics of these wells are such that all of the capital invested in the well is recovered quickly, often within the first two years. The high decline rates are expected by the drillers and don't mean the wells don't offer acceptable return on investment.
I think this initial surge in production is important to understand when it comes to understanding what is going to happen with American oil production in the coming years.
To try and get my head around this booming American unconventional production I decided to crunch some numbers.
First I assumed that a typical unconventional oil well has this production curve as pulled from the most recent Petrobakken presentation: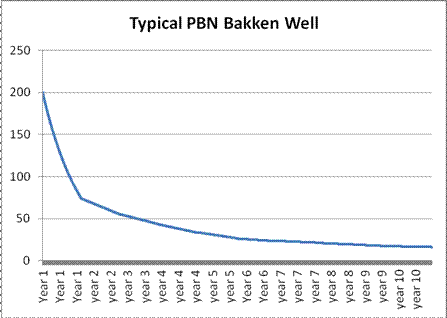 The numbers change depending on the actual resource play involved (ie. Bakken wells in the States have much higher initial production rates) but the decline curves are generally very similar. Production starts strong and drops quickly and severely.
Then for simplicity I assumed in my number crunching that there is one drilling rig, and that rig completes a new well every three months. The first well comes on production on day 1 and then starts declining, the second well comes on production on day 91 and then starts declining and so on.
My intention was to find out how production scales up if the number of rigs being used stays flat.
Here is what this four-well a year production program looks like over the first 10 years: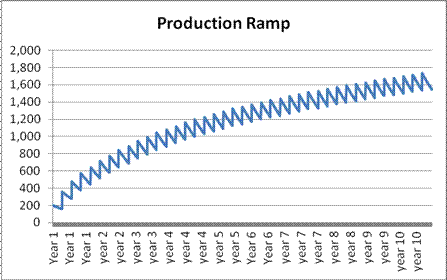 The first year sees production surge to almost 600 barrels per day and it gets to 1,000 barrels per day by the end of the third year. Then the next seven years add less production than the first three years. The final years have very little production increase.
This is a miniature version of what will happen to production growth in the United States over the next several years.
The table below perhaps provides better detail:
| | | | | | | |
| --- | --- | --- | --- | --- | --- | --- |
| | Total Production | YoY Increase | Avg Daily Production | Increase | Exit Rate | YoY Increase |
| Year 1 | 130,690 | 130,690 | 358 | 358 | 443 | 443 |
| Year 2 | 245,895 | 115,205 | 674 | 316 | 690 | 247 |
| Year 3 | 324,860 | 78,965 | 890 | 216 | 880 | 190 |
| Year 4 | 385,877 | 61,017 | 1,057 | 167 | 1,027 | 147 |
| Year 5 | 433,609 | 47,732 | 1,188 | 131 | 1,143 | 116 |
| Year 6 | 471,892 | 38,282 | 1,293 | 105 | 1,240 | 97 |
| Year 7 | 505,809 | 33,918 | 1,386 | 93 | 1,329 | 88 |
| Year 8 | 536,418 | 30,609 | 1,470 | 84 | 1,408 | 80 |
| Year 9 | 563,936 | 27,518 | 1,545 | 75 | 1,479 | 71 |
| Year 10 | 588,786 | 24,850 | 1,613 | 68 | 1,544 | 65 |
The data shown in the table is total production for each year, the average daily production for each year and the exit rate production for each year. Look at how small the increase is in each of the last five years as the new wells can barely offset the amount of decline from already producing wells.
We have a very large initial surge in the first few years and very little growth in later years. If we want production growth to continue at the high early levels we therefore have to drill more wells than we did in the early years.
Where four wells being drilled in year one created a 358-barrel-per-day increase in average production, four wells being drilled in year-10 only created a 68-barrel-per-day increase in production.
If American production increases are to continue as they have in 2011 and 2012 then the number of wells being drilled is going to have to increase every year.
For that we need more and more rigs to drill those wells. In 2011 and 2012 American oil production hasn't had any trouble increasing the number of rigs drilling oil wells because we simply took them away from gas drilling and moved them to oil wells.
The graph below shows the massive shift of rigs from natural gas to oil over the past several years. It also shows something else that is encouraging, the oil directed rig count stopped increasing mid-2012.
We have gone from 200 oil directed rigs as of June 2009 to 1,400 today. If we now flatten at 1,400 the oil production growth in the next couple of years isn't going to resemble 2011 or 2012.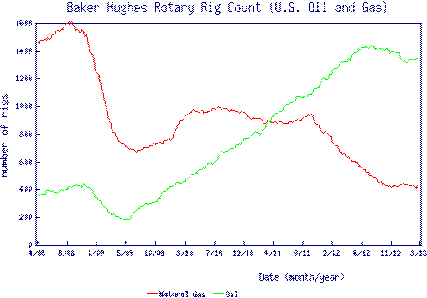 In my opinion production is going up, but it isn't going to continue at the breakneck speed that it has over the past couple of years.
So far we have seen the initial surge like my graphs above show. With each successive year the amount of growth is going to keep decreasing.
The implication of this for investors is simple. We might as well accept the fact that higher oil prices are here to stay because while the boom in American oil production is going to continue, the rate of growth is going to start slowing dramatically.
The unconventional oil revolution provides a welcome decrease in the amount of oil being imported from outside the country, but to extrapolate the growth of the past couple of years out over the longer term is not realistic.
Disclosure: I am long PBKEF.PK. I wrote this article myself, and it expresses my own opinions. I am not receiving compensation for it (other than from Seeking Alpha). I have no business relationship with any company whose stock is mentioned in this article.