Until early 2007, Synaptics' (Nasdaq: SYNA) revenue growth was tied to the PC market, specifically the notebook market since the Synaptics TouchPad was its principal product. When companies are dependent on a specific product line for revenues, they sometimes tend to focus only on increasing share in the market as the overall market expands.
However, Synaptics has proven to be admirably different in quickly diversifying to a new market - touch screens for smart phones and entertainment devices, while continuing to grow its core market, PC applications.
To illustrate this better, I tried to look at the revenue growth of Synaptics and a major PC peripherals vendor, Logitech (Nasdaq: LOGI) and tried to trend the company's revenue growth with PC shipments growth (reported by Microsoft (NASDAQ:MSFT)). As we can see from chart below (Source: Gridstone Research), while Logitech revenue growth continues to be tied to PC market fortunes, Synaptics has broken free and managed to grow at a scorching pace thanks to the its touch screens.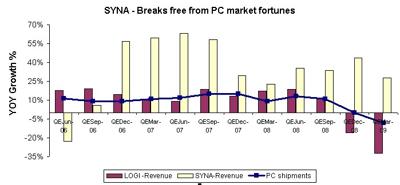 The chart below (Source: Gridstone Research) gives a better idea of how drastically the revenue mix for Synaptics has changed in the last eight quarters.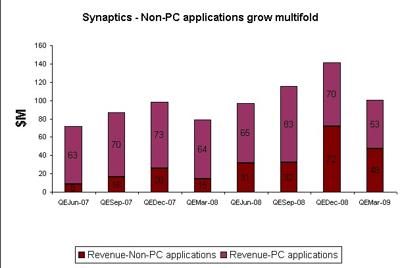 In the last two quarters, Synaptics derived ~50% revenue from non-PC applications against just 10% six to eight quarters ago. So while Synaptics rode the notebook growth wave in 2007, it has quickly re-focussed its efforts on the smart phone market and has come out a winner.
The scorching growth in the non-PC segment has enabled Synaptics to maintain its operating margins (See Chart below from Gridstone Research) while other PC peripheral vendors like Logitech have incurred losses in Mar09.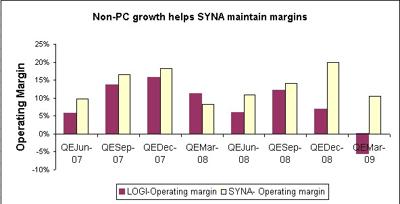 Disclosure: No positions in any of the stocks discussed above.