Stratasys Ltd (NASDAQ:SSYS), with a market cap of $2.62B, was formed in 2012 by the merger of 3D printing companies Stratasys Inc. and Objet Ltd. Stratasys is a global provider of additive manufacturing solutions, which manufactures 3D printers and materials for prototyping and production.
3D Printing is Booming
According to Lux Research's report, the 3D printing market is expected to grow from $777 million in 2012 to $8.4 billion in 2025, fueled by automotive, aerospace and medical markets (poised to grow at 18% annually). General Electric (NYSE:GE), a diversified conglomerate with a market cap of $239.78B, is also stepping into the 3D printing market by purchasing the assets of Morris Technologies and Rapid Quality Manufacturing, which specialize 3D printing or additive manufacturing, as reported by Investors.com.
New 3D Printer for Orthodontic Labs
In March, Stratasys announced the launch of the Objet30 OrthoDesk 3D Printer, which is specially designed for smaller orthodontic labs and clinics. Objet30 is affordable and easy to use while offering efficiency, quality and accuracy for smaller labs. Object30 digitizes orthodontic workflow, thus to accelerate production times, increase production capacity, eliminate physical impressions while allowing digital storage of models.
Analysts' Calls and Estimates
On April 9, 2013, Canaccord Genuity initiated coverage on SSYS with a buy rating and a price target of $82.00. Analysts currently have a mean target price of $84.58 for SSYS, suggesting 15.80% upside potential. Analysts, on average, are estimating an EPS of $0.36 with revenue of $98.98M for the current quarter ending in March, 2013. For 2013, analysts are projecting an EPS of $1.82 with revenue of $439.16M, which is 104% higher than 2012. For 2014, analysts are predicting an EPS of $2.41 with revenue of $529.59M, which is 20.60% higher than 2013.
SSYS's sales is expected to grow in the next three quarters and reach $121.16M by April, 2014, as seen from the chart below.
Source: YCharts.com
Fundamentally, SSYS will be compared with its major competitor, 3D Systems Corporation (NYSE:DDD), to see where it stands.
| | | |
| --- | --- | --- |
| | Stratasys | 3D Systems |
| Market Cap | $2.62B | $3.01B |
| Revenue Growth (3-Year Avg.) | 29.8 | 46.3 |
| Operating Margin, %, ttm | 8.0% | 17.1% |
| Net Margin, %, ttm | 3.9% | 11.0% |
| ROE | 1.0 | 10.6 |
| Debt/Equity | 0.0 | 0.2 |
| | 30.50% | 24.90% |
| P/E | 188.7 | 44.2 |
| Forward P/E | 30.1 | 25.7 |
| Book Value, mrq | $40.96 | $5.38 |
Source: Morningstar & Finviz.com
SSYS' P/E of 188.7 remains high compared with DDD's 44.2. However, SSYS's Forward P/E of 30.1 is better justified as the company is expected to grow its EPS by 30.50% annually in the next five years. Although SSYS is lagging beyond DDD on margins and ROE, SSYS is expected for a faster EPS growth for the next five years. SSYS has a healthy balance sheet with $153.89M total cash and zero total debt. SSYS also has a much higher book value as compared with DDD.
Technically, the MACD (12, 26, 9) indicator is slightly bearish. The momentum indicator, RSI (14), is picking up and indicating a slightly bullish lean at 53.76. SSYS had surged and broken through its 50-day MA of $72.11 in the last trading day. SSYS is also trading above its 200-day MA of $67.13, as seen from the chart below.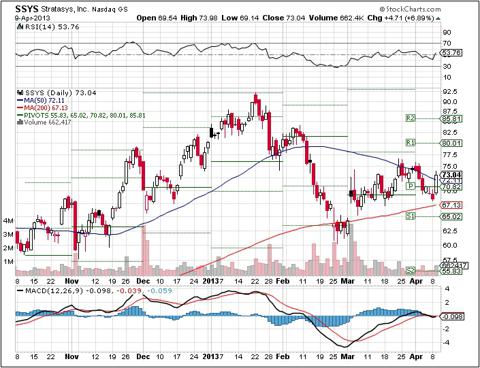 Source: StockCharts.com
How to Invest
Although SSYS's P/E remains high, the 3D printing industry is geared for a long-term boom. With increasing demand and continued innovation with new products, SSYS could be ready to ride a long-term uptrend, which is supported with a healthy balance sheet. In the near term, it is important to see if SSYS can hold above its 50-day MA to determine its short-term direction. For bullish investors, a credit put option spread of June 22, 2013, $50/$55 put can be reviewed, which will allow investors to gain upside credit premium or enable investors to acquire SSYS stock at a price below $55.
Note: All prices are quoted from the closing of April 9, 2013. Investors and traders are recommended to do their own due diligence and research before making any trading/investing decisions. SSYS is a growth stock with high P/E and may not be suitable for conservative investors seeking income with stability.
Disclosure: I have no positions in any stocks mentioned, but may initiate a long position in SSYS over the next 72 hours. I wrote this article myself, and it expresses my own opinions. I am not receiving compensation for it (other than from Seeking Alpha). I have no business relationship with any company whose stock is mentioned in this article.