I assume you all know the classic work of one of the greatest historians of all time, Plutarch's Parallel Lives. Written in the first century A.D., this is a classic work that has both ethical and historic value. The work describes the parallel lives of some very famous Greek and Roman individuals.
If you have not heard, one former Zynga (NASDAQ:ZNGA) employee and shareholder is suing Zynga's management. Ethan Wohl, partner at Wohl & Fruchter says directors aren't supposed to favor their own interest and they should treat other shareholders the way they treat themselves, unless they have a really good reason to do otherwise. So I guess the principle of pari passu somewhat applies to stock lockups also.
The fact that this former employee was not able to sell during the same period as Zynga's top brass caused her to lose money (she says).
As far as why Mark Pincus and several other top level executives of Zynga excluded themselves from the lockup agreement that everyone else was subject to is not the scope of this article. They had their reasons and they will have to answer for their actions, assuming Ethan Wohl is correct, that what they did was sort of improper.
My question is, what happens to a very expensive stock -- to be exact in bubble territory -- when a lockup agreement expires and insiders sell? The answer is the following chart:
According to the Bloomberg video, Mark Pincus and other executives sold the stock in the $12 range. As you can see from the above chart, the stock fell like a rock afterwards.
So the next question is, what might happen to Workday's (NYSE:WDAY) stock, when its lockup agreement also expires? Please note that Workday is multiple times more expensive than what Zynga was, even at the highest point of the above chart.
And exactly what type of lock-up expiration are we talking about? Fellow SA writer Buffett Junior explains:
The lock-up period expires April 10th, 2013. In fact, almost all of the outstanding shares will be eligible for sale. It is important to mention that the company has two classes of common stock. There are currently 26.2 million Class A shares, which are allowed to be freely traded. However, there are another 140.2 million Class B shares that are currently restricted from resale as a result of market standoff and lock-up agreements. The Class B shares are convertible to Class A shares and will become available to be sold on April 10th. In addition, approximately 21.0 million options will also be exercisable upon the lock-up expiration.
And if you didn't notice, today is April 10. That means that as of today, almost all restricted stockholders and or option holders are eligible sellers of Workday's stock.
The market has been anticipating the lock-up expiration for some time now and the stock has corrected a bit over the past several weeks.
However, if one takes into account just how expensive Workday is (read all my Workday logic here), I think that Workday's stock can fall even more -- on a percentage basis -- than what Zynga did.
One thing is for sure, short sellers are rubbing their hands and are shorting every single stock they can get their hands on.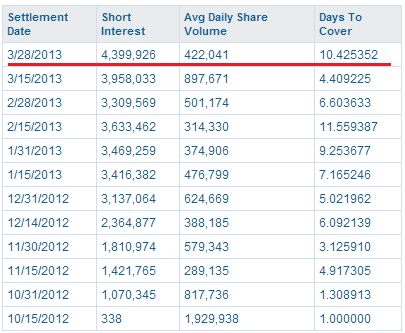 Bottom line
Will Workday's stock have the same faith -- a parallel life -- as Zynga's stock? I think so. As to when the stock might correct is not easy to tell. One thing I can tell you, this stock is so expensive, I wouldn't buy it even with your money.
Disclosure: I have no positions in any stocks mentioned, and no plans to initiate any positions within the next 72 hours. I wrote this article myself, and it expresses my own opinions. I am not receiving compensation for it (other than from Seeking Alpha). I have no business relationship with any company whose stock is mentioned in this article.