In July 2012, Wal-Mart (NYSE:WMT) broke out of a trading range going back to 1999 and today it again established an all-time-high. Over a decade of P/E compression hid strong financial performance and Wal-Mart's stock is now more likely to trade in-line with its growth trajectory. Wal-Mart's breakout is especially interesting because it is occurring in the face of negative news. Despite the new highs, Wal-Mart's valuation is still reasonable and has a P/E multiple below the market's average. In this article I will look at Wal-Mart's trading history, financial performance, valuation and compare it to the peer group. I am bullish on Wal-Mart and will explain my rationale.
Highlights
The following is a summary of my outlook:
Breaking out of a long-term range and ending an extended period of multiple compression
Attractive valuation: P/E multiple below market and many comps
2.5% dividend yield
History of shareholder friendly-capital allocation (dividend increases and large buybacks)
Continued growth opportunities, especially in the international segments
Online retailing could be an opportunity, not just a threat
Defensive stocks are leading the market now
History of P/E Compression
In order to understand the current breakout, I want to go back a long way. Going back to 1999, Wal-mart's stock has been in a range. Although its EPS has been steadily growing, the compression of its P/E multiple kept the stock in place.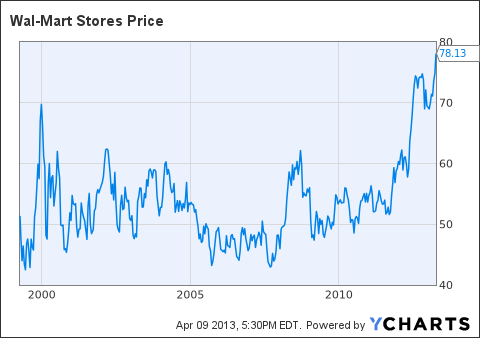 WMT data by YCharts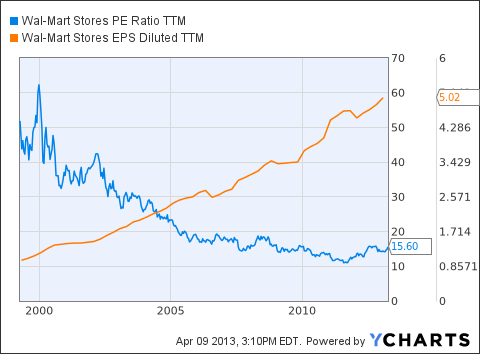 WMT PE Ratio TTM data by YCharts
Good companies eventually work off high multiples over time. After more than a decade, Mal-Mart finally became "cheap" enough and its stock has been rallying.
The Wal-Mart Market
In my July 14, 2012 article, Market Update: S&P 500 At A Crossroads As JPMorgan Offers Relief, Wal-Mart Hits New Highs, I discussed the change in leadership in the market to defensive companies like Wal-Mart:
We consider the Q4/Q1 rally to be the "Apple (NASDAQ:AAPL) rally." Similarly, we think of the current environment as the "Wal-Mart market." We noted several times in prior updates that Wal-Mart was approaching all-time highs after trading in a range going back to 1999.

Allegations of bribery in Mexico caused a drop in late April, but Wal-Mart has since sustained an uptrend. Wal-Mart's rise seems attributable to two factors. It caters to the low end, which is treated as a safe haven in the current environment. Also, it is a large cap with a reasonable P/E and a dividend yield of 2.17% (even after the recent run-up). Investors seem to be favoring a steady, yield-generating stock like Wal-Mart over more risky areas of the market.
The same dynamics still apply and defensive stocks are still leading this rally. Unfortunately, I did not execute on this idea fully. I own Wal-Mart's stock, but I wish that I had played the defensive sectors more back then.
Wal-Mart Today
The following is a profile of Wal-Mart's financials and valuation.
Wal-Mart is trading at a LTM P/E multiple of 15.4x, which is a bit lower than the overall market.
FY1 refers to the fiscal year ended January 2014 (Wal-Mart is on a slightly different reporting cycle than most companies).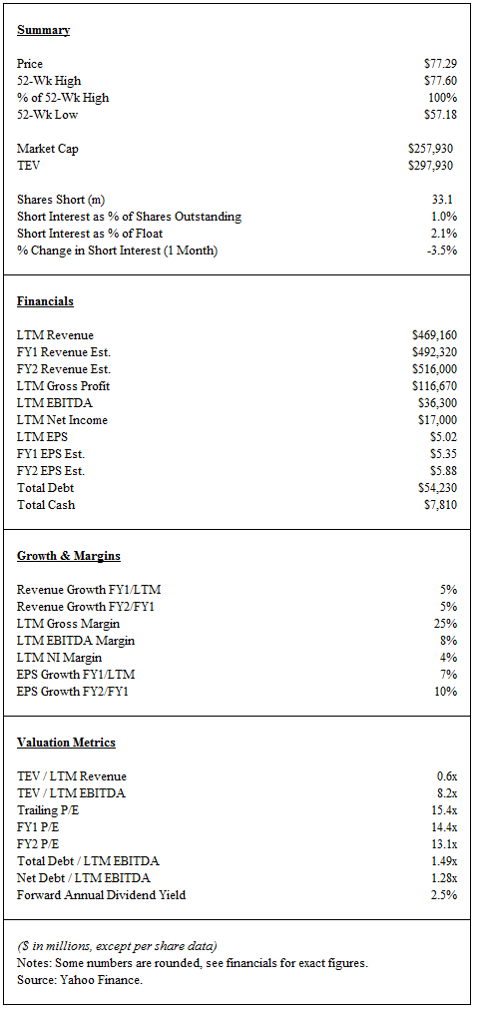 On the Q4 2013 earnings call, management gave the following guidance for the fiscal year ended January 2014 (which corresponds to FY1 above):
Last year, we reported earnings per share of $5.02 for the full year. We expect fiscal 2014 earnings per share to be in the range of $5.20 and $5.40, which includes increased fiscal 14 costs of around $0.09 per share for our e-commerce operations. (Source: Seeking Alpha)
Analysts are projecting EPS of $5.35 for FY 2014, which is still within the range given by management. However, estimates have been coming down slightly. Last quarter's results were lower than estimates on the top line, but better on the bottom line.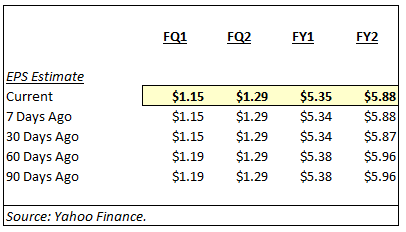 The following table shows Wal-Mart's valuation in comparison with two peer groups.
Wal-Mart's core comps are: Costco (NASDAQ:COST), Target (NYSE:TGT), Dollar General (NYSE:DG), Dollar Tree (NASDAQ:DLTR) and Family Dollar Stores (NYSE:FDO).
I also compared Wal-Mart to the top 10 companies in the Consumer Staples Select Sector SPDR® Fund ETF (NYSEARCA:XLP). Wal-Mart takes third place in the ETF with a 8.3% weighting.
The other top companies in the XLP ETF are: Procter & Gamble (NYSE:PG), Coca-Cola (NYSE:KO), Philip Morris (NYSE:PM), CVS Caremark (NYSE:CVS), Pepsico (NYSE:PEP), Altria (NYSE:MO), Colgate (NYSE:CL), Mondelez (NASDAQ:MDLZ) and Costco.
Wal-Mart is trading at a lower P/E than most of the comps and its growth is a bit lower too. Wal-Mart's dividend yield compares favorably with the core comps, but some of the top companies in the XLP ETF have higher dividends, especially the tobacco companies.
Please note that almost all of these companies are at 52-week highs. Just goes to show how strong the sector has been.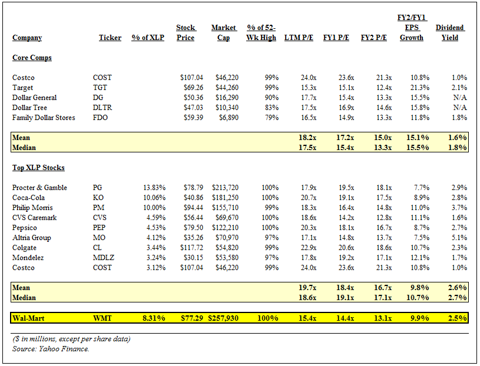 (Note: data as of 4/8/2013.)
Wal-Mart's Key Trends
Wal-Mart has three business units. The U.S. business is the main driver of revenue and income and the international business is the fastest-growing segment. The international segment also has room for margin improvement down the road.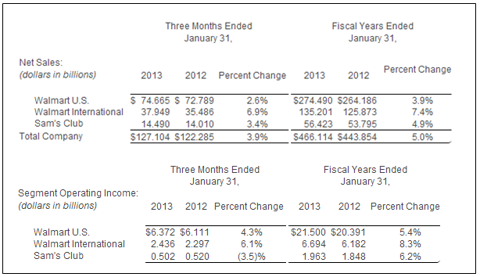 (Source: Q4 2013 earnings release)
Despite its size, Wal-Mart still has growth opportunities in each segment.
The following shows Wal-Mart's projections for FY ending January 2014. Despite its huge size, Wal-Mart is still growing the store count and is projecting same-store sales growth in a tough economic environment.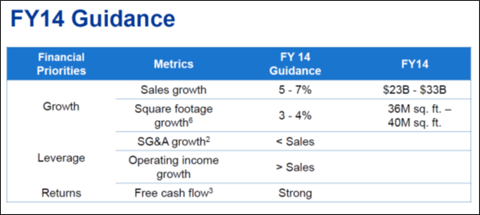 (Source: Wal-Mart presentation at analyst day, October 2012)
However, Wal-Mart guided that the pace of new store openings will not be as fast as in the past and revenue growth will increasingly depend on comp store sales.
In the U.S. segment, Wal-Mart is expanding mainly through smaller stores, which it calls Neighborhood Markets. It plans to open over 500 by FY 2016, representing ~$10 billion in potential sales. Furthermore, it is also testing even smaller stores called Wal-Mart Express.
Internationally, it has more opportunity for revenue growth. Compared with 4,637 stores in the U.S., the company has a lot of room to expand in countries like Brazil (561), China (393) and India (20).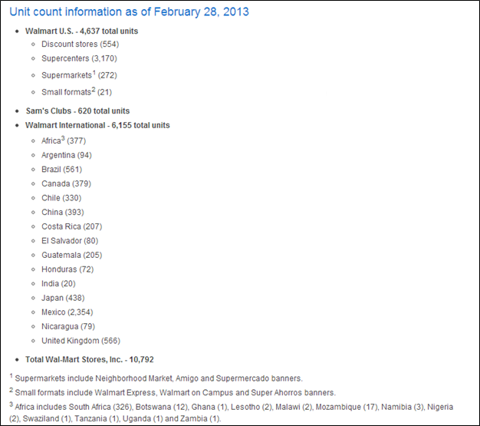 (Source: Walmart.com)
Wal-Mart's price leadership is a key advantage and central to the investment thesis. I remember hearing someone say that being a price leader does not guarantee a company eternal life, but it does mean that it will go bankrupt last (I think it came from a speaker at the October analyst event, see website, but not sure).
Wal-Mart faces pricing challenges from the dollar stores and online retailers, but has been a price leader for a long time. Furthermore, its size and supply chain sophistication give it many advantages.
Capital Allocation
Wal-Mart has a very shareholder friendly capital allocation plan. From FY 2007 to 1H FY 2013 Wal-Mart returned $71 billion to shareholders. To put that in perspective, the market capitalization is ~$260 billion.
The Walton family owns ~50% of the company, so the share repurchase is an even more meaningful percentage of the float.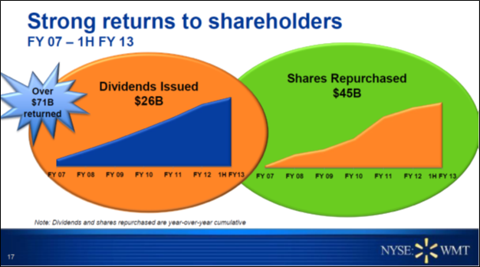 (Source: Wal-Mart presentation at analyst day, October 2012)
The yearly growth rate in the dividends and buyback may moderate, but Wal-Mart is well positioned to continue to expand both. It will be interesting to see if it continues to buy shares as the price increases.
Online Retailers
One of the key risks for Wal-Mart is online retailing, including Amazon (NASDAQ:AMZN). Wal-Mart is active online, but the growth of online retailing will have a profound impact on the retailing landscape and it is unclear how Wal-Mart will react. Its price leadership may be challenged and new same-day delivery services may become a competitive threat.
However, it seems that Wal-Mart is aware of these challenges. It has taken several steps to enhance its online platform and become more tech friendly. Still, it is too early to tell how successful Wal-Mart will be online.
Wal-Mart does not need to think of online retailing only as a threat. It can also be an opportunity. Online retailing can accelerate growth in new areas where it doesn't have stores and Wal-Mart can use its store base as an important part of the delivery logistics, especially for same-day delivery.
Furthermore, Wal-Mart could be well positioned to export online retailing through its international segment to countries that are not yet as advanced as the U.S.
We'll see how this plays out.
Sentiment
Wal-Mart is breaking out to new highs after a string of bad press reports.
Back in April 2012, the New York Time reported about bribery allegations in Mexico. The news drove down the stock price, but proved to be a great time to buy.
In February 2013 Bloomberg reported, "Wal-Mart Executives Sweat Slow February Start in E-Mails," and quoted an executive who said, "In case you haven't seen a sales report these days, February MTD sales are a total disaster."
More recently, there have been reports that Wal-Mart is understaffing its stores and the shelves are empty, see "Wal-Mart Customers Complain Bare Shelves Are Widespread."
It seems like Wal-Mart can't do anything right.
These issues may catch up with Wal-Mart at some point, but the fact that the stock is rallying despite the negative press is a sign of its resilience.
Risks
The following are my key concerns about Wal-Mart:
Competition from online retailing
Competition from dollar stores and other companies
May lose its price advantage over time
Already huge size means that it is harder to achieve incremental growth
Experimenting with new size formats in the U.S. and unclear how it will be received
Potential for global recession and/or U.S. recession and other macro factors (low probability)
Cost inflation and ability to pass it along
Legal issues in the international segments (like the Mexico bribery issue)
Ability to grow margins in all segments
Labor issues
The macro environment could negatively impact my short- and medium-term outlooks for Wal-Mart. I regularly write about my macro outlook. Currently, I am bullish, but if the macro changes then my outlook for Wal-Mart would change. My most recent articles about macro issues are here:
Finally, these are just my concerns. Wal-Mart's SEC documents have the official risk factors.
Outlook For Wal-Mart's Stock Price
I am bullish on Wal-Mart for the long term. The breakout from the decade-long trading range indicates a huge change in the way the stock is perceived. For a decade, earnings growth did not drive the stock and the stock was stuck in place while it worked off its high valuation. However, I now expect Wal-Mart to trade in-line with its EPS growth.
Wal-Mart is trading at a P/E multiple a bit lower than the market average. I do not expect Wal-Mart to achieve much multiple expansion.
Wal-Mart had a 20-year EPS CAGR of 14%. Going forward, this may drop to ~10%. (Share repurchases are a positive tailwind for EPS growth.) Therefore, I expect Wal-Mart's stock price to grow at about a ~10% CAGR. This will not be a smooth rise and there will be periods when it jumps ahead and then falls back.
Investors are also getting a 2.5% dividend yield. My long-term outlook is for about 10-15% total return for Wal-Mart (this is over many years).
In the short term the stock may experience some turbulence. It had a good run lately and is breaking out, but may re-test the breakout level a few times.
Everybody has a different investing style. I like to establish a long-term outlook for a stock and then adjust my holdings using shorter time frames. I may be bullish on a stock and still sell it if I think it went up too much or if have concerns about the overall market. I don't mind moving to the sidelines and getting back in at a later point (even, sometimes, at higher prices). I may do this with my Wal-Mart holding at some point and I may trade it at any time. In fact, I almost always use stops for my positions. Everybody has a different investing style, experience, tax status, risk tolerance, comfort range, etc. and has to make unique investment decisions that are appropriate for their own situation.
Disclosure: I am long WMT. I wrote this article myself, and it expresses my own opinions. I am not receiving compensation for it (other than from Seeking Alpha). I have no business relationship with any company whose stock is mentioned in this article.
Additional disclosure: I may trade any of the securities mentioned in this article at any time, including in the next 72 hours.
Disclaimer: The opinions expressed above should not be construed as investment advice. This article is not tailored to specific investment objectives. Reliance on this information for the purpose of buying the securities to which this information relates may expose a person to significant risk. The information contained in this article is not intended to make any offer, inducement, invitation or commitment to purchase, subscribe to, provide or sell any securities, service or product or to provide any recommendations on which one should rely for financial, securities, investment or other advice or to take any decision. Readers are encouraged to seek individual advice from their personal, financial, legal and other advisers before making any investment or financial decisions or purchasing any financial, securities or investment related service or product.
Information provided, whether charts or any other statements regarding market, real estate or other financial information, is obtained from sources which we and our suppliers believe reliable, but we do not warrant or guarantee the timeliness or accuracy of this information. Nothing in this article should be interpreted to state or imply that past results are an indication of future performance.
THERE ARE NO WARRANTIES EXPRESSED OR IMPLIED AS TO ACCURACY, TIMELINESS, COMPLETENESS, OR RESULTS OBTAINED FROM ANY INFORMATION IN THIS ARTICLE OR ANY LINKED WEBSITE.