Closed end fund (CEF) fund type performance YTD (4/24/09) reflects a tale of two markets. As measured by the SPDR S&P 500 ETF (NYSEARCA:SPY), the stock market YTD represents two legs: a -24.5% "down-leg" from the beginning of the year to the March 9th and a subsequent 27.2% "up-leg" forming an imperfect "V".
The table below illustrates the average share price change for each of the 13 CEF fund types during this period. The three bars for each of the fund types on the chart below represent the average percentage share price change in the following order: YTD, down-leg and up-leg.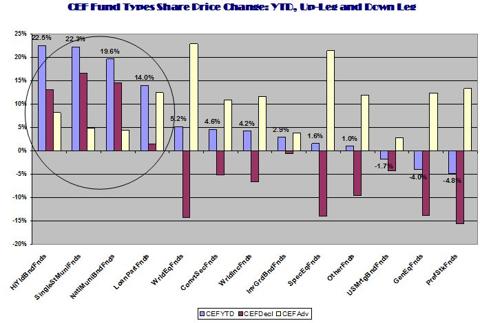 Those circled fund types represent those that have experienced average price appreciation in both the down-leg and the up-leg of the stock market YTD.
There are both common and divergent characteristics of this group. Common to the group is the fund types were all debt related; divergent is the barbell nature of the funds' type risk profiles. Both single state and national muni fund types would be considered more conservative, safer investments, while high yield and loan funds would have been considered riskier given the credit crisis and bank turmoil that has rippling through the economy. Consequently, there may have been elements of a flight to safety while at the same time an element of speculation regarding a recovery in the beaten down fund types.
The greatest swings in the down-leg to the up-leg occurred in the world equity funds and the special equity fund types. The former a function of stock market advances in Asian and Russian stock markets, while the latter can be partially attributed to the "snap back" in real estate funds that have been under significant downward pressure for the past 12 months.
The three fund types that are still underwater YTD are US Mortgage, General Equity and Preferred. Preferred fund types may still have some "juice" left—if the banking industry continues to improve. (John Hancock has three preferred-like funds with no ARPS—although they employ leverage: HPS, HPI & HPF.)

For purpose of comparison, the following asset classes are represented by their major, related ETFs.
YTD, on an unweighted average basis, the CEF universe (643 CEFs) was up 11.3%, distribution yields was 10.0%, discount to NAV declined to 8.5%, and the CEF fear factor was negative at a minus 6.0% (The CEF fear factor is difference between the changes in NAV less the change in price.)
YTD, Templeton Russia & East European Fund Inc. (NYSE:TRF) has been one of the greatest gainers, up 79.2%. One of the greatest losers was The Swiss Helvetia Fund Inc. (NYSE:SWZ), down 27.2%. The Chile Fund (NYSEMKT:CH), a play on emerging Latin American markets and a global economic expansion due to its copper mining, was up 19.7% YTD.
Disclosures: SPY, GLD, USO, TRF, SWZ and CH.