Economic uncertainties including uneven growth in China, European Union policies and the future fiscal environment in the U.S. are growing. Moreover, easy central bank monetary policies will set to impact world oil prices. Risk of an event-driven Iranian supply disruption coupled with lost production in both Iran and Syria (as opposed to already announced sanctions by the U.S. and Europe) will remain key factors in the oil markets over the succeeding months.
Natural gas has been the standout commodity in the U.S. and Europe, up by an average of 67% over the past twelve months. Oil prices, though stable, have edged down from the relative highs last year, and this has had clear consequences for performance across debt and equity markets.
Crude Oil and Natural Gas Price Performance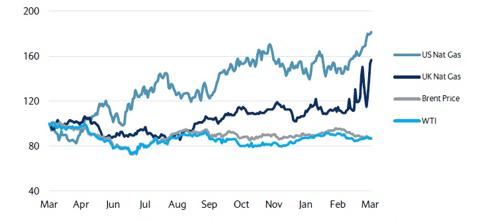 Source: Barclays
Buyback Growth Story
The challenges facing the European oil sector ranged from high decline rates, high maintenance capex and relatively small pipelines of high-return investments, all of which are huge challenges. Goldman Sachs advised investors to spend capex only on medium or high-return projects (with breakeven below US$90/barrel). The rest of the cash should be spent on buybacks and focus on growth per share. This strategy will boost high returns for the sector, even better than targeting growth at any cost.
The chart below shows estimates of growth under the current investment plans and per share volume growth if the companies stopped spending on projects with breakevens over US$90/barrel over the next five years and used that cash to buy back their own shares.
Growth Estimates: Share Buyback vs. Capex Investments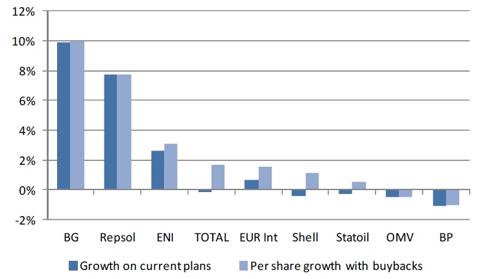 Source: Goldman Sachs
Companies who opt for share buybacks would see an improvement of growth rates from 0.6% to 1.5% annually. The companies that would benefit the most would be Shell (RDS.A) (NYSE:RDS.B) and Total (NYSE:TOT) with 1.5% average annual improvement in per share growth, followed by Statoil.
Strongest Cash Flow Growth
The chart below shows the incremental cash flow over the next three years that will yield from the Top360 oil pipeline operators. Shell stands out for having the strongest cash flow growth in 2013, mainly because of the Pearl GTL ramp-up that only reached full utilization in 4Q2012. Enersis (ENI) achieved the second-highest growth in 2014 to 2015. ENI owes it to a variety of start-ups and ramp-ups in Kazakhstan, Angola, Norway, Algeria, Venezuela and Russia.
Cash Flow Growth Forecast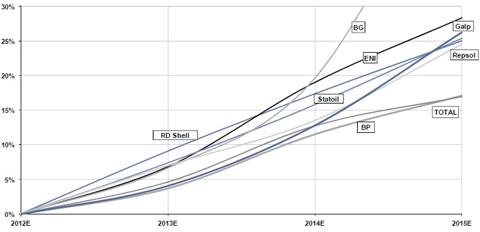 Source: Goldman Sachs
Shell has indicated that it will spend $34 billion of organic capex in 2013, which combined with announced acquisitions of $2 billion and divestment worth $3 billion, implies a net capex of $33 billion.
Most Attractive Dividend Yield
Shell and Enersis have the most attractive balance of high and sustainable dividend yields. The chart below shows the positive spread between dividend yields and US$ 10-year bond yields. Shell, TOTAL and ENI have the most attractive spreads.
Dividend Yields vs. Bond Yields

Source: Company Reports
Stock Valuation
Sector valuation is not so compelling. The integrated oils underperformed the market by 20% in 2012, widening the P/E discount to 22% versus the 16% 20-year average. Despite the dramatic underperformance (a reversal of the 2011 outperformance), this discount is not large enough for a sector that is likely to expect a severe earnings contraction in the coming years. According to Goldman Sachs' oil price estimates, earnings growth registered a negative 6% CAGR (compounded annual growth rate) in 2017, after rising broadly in line with the market over the past two decades.
European Equity P/E vs. Integrated Oils P/E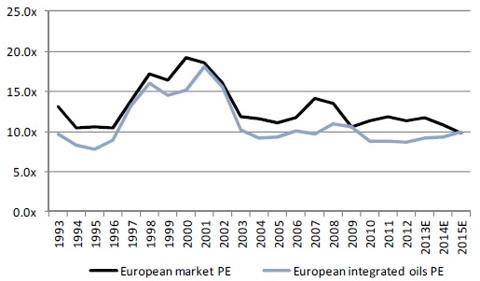 Source: Goldman Sachs
P/E Multiple Forecasts, 2012 - 2013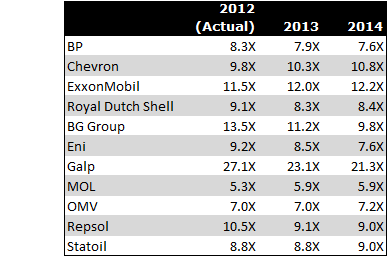 Source: Barclays
RDS stock is presently an inexpensive buy. It trades for just 7.9X twelve-month trailing P/E and fetches a 5.2% dividend yield. The company exhibits solid and stable earnings with a market capitalization of $213,967 million as of March.
Share Price Catalysts
Goldman Sachs lowered its EPS forecast by 4%/4%/6% in 2013/2014/2015, respectively, because of higher cash costs, depreciation and amortization and exploration expenses.
Royal Dutch Shell Price Target History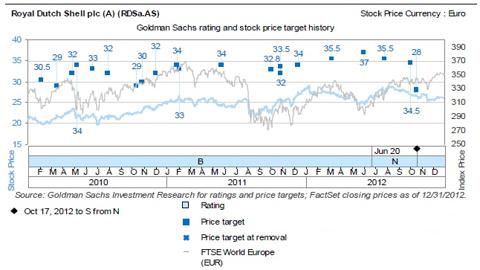 Shell's stock was downgraded to Sell from Neutral. The company is embarking on a major capex expansion to boost growth momentum in the second half of this decade and consolidate its leadership in unconventional products (LNG, FLNG, GTL and shale). The stock had a Buy rating from Goldman Sachs since start of 2010, and then rated Neutral until October of last year.
Equity Earnings Growth vs. Sector Earnings Growth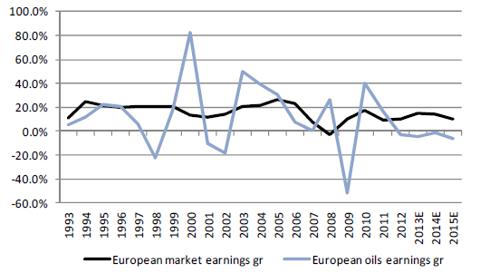 Source: Goldman Sachs
Over the next three years, Shell will have little additional cash flow growth to fill in declines from older legacy assets, as well as unproductive capital builds in Australia and the U.S. As a result, returns and free cash flow will decline in absolute terms and comparatively versus peers in the coming years.
Meanwhile, Barclays expects Shell's medium-term production growth as less differentiated than previous years. As a result, they no longer anticipate the stock to stand on a significant multiple premium relative to its peers.
With the Pearl project central to the delivery of its 2012 cash flow target, the failure of this project would have a major impact on both stock valuations and investor sentiment. In such a scenario, analysts would expect the shares to trade at a 15% discount.
Those interested in additional information on the industry outlook are invited to read the first paragraphs of our article on Exxon Mobil (NYSE:XOM) here.
Disclosure: I have no positions in any stocks mentioned, and no plans to initiate any positions within the next 72 hours.
Business relationship disclosure: Black Coral Research is a team of writers who provide unique perspective to help inspire investors. This article was written by Hans Centena, one of our Senior Analysts. We did not receive compensation for this article (other than from Seeking Alpha), and we have no business relationship with any company whose stock is mentioned in this article.
Additional disclosure: Black Coral Research is not a registered investment advisor or broker/dealer. Readers are advised that the material contained herein should be used solely for informational purposes. Investing involves risk, including the loss of principal. Readers are solely responsible for their own investment decisions.