One of the most interesting things about the flu is the fact that most traders believe the flu season to be inherently unpredictable; thus, it doesn't make much sense to trade it. Any suggestion to the contrary smacks of hubris: If the CDC and World Health Organizations can't predict the spread or impact of a given strain of the flu even three months in advance, what makes me think anyone can profitably trade the flu on a regular basis?
It's true that success of individual flu strains within the human population cannot be predicted. The 2013-2014 flu season could very well be the mildest on record, or it could usher in a new global pandemic. No one knows which. Flu viruses are also constantly evolving via antigenic shift (mutation), and vary in everything from the rate of transmission (R0 or "R-naught") to the case-fatality ratio (how lethal the virus is) to pathophysiology. (How the virus works.)

(Source: National University of Singapore)
However, while the impact of a given flu strain can't be predicted, the impact of the flu season -- with an acceptably small margin of error -- is not only predictable, but profitable.
Flu Is A Winter Crop
Influenza is a "winter crop" -- meaning that the number of flu cases tends to rise after the winter solstice and disappear after the summer solstice. Like all crop seasons, the success of the "harvest" (i.e., the number of infections) varies from year to year. The chart below illustrates this solar-dependent trend.
Fig. 2: Epidemic Virulence (Monthly)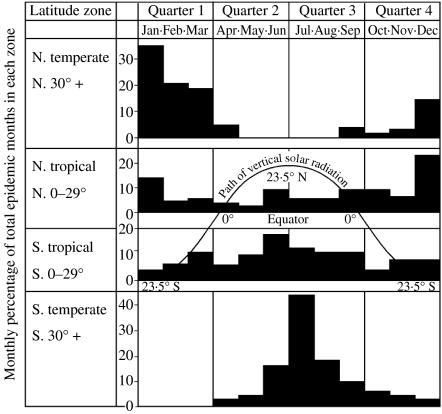 (Source: Epidemic Influenza and Vitamin D, Cannel, Vieth, Umhau et al) (PDF)
The following five conditions inexorably lead to an increase in reported flu cases following the shortest day of the year:
Ultraviolet light breaks down viruses. In winter, the amount of available UV radiation naturally decreases, resulting in increased chance of viral transmission.

Lack of Vitamin D is thought to lower immune system response.

Mucus membranes dry up when the air is dry and cold.

Flu-virus shells are "buttery" in the summer, but harden in the winter, increasing resiliency.

Family members spend more time packed together indoors during the winter months.
This trend, that virulence and severity increases inversely to solar radiation levels, is our first leading indicator.
Example: The Hong Kong flu virus [H3N2] was first isolated in Britain in August 1968 but it did not cause significant summertime illness despite being a novel variant in a none immune population.) While clinical case rates increased in intensity as the sun became progressively lower in the sky each day (i.e., the onset of autumn), but the first community-wide outbreaks didn't appear until the winter solstice. (See Figure 3 below.)
Fig. 3: Confirmed Cases of Hong Kong Flu 1968-1970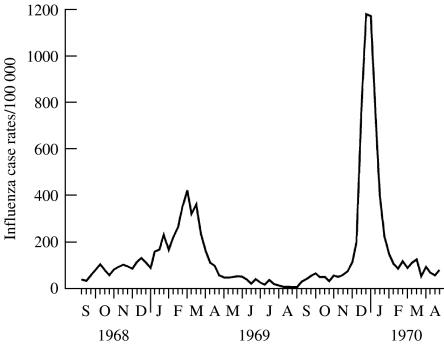 (Source: ibid)
In temperate climate regions, influenza epidemics display distinct seasonality, with widespread infection typically occurring during the winter season months: November-March in the Northern Hemisphere and May- September in the Southern Hemisphere (Hope-Simpson 1992). This predictable sun aversion pattern, which results in the cyclical phenomena we call "the flu season."
Fig. 4: Seasonal Risk Areas [Influenza]: November-April (blue), April-November (red), and year-round (yellow).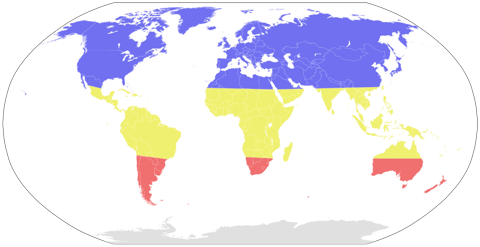 One of the most interesting things about the all-too-common perception among investors that the flu "can't be predicted" is just how predictable the reaction really is when Manhattan is infected. Investment bankers and market makers are human, too, and the absence of key individuals from work disrupts the equity markets in a predictable fashion. Namely, it reduces lower realized volatility, increased bid-ask spreads, lower returns, and increased liquidity risk.
Table 1: Impact of flu on turnover. Overall U.S. flu is negative and statistically significant at the 5% level, while NY specific flu on turnover is negative and significant at the 1% level.) Similar results with the number of trades as the dependent variable.

(Source: Do Stock Markets Catch the Flu? Working Paper 0004FIN-257-2011, University of Texas at San Antonio College of Business)
Of course, we're not strictly limited to epidemics. Given a suitably long-term time horizon, we can predict the incidence of pandemics with a relatively high degree of confidence, as well.
Pandemic Cyclicality
In the 20th century, major pandemics occurred in 1918-1919, 1957-1958, and 1968-1969. The 1918-1919 pandemic was the most destructive in recorded history. It started as World War I (1914-1918) was ending and caused from 20 million to 50 million deaths -- two to five times as many deaths as the war itself.
Fig. 5: Influenza Pandemic, 1918-1919 (Deaths) Spanish Flu [H1N1]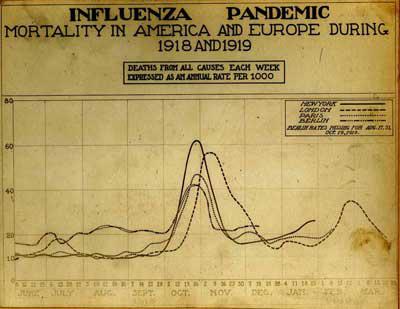 Nothing has been introduced during the past 100 years to affect this recurrent pattern of epidemics and pandemics, and there's no rational reason to think that anything will change in the 21st century. Pandemics, too, exhibit predictive cyclicality -- the margin of error is just wider. Take any seven year period over the past 50 years, and you will find a flu pandemic boiling over.
Fig. 6: Pandemic Cycle: The Seven Year Itch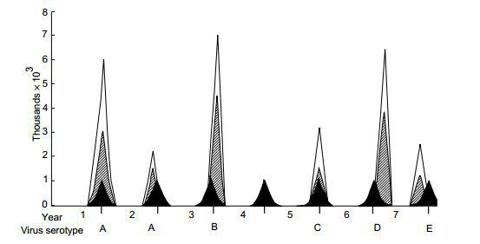 (Source: A history of influenza, 2001 Journal of Applied Microbiology, 91, 572-579)
Front Running The Banks
Recall that most if not all investors believe the flu can't be predicted. The existing "flu trade" therefore ignores specific issues, focusing instead on broad based market moves. The flow-chart below outlines the current "flying blind" approach that institutional traders are likely to take in the event of a low severity pandemic like SARS.
Scenario A: Low Virulence/Severity Pandemic, Limited Disruption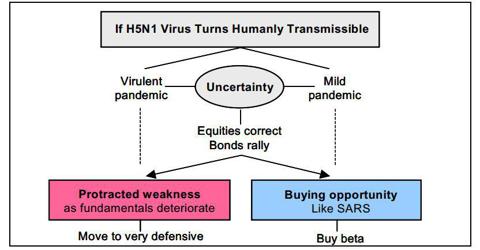 (Source: Citigroup Investment Research)
Front running this rebalancing process is even easier if the pandemic is severe. The model assumes a severe, prolonged influenza pandemic will result in the following conditions:
global economic activity declines
raw material prices collapse
risk aversion increases
monetary policy eases
interest rates fall
Scenario B: High Virulence/Severity Pandemic, Significant Disruption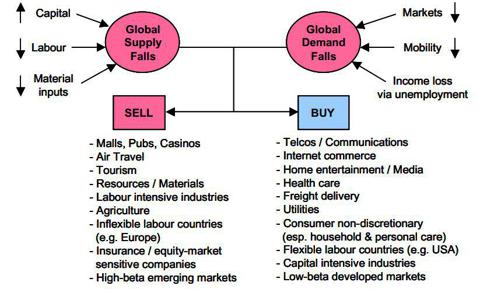 Conclusion
Whether or not a company will outperform or underperform during a flu pandemic depends upon the severity of the pandemic itself. All else equal, a low severity flu pandemic like SARS or Hong Kong Flu will produce the following Winners and Losers:
Winners: Roche (OTCQX:RHHBY), GlaxoSmithKline (NYSE:GSK), Clorox (NYSE:CLX), Kao Corp (OTCPK:KAOCF), Procter & Gamble (NYSE:PG), Netflix (NASDAQ:NFLX)
Losers: Delta (NYSE:DAL), Air France (OTCPK:AFLYY), Sears (NASDAQ:SHLD), JC Penney (NYSE:JCP), Marriott (NYSE:MAR), Metlife (NYSE:MET), Prudential (NYSE:PRU)
Why? Currently, the two most effective anti-influenza drugs are Relenza (made by GlaxoSmithKline) and Tamiflu (made by Roche). Clorox and Kao historically outperform during flu outbreaks. Clorox wipes experienced markedly higher demand during the recent rotavirus outbreak. Procter & Gamble produces most of the available OTC cold and flu medicines, while Netflix subscriptions are positively affected by increased demand for entertainment as a result of social distancing. Historically, consumer demand for an "escape" from reality also rises during periods of prolonged social stress. Airlines lose because would-be vacationers/conventioneers cancel their travel plans to countries/major cities with reported outbreaks. This, in turn, reduces the demand for hotel rooms. Retailers suffer as consumers cut back on their exposure to high traffic areas, while Insurers initially tumble due to the rise in medical claims.
As social distancing becomes the norm, consumer behavior evolves to reflect a siege-like mentality. In other words, a severe or very severe pandemic, such as Spanish Flu, H5N1, nH1N1Ω , will produce a very different list:
Winners: Clorox , P&G, AT&T (NYSE:T), Kao Corp, eBay (NASDAQ:EBAY), Google (NASDAQ:GOOG), Facebook (NASDAQ:FB), Yahoo (YHOO), Apple (NASDAQ:AAPL), Merck (NYSE:MRK), Pfizer (NYSE:PFE)
Losers: BP (NYSE:BP), Total (NYSE:TOT), Shell (NYSE:RDS.A), Marathon Petroleum (NYSE:MPC), Marathon Oil (NYSE:MRO), Exxon (NYSE:XOM), BHP Billiton (NYSE:BHP), Rio Tinto (NYSE:RIO), Alcoa (NYSE:AA), Ambev (ABV), International Paper (NYSE:IP), DOW Chemical (DOW).
Why? While vaccines may or may not be entirely effective, face masks are and bleach kills everything. eBay, Google, and Facebook all take off due to the desire for mail order products, higher search rates and increased in-person social distancing. The oil companies suffer due to decreased gasoline consumption as people begin to avoid going out in public. Weakened economic conditions and maximum social distancing reduce the demand for industrial metals, building materials, and performance plastics.
Disclosure: I am long MRO, CLX, MPC. I wrote this article myself, and it expresses my own opinions. I am not receiving compensation for it (other than from Seeking Alpha). I have no business relationship with any company whose stock is mentioned in this article.