Back on April 2nd, esteemed Seeking Alpha contributor Hawkinvest penned a piece wherein he posited there were five reasons why General Electric (NYSE:GE) shares could have potentially significant downside risks from current levels. His reasons are as follows: 1) GE's relative underperformance over the past month or so 2) GE's decline during the financial crisis means it is not worthy of the "blue chip" moniker it covets 3) GE's dependence upon a booming global economy 4) GE's debt load 5) GE's payout ratio. Now, I won't go through his points in depth as you can read them for yourself but I've captured the essence of his arguments above. I intend to use this article to express my variant view on the author's theses and to counter them with bullish arguments.
Before I begin, I'd like to mention that I have a tremendous amount of respect for Hawkinvest and his work; I don't intend to be harsh or overly critical here, I just wanted to bring a differing viewpoint to the discussion.
First, the author says that GE's relative underperformance versus the S&P 500 (NYSEARCA:SPY) is an alarm bell sounding that the rally in GE shares is over. While I can conceptually understand this argument, given that GE and the S&P trade in very tight correlations, I'd say a bit of underperformance can actually be slightly bullish. I base this on the simple fact that since these two assets are so closely correlated, any kind of deviation appears to be met with an eventual reversion to the mean following the diversion. This can be seen on a two year chart of the SPY and GE. Therefore, even if I am wrong and a reversion trade is not in the offing, at the very least, a mild underperformance for a period of a couple of weeks is no reason to sell.
Second, the author states that GE is no longer a safe investment or worthy of the title "blue chip" because of its horrendous performance during the financial crisis. I understand where he is coming from here but the fact remains that the S&P 500 was more than cut in half in the same timeframe so faulting a company for having terrible price action during the Great Recession seems overly harsh to me. In addition, GE basically is the reason for the term "blue chip" as it is the only remaining member of the original Dow Jones Industrial Average (NYSEARCA:DIA). There is no stock on the planet that deserves that moniker better than GE. I'll admit that GE is riskier than some other conglomerates due to its GE Capital arm but this is no speculative play, either.
Third, the author points out that GE is dependent upon a strong global economy to make money. While this could be said of virtually any company, it is true of GE that a strong global economy generally bodes well for its profitability. However, the author cites the world being stuck in "low growth" mode as a reason that GE shares will not do well in the future; if we take a look at the graph below, we can see that the US, one of the strongest and certainly the largest economy in the world, has been in low growth mode for years now. During this time, GE's shares have more than tripled off of their lows of the financial crisis. While GE isn't back to where it once was, the share price has moved quite steadily off of its lows and patient investors have been rewarded. I agree that a booming global economy is good for GE but I don't agree that the conditions that have persisted for years now are suddenly going to derail GE shares when they've shown no propensity to do that prior to now.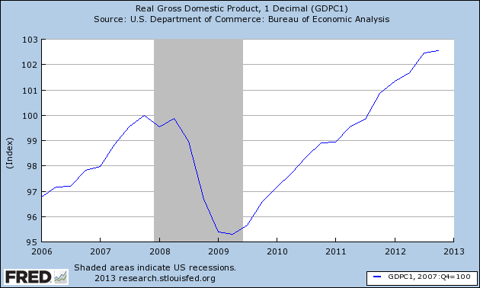 Chart courtesy of the Federal Reserve Bank of St. Louis
Fourth, the author notes that GE's crushing debt load is a source of concern for GE shares. He notes that GE holds $414 billion worth of debt. What is not mentioned is the fact that, as of the end of last year, $397 billion of that was bank deposits held by GE Capital. In other words, while deposits are certainly liabilities, the picture is nowhere near as dire as the author describes. In fact, the industrial business holds very little debt given the size of the business and it is quite manageable; the industrial business cited about $17 billion combined of short-term and long-term borrowings as of 12/31/2012. Again, $17 billion of debt is certainly no cause for concern given the size of GE's business.
Finally, the author states that GE's dividend payout ratio is another cause for concern and potentially to sell. The author points out that GE's payout ratio for 2013 is going to be close to 50% and that this could limit dividend growth. While I can't understand how a payout ratio of less than 50% is too high and limiting to dividend growth, let's assume for a minute that it is true. GE produced $31.3 billion of operating cash flows last year, per the 10-K linked above, contrasted with net income of $13.9 billion. I point this out because GE's net income is the denominator in the payout ratio calculation so since earnings aren't used to pay out dividends, we could substitute operating cash flow as a surrogate since dividends are paid with cash the company generates. In this case, if we use the $7.2 billion GE paid in dividends, the payout ratio based on operating cash flows is more like 23%. The point is that GE is in no way limited in its dividend growth simply by virtue of the fact that the yield is currently 3.3%. If we use operating cash flows, the picture is much rosier than if we use earnings but even if we accept the headline payout ratio, it is still less than 50%; nobody should be concerned until it is over 70% and we are a long way from there indeed. Plus, the author's argument assumes GE will never grow earnings again and that the payout ratio can only increase. Obviously, I disagree with this assertion.
The point of all of this is to say that GE is still in a great position for future gains despite the monstrous run off of the bottom shares have enjoyed. Couple what I've laid out above with the fact that CEO Immelt has committed to massive capital returns in the next few years and you have a winning combination. GE Capital is being steadily reduced in an orderly fashion and that will be good for the long term stability and "blue chip" nature of the company, which should make our esteemed author happy. In the mean time, don't miss out on a great company with great prospects because of a few inconsequential pieces of evidence.
Disclosure: I have no positions in any stocks mentioned, but may initiate a long position in GE over the next 72 hours. I wrote this article myself, and it expresses my own opinions. I am not receiving compensation for it (other than from Seeking Alpha). I have no business relationship with any company whose stock is mentioned in this article.