There are many articles available on Apple's (NASDAQ:AAPL) valuation based on various methods using free cashflow and market multiples. It is through these models that many in the investment community expected the Apple's price to reach $1,000 in a short time frame. The stock price has nevertheless declined by more than 40% since its September 2012 peak.
The heavy-handed investor response was surprising as the expectations were mostly built around solid fundamentals. For example, even with an assumption of zero free cashflow growth Apple's fair value is estimated at $510 providing a +19% upside from the April 09, 2013 close. However, one must note that technology companies usually experience high free cashflow volatility due to their shorter product life cycles. As a result of similar uncertainties associated with Apple's outlook in the last several months, some of the analysts who were previously bullish on the company's future prospects, have now lowered their EPS and fair value estimates for 2013.
It is argued, however, that a higher quarterly dividend and/or a special dividend can unlock the price upside. In the following text we present the DDM based valuation through three scenarios analyzing the impact on Apple's fair value from a combination of regular and special dividends.
A high-growth technology company may not be an ideal candidate for the DDM based valuation due to potentially higher volatility in dividend payouts. However, Apple has enough cash to pay annual dividends at its current level of $10.60 for the next 5-10 years without adversely affecting its operations. We ran three dividend based scenarios on Apple's fair value with the assumption that the company's financial and non-financial risks remain modest in the coming years. As the readers will see, the payout must be significantly higher before the dividends based fair values are any closer to those estimated using FCF models.
The general set of assumptions is as follows (based on April 09, 2013);
| | | |
| --- | --- | --- |
| Risk Free Rate | 1.76% | US Treasury 10-Year Yield |
| Beta | 1.0 | Reuters |
| EMP | 5.79% | US Equity Risk Premium |
| Required Rate | 7.55% | calculated through CAPM |
| Terminal Growth | 3.0% | Assumption |
Scenario 1
Apple has maintained a $2.65 quarterly dividend since 3QFY12 (annualized at $10.60 per share). Under the first scenario, we assume: 1) a 30% annual earnings growth for Apple during 2013-2017 and 2) management maintains the payout ratio at current levels. We then apply different growth rates to annual dividends, which show that unless the dividend growth is more than 25% p.a., the estimated fair value will still be below $500.

Scenario 2
In the second scenario, we analyze the impact of various EPS growth rates on valuation based on a constant payout ratio assumption. The following table shows that if the company does not pay any special dividends, it must target a payout ratio above 40% to justify a favorable price outlook.

Scenario 3
In the third scenario, we assume that the management decides to pay an annual special dividend along with the regular distribution. However, it is clear that even with a $10 special yearly payout during 2013-2017 and +10% annual EPS growth, fair value estimates are bullish only when the payout ratio is at least 35%. Given the increasingly competitive technology landscape we believe it will be very difficult to deliver such high commitments on a sustainable basis.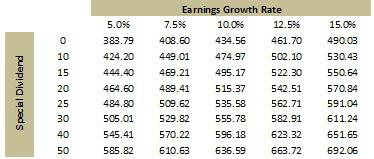 Some of the above mentioned outcomes seem totally outrageous but should help in developing a better perspective on Apple's risk reward framework. A higher dividend could put management's growth plans in jeopardy if it experiences a crippling liquidity crunch however this is not expected to be the case with Apple. Let's examine some other avenues where the management could spend the cash instead of increasing the dividend payout.
Fixed Income Allocation
According to the last reported numbers, Apple has $137 billion in cash and other marketable securities, of which 37% is held in money market instruments, U.S. treasuries and U.S. agency securities (down from 71% in 2008). The share of corporate securities and mortgage/asset back securities has increased to 46% from only 12% in 2008. The portfolio earned only 1.03% in interest income during 2012 despite the higher portfolio allocation to non-government securities while the S&P500 index returned 10.03% in the first three months of 2013.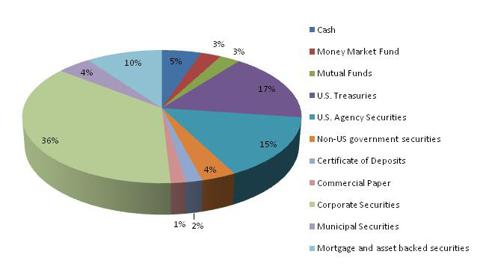 Source: Company Data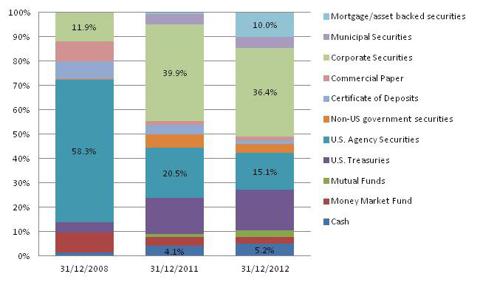 Source: Company Data
If there is an individual need to increase the portfolio exposure to fixed income securities, Apple should allow its shareholders to do it separately based on their risk/return profiles.
Research & Development:
Even though Apple's R&D spending has been consistently increasing, the management is still left with more than enough cash to add special payouts to increase regular dividends without affecting the innovation pipeline.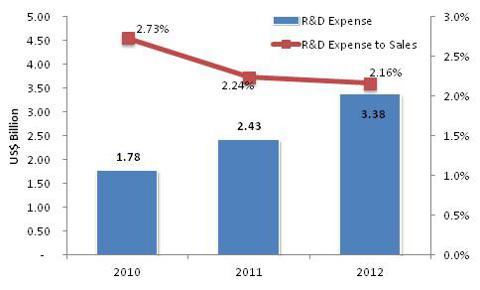 Source: Company Data
Acquisitions
The company has spent only $5.65 billion in acquisitions during 2010-2012 and despite the highly lucrative bargains available in the market, it will be extremely difficult to find a target of sufficient size to justify the current cash balance. In the worst case scenario, the company might be tempted to complete a less valuable acquisition ultimately proving detrimental to long-term shareholder value (e.g. the digital ad agency aQuantive cost Microsoft (NASDAQ:MSFT) $6.3 billion in 2012 write-offs until the Facebook recently acquired aQuantive's Atlas Advertiser Suite).
Conclusion:
Regardless of the impact on Apple's stock price, a higher dividend distribution would send the right signal to the Apple's shareholders that the management recognizes its limitations as an investor. As many investors would like to maintain their stake in a high-octane company like Apple, it would also allow them to diversify their portfolio into better opportunities.
Disclaimer: The opinion in this document is for informational purposes only and should not be considered as a recommendation to buy or sell the stocks mentioned or to solicit transactions or clients. I do not recommend that anyone act upon any investment information without first consulting an investment professional as to the suitability of such investments for his or her specific situation.
Disclosure: I have no positions in any stocks mentioned, and no plans to initiate any positions within the next 72 hours. I wrote this article myself, and it expresses my own opinions. I am not receiving compensation for it (other than from Seeking Alpha). I have no business relationship with any company whose stock is mentioned in this article.