Investors love a good deal and a great story. Who wouldn't want to be the person at the cocktail party boasting how he bought when everyone else was selling right before a massive turnaround, with a quick 50% profit? The harsh reality is that stocks often trend in one direction for a prolonged period of time and today's new low could give way to another low next week and another low after that. Turnarounds are hard to spot and investor sentiment is slow to change.
This week we will look at 2 beaten up stocks to see what potential may exist for a good story at your next barbecue.
J.C. Penney Company, Inc.
First let's look at what I like about J.C. Penney (NYSE:JCP). Sitting on $4.23 cash per share is sweet based on a $14 share price. With over 43% of the float shorted, this could really have some rocket fuel if it does turn around. In the S&P 500 there are few other stocks with this high of a shorting percent. GameStop (NYSE:GME) has close to 50% and First Solar (NASDAQ:FSLR) has 36.7%. J.C. Penney's book value is close to market value. So we have some value and much of the float shorted.
This is what I don't like about JCP: First we have earnings to talk about… There are some massive earnings misses for the last 4 quarters- and I do mean massive. The company lost $3.50 per share over the last 4 quarters and was expected to lose 61 cents. Over the past 3 months the current year and next year, earnings projections dropped hard - by roughly $2.00 per share on each estimate. Then there is the falling revenue (see trailing 12 month chart below). Often you see margins fall with revenue going up and you hope that the company will do some belt-tightening. But when you see revenue and margins plummet, this is much more difficult to bounce back from.
Chart compliments of Ycharts.com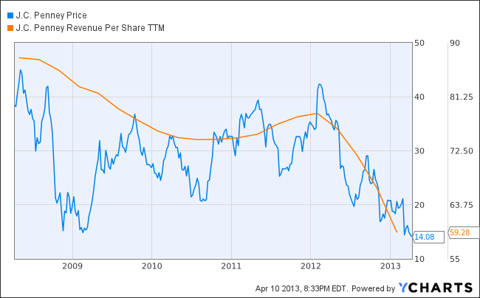 On the plus side, some investors have hopes that returning Chief Executive Mike Ullman might bring back the 'glory days' and reconnect with shoppers. I hope the company can fix the problem, but so far I see nothing on a fundamental or technical level to suggest the turnaround is near. For investors looking at J.C. Penney, I would recommend waiting. Things will likely get worse before they get better.
Chart compliments of Portfolio123.com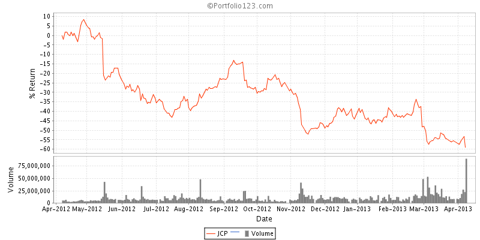 Barrick Gold Corporation
The second stock is Barrick Gold (NYSE:ABX). Share prices are down roughly 40% over the past 6 months. Compare this with the SPDR Gold Shares (NYSEARCA:GLD), which has only dropped around 12% in the same amount of time.
Barrick is having problems in one of its Chilean mines where work was suspended due to environmental issues. Delays and higher than expected costs with this mine are testing the patience of investors and their pocketbooks. The earnings forecast this year fell from over $5 to $4.12, with next year's falling from $5.21 to $4.55. That's a hefty downward drop and it could be revised downward more in light of recent events. 3 of the past 4 quarters have seen negative surprises.
Here is what I like about Barrick Gold. The forward P/E ratio is a lowly 5.38. So with the forward dividend yield clocking in at a potential 3%, the payout ratio should only be 19 - 20%. With earnings and revenue still rising…I like this. But I wouldn't bank on the forward estimates just yet, with the problems in Chile and the price of gold nearing the $1,500 support range.
I clock this one as a speculative buy…just not quite yet. Prices dumped over 8% on Wednesday and my guess is you'll see more downward pressure in the days ahead. But if it hits the $18 - $20 range it would definitely ring my 'value alarm clock' for buying. Despite the bad news, I like Barrick Gold and would wait at least a week or two for frustrated longs to dump their positions before buying.
Chart compliments of Portfolio123.com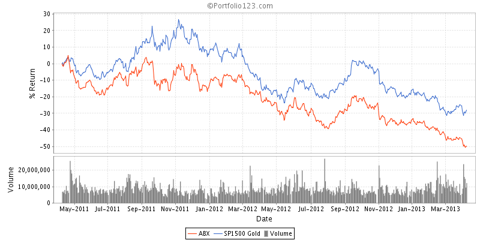 The Bottom Line
If the contrarian in you needs to speculate a little, I would suggest ABX over JCP. ABX has headwinds to slow down growth, but it's already in good value territory and it pays a dividend. Prices are likely to go down more in the short-term and I would recommend splitting up purchases to average in over the next 3 to 6 months. JCP, on the other hand ,is losing money fast and investors can only hope that new oversight will come up with a plan to see if the brand can be revived. But today's low price could be tomorrow's high price. I hate buying stocks that lose money with no clear end in sight.
So be cautious and wait a bit longer to buy ABX, and hopefully by this time next year you can tell the tale of the turnaround stock at your in-laws' dinner party.
Disclosure: I have no positions in any stocks mentioned, and no plans to initiate any positions within the next 72 hours. I wrote this article myself, and it expresses my own opinions. I am not receiving compensation for it (other than from Seeking Alpha). I have no business relationship with any company whose stock is mentioned in this article.