NuVasive (NASDAQ:NUVA) is an interesting smallish cap medical device company I've followed for a long time. She is not for the feint of heart - and this stock's reaction around earnings season is why earnings are the best of times / worst of times for me. I love the new data points; I hate the raging stampede of lemmings over-reacting.
This chart alone shows you the "full round" trip you've encountered in the past 2 earnings reports - did business really change that much at all during this time? No. But if you were an unfortunate owner 3 months ago you were dismembered... or if you were a lucky soul who decided to ignore a lousy chart and just buy in, you were rewarded handsomely last week with a gain of nearly 30% in 2 sessions. And for all that - you basically are back to where you were before the 2 earnings reports.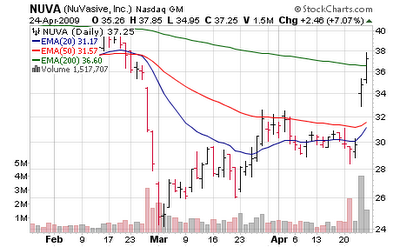 We were out of the stock before the swoon, only because the chart was acting quite bad - but either way, this is the type of action that will destroy the accounts of both shorts and long if you are around for the wrong 1-2 days.

A quick look at the latest earning report and what made everyone "happy" again:
The company lost $4.3 million, or 12 cents per share, compared with a loss of $7.7 million, or 22 cents per share, during the same period a year prior. Revenue rose 56 percent to $80 million from $51.2 million. Excluding charges for litigation and buyouts, the company said it lost 2 cents per share. Analysts polled by Thomson Reuters expected a loss of 20 cents per share on revenue of $74.8 million.
The company boosted its full-year outlook, partly citing Osteocel sales. It now expects profit between 11 cents and 13 cents per share, up from prior guidance of 2 cents to 4 cents per share. That figure excludes litigation and buyout charges.
Revenue is now expected to range from $355 million to $360 million, up from prior guidance $345 million to $350 million. The company sees 2009 adjusted earnings of 94 cents to 96 cents a share, up from its prior view of 83 cents to 85 cents a share.
"In our view,

spine fusion surgery has not seen signs of the slowdown as contemplated for other orthopedic markets which are more elective in nature

," said Chairman and Chief Executive Alex Lukianov, in a conference call late Wednesday. "We feel strongly that we have a long global runway of growth ahead of us."
Full report here
The company stock was destroyed on fears of patients putting off spine surgery - the bulls (correct) take was a spine is a little different than a knee replacement. But perception is reality.
"NuVasive showed the ability to leverage its better sales results, and earnings were much better than expected in the first quarter," said Thomas Weisel Partners analyst Raj Denhoy in a note to investors. He reaffirmed a "overweight" rating and agreed with the company that growth in the spinal fusion market will likely not slow dramatically. "Once patients reach a point of needing fusion, waiting is typically not a long-term solution," he said.
Meanwhile, BMO Capital Markets analyst Joanne K. Wuensch reaffirmed a "outperform" rating, also saying there appears to be no slowdown in the spinal fusion market.
NuVasiva also made a small purchase - a company named Cervitech, for at least $47 million (and up to $80 million)
The maker of surgical treatments for spine disorders will pay $47 million upfront with an additional contingent payment of $33 million following Food and Drug Administration approval of Cervitech's PCM cervical disc system. The device is currently in clinical trials scheduled to be completed by the fourth-quarter. NuVasive said it anticipates asking for FDA approval in the first quarter of 2010.
The company said it expects modest sales outside the U.S., with annual revenue of about $100 million within three years of the product hitting the market in the U.S.
NuVasive said all payments may be made in up to 50 percent of NuVasive stock, at the company's discretion. The buyout will be dilutive in 2009.
The main issue with NuVasive is always its valuation [Jul 25, 2008: NuVasive - At What Price Growth? It Seems "Any"], but since we are bidding up companies tied to the staggered US consumer at 40, 50, 60x forward earnings I suppose NuVasive is by comparison "dirt cheap".
NuVasive is a medical device company focused on the design, development, and marketing of products for the surgical treatment of spine disorders.
[Nov 19, 2008: NuVasive Hitting 2008 Lows]
[Nov 4, 2008: NuVasive in Investors Business Daily]
[Oct 23, 2008: NuVasive Earnings]
[Sep 2, 2008: Initiating NuVasive Position]
Disclosure: No position