Chiquita Brands International, Inc. (NYSE:CQB)
Category: Small-Cap ($360 Mil.)
Symbol: CQB
Exchange: NYSE
Business: Fresh Produce
Annual Revenue: $738 Mil. (12/31/12)
Earnings: ($335) Mil.
3/29/13 Price: 7.76
12 month Range: 9.11-4.62
Max. Rec Price: 12
Est Dividend Yield: Nil
550 South Caldwell St.
Charlotte, NC 28202
980-636-5000 chiquita.com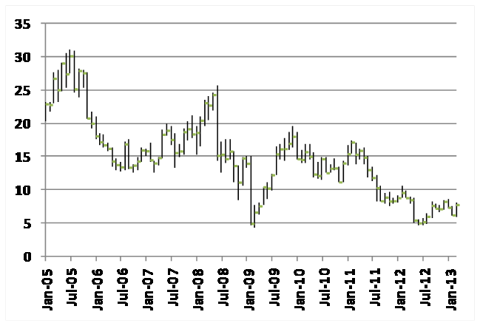 Background: Chiquita traces its history back to a ship captain who in 1870 sailed 160 bunches of bananas from Jamaica to New Jersey and sold them for a profit. In 1899 the ship captain's company merged with another banana company to become the United Fruit Company. United Fruit dominated the banana business for many decades, and is alleged to have controlled several Central American countries as well.
During the latter decades of the 20th century, Chiquita made various attempts to diversify into other food products; and it also took on a substantial amount of debt. When the company was hurt by a "banana war" in Europe around the turn of the century, it could no longer service its debt and was forced into Chapter 11 bankruptcy. The company emerged from bankruptcy in 2002 with an improved balance sheet. In 2005 it acquired Fresh Express, a large producer of packaged salads. Results were variable for several years, but then began to steadily decline in the latter half of 2011.
Analysis: Chiquita has many of the features that I like to see in a turnaround investing candidate. First and foremost, it has a powerful brand. The Chiquita brand dominates the banana market, and it is probably the most widely-recognized name in any form of fresh produce. Moreover, the banana and fresh produce markets are likely to remain strong as consumers around the globe become more health conscious.
Second, Chiquita has a new CEO. In late 2012 the company brought in Edward Lonergan. Prior to coming to Chiquita, Lonergan led the turnaround of a cleaning products company. Before that he had a distinguished career in branded consumer products with Gillette and Proctor & Gamble.
Even before Lonergan arrived, the company had begun to restructure its operations. It sold off a number of non-core businesses--another thing I like to see--to focus on bananas and salads & healthy snacks. It moved its headquarters, reduced headcount and realigned management to reduce costs and improve efficiencies.
In February of this year Chiquita refinanced much of its balance sheet, pushing the bulk of its debt maturities out to 2021. This gives the company plenty of breathing room to carry out its restructuring plans.
While there is risk in any agricultural product business, I believe that the current stock price represents an attractive level to get into a company with a dominant brand that appears to be well into a turnaround. I recommend buying Chiquita up to 12.
Disclosure: I have no positions in any stocks mentioned, and no plans to initiate any positions within the next 72 hours. I wrote this article myself, and it expresses my own opinions. I am not receiving compensation for it. I have no business relationship with any company whose stock is mentioned in this article.