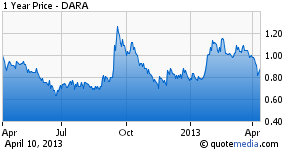 Yesterday, an article appeared in Seeking Alpha by PropThink writer, Jason Napodano, CFA, in which he claims Dara Biosciences (DARA) will more than double in PPS. Specifically, DARA is currently trading at .88 cents a share, and Mr. Napodano projects the "long-term" value of DARA to be at or above $2 a share. Whenever a CFA states that a stock is going to double, my ears certainly prick up. Who doesn't like a 100% gain after all?
Despite the author's glowing optimism for Dara Biosciences, however, I believe he ultimately failed to base his conclusions on the most critical component of any biopharma, i.e., the actual scientific data. In particular, Mr. Napodano states that the clinical data for KRN5500 thus far is "impressive", which it certainly is not (more on this below) -- not by any stretch of the imagination. Moreover, in PropThink's original piece on KRN5500, they actually make completely false statements about the safety profile of the drug, saying it was "generally well tolerated". As I will show in this article, that statement is a complete falsehood, and dangerously misleading to potential investors (see below).
As a professional scientist, I am a stickler for data, especially upon hearing a biotech is a "vastly undervalued emerging story". So my goal with this article is to enlighten current and potential DARA investors as to the truth of the company's main value driver (KRN5500), and subsequently show why DARA is a strong short candidate. My arguments are based on the published and unpublished analyses for KRN5500, and come from the purview of a scientist with over a decade of experience in the biopharma space.
For readers unfamiliar with my previous work, I have correctly called shorts on Arena Pharmaceuticals (NASDAQ:ARNA), Inovio Pharmaceuticals (IN0), Omeros Corporation (NASDAQ:OMER), and Telik (OTCQB:TELK) this year alone, all of which have produced double-digit gains. Dara Biosciences is shaping up to be yet another great short in this volatile sector for the reasons outlined below.
Dara Biosciences overview
DARA BioSciences, Inc. is a North Carolina-based specialty pharmaceutical company that develops and commercializes oncology treatments and supportive care products. According to PropThink's own estimates, Dara's commercial products (Bionect, Gelclair, and Soltamox) combined are projected to top out at only $27 M by 2018. Revenue estimates for these products in 2013, however, are expected to be closer to $2 M, thus shedding significant light on Dara's tiny market cap of approximately $22 M. Moreover, the commercial value of the acquired anticancer drug gemcitabine from Uman Pharma is unknown, given that the drug lost patent protection in 2010 allowing generic competition into the market. Suffice to say, speculative investors are not likely going to buy this stock in droves based upon their current products.
KRN5500: main value driver
KRN5500 is a novel, spicamycin-derived, nonopioid analgesic agent indicated for treatment of chemotherapy-induced peripheral neuropathic (CCIPN) pain in patients with advanced cancer, and is undoubtedly Dara's most watched clinical candidate. Approximately 1.2 M people currently have cancer in the United States, with 3.6 M of them suffering from neuropathic pain. With the market for pain management due to advanced cancer hovering in the stratosphere at around $300 B, it is safe to say that KRN5500 would likely be a multi-billion dollar drug, if approved. Furthermore, it's safe to say that KRN5500 is the primary reason to consider taking a speculative position in DARA, as their commercial pipeline is lacking a clear cut winner in terms of generating considerable revenue for the company.
Last November, Dara announced that it was applying for Orphan Drug Status (ODS) for KRN5500. This issue is significant because ODS would qualify Dara for tax credits, the waiver of the prescription drug user fee (PDUFA), and give KRN5500 seven-year market exclusivity upon approval. The problem is that while CCIPN is an unmet medical need (a requirement for ODS), it is far more common than the benchmark set by the FDA (< 200k potential patients). As such, I believe KRN5500 will not receive ODS, and should not be counted on by traders for a momentum trade. By contrast, I suggest that the rejection of KRN5500 for ODS should be the time to initiate a short position in the stock, as it will be the harbinger of bad things to come for KRN5500.
KRN5500: Orphan Drug Status and The Science
Dara has publicly announced that they prefer to partner (see a few of the hyperlinks above) for a Phase IIb clinical trial for KRN5500. I think a positive response from the FDA for ODS is critical to such a collaboration due to the drug's current risky stage of development. In effect, a partner is going to need significant incentive to take on the substantial risk of a drug with minimal clinical trial data thus far. Most importantly for investors, a partnership would keep Dara from having to rely exclusively on dilutive financing to fund the trial, which would certainly push the stock off of the Nasdaq and into the realm of the dreaded "OTC". Unfortunately, I do not share the company's positive view of the original Phase IIa trial, nor PropThink's. As such, I believe this company is destined for the OTC. To explain my view, I would like to refer readers to the original Peer-reviewed publication of the Phase IIa trial.
Astute readers should notice some glaring inconsistencies between the talking points fed to investors by PropThink versus those in the actual published paper. PropThink's original publication stated the following inaccuracies:
"These results indicate that KRN5500 was effective (emphasis added) in reducing pain in patients with CCIPN in a dose-response relationship. The data show that higher doses of KRN5500 result in greater reductions in pain over time."

"KRN5500 was generally well tolerated with adverse reactions limited to primarily gastrointestinal (NYSE:GI) symptoms such as nausea, vomiting, and diarrhea. These were more frequent and severe in the KRN5500 arm than in the placebo arm."

Now let's look at what the actual paper said about "efficacy" and "safety" for KRN5500.

"The study was not powered for prospective efficacy outcomes."

"The KRN5500 safety profile showed clinically significant GI symptoms…"
Simply put, the study was only designed as a "proof of concept" trial, and can say absolutely nothing about efficacy. Moreover, every single patient receiving KRN5500 experienced adverse GI effects, with 25% of patients dropping out of the trial due to severe adverse effects (SAEs); SAEs were 11% higher in the treatment than the placebo arm. So not only do we have no idea how effective KRN5500 is, it appears to be so bad that a quarter of patients prefer to suffer CCIPN. Scientifically, we can only say that an interesting trend was observed, warranting further development of the drug. Any statements about the drug being effective or safe are entirely misleading.
My aim with this article wasn't to bash a proof of concept study -- far from it. That was a necessary first step, but I do want to warn investors about those that are taking the proof of concept study results and running with them. PropThink ran out of the stadium with them, in my humble opinion.
If the study was that promising, Dara would already have a partner. At the current time they do not, and I believe the safety profile of KRN5500 is going to be a major concern for potential partners. Perhaps Dara's ad hoc analysis of the data was an effort to placate potential collaborators? I certainly do wonder because ad hoc analyses are generally frowned upon by statisticians and the FDA alike, making it an unusual event in the life of KRN5500.
Dara: Playing Devil's Advocate
With any high risk/high reward penny stock, investors should always ask themselves a simple question: what is the worst that can happen? I think investors tend to ask the converse of the question when investing in these types of stocks, which often ends in disaster. This is my version of Charlie Munger's axiom, invert, always invert. And it tends to keep me out of harm's way.
So what is the worst case scenario for KRN5500 in the short-term and hence, Dara, going forward?
One possible scenario is the following:
1) KRN5500 fails to received ODS
2) This failure ends any possibility of a partner picking up the bill for the Phase IIb study
3) Dara decides on a go it alone strategy and relies on dilution to fund the study.
4) The stock continues to miss the requirements to be listed on the Nasdaq, causing a de-listing or a reverse split.
Unfortunately, I believe all of these factors are well within the realm of possibility and should be considered as major risk factors for potential investors in Dara. Indeed, I personally plan on shorting DARA upon an announcement of the ODS application for KRN5500 being rejected by the FDA. The company does not have the cash to fund a proper Phase IIb trial, and will have to raise millions to do so. That will come at the expense of investors that bought into the hype surrounding a proof of concept study. Don't believe the hype, and always read source material.
Disclosure: I have no positions in any stocks mentioned, but may initiate a short position in DARA over the next 72 hours. I wrote this article myself, and it expresses my own opinions. I am not receiving compensation for it (other than from Seeking Alpha). I have no business relationship with any company whose stock is mentioned in this article.