There are days when one outperforms the market and makes good money when it is up marginally or even down, and sometimes even when it is sharply lower which is the sign of either a good stock picker or simply a lucky individual. Lately we have had the good luck to have many days where we have outpaced the market and seen the portfolio defy gravity, however we have had the feeling that eventually we would see either a correction or consolidation of the gains before further moves higher could be had. That happened yesterday and it was quite painful. There is nothing like being ever so slightly in the red on a day the market is strongly in the green and setting new highs, but it happens and one must not get discouraged.
Chart of the Day: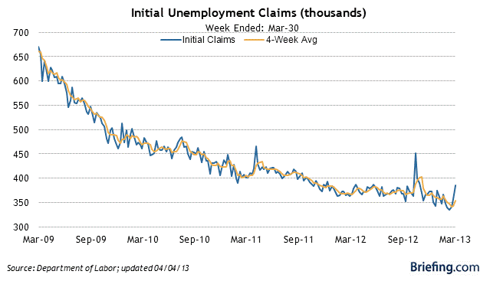 Chart courtesy of Briefing.com
We would not fear this uptick in the claims lately, looking back to September 2012 we saw a dramatic uptick too, but the market has actually posted huge gains since then. Might things work themselves out again?
We have economic news due out today, and it is as follows:
Initial Claims (8:30 a.m. ET): 365k
Continuing Claims (8:30 a.m. ET): 3058k
Export Prices - Ex-Ag (8:30 a.m. ET): N/A
Import Prices - Ex-Oil (8:30 a.m. ET): N/A
Natural Gas Inventories (8:30 a.m. ET): N/A
Asian markets finished mostly higher today:
All Ordinaries -- up 0.74%
Shanghai Composite -- down 0.30%
Nikkei 225 -- up 1.96%
NZSE 50 -- down 0.24%
Seoul Composite -- up 0.73%
In Europe markets are higher this morning:
CAC 40 -- up 0.52%
DAX -- up 0.49%
FTSE 100 -- up 0.37%
OSE -- up 0.25%
Technology
Yesterday we highlighted 3D Systems (NYSE:DDD) and discussed how we thought that it was setting up for another run after having bottomed and built a sort of base with a slight gradual uptrend in place. We were bullish as we had been for a while on it with $30 pegged as support as it reminded us of many of the micro raging bull markets we have seen in other industries when the stocks take a bit of a breather. Yesterday the shares continued to move higher and we believe that this only confirms our thinking that we have been sharing. The shares rose $1.73 (5.29%) yesterday to close at $34.44/share on volume of 5.6 million shares and so long as the stock is gaining strength we are on the bullish side of neutral and shall move further into that zone should the next quarter prove to be strong.
Biotechnology
We wanted to alert readers that Celgene (NASDAQ:CELG) hit our price target of $120/share yesterday and not only hit it but actually managed to close above it, which we always like to say is strength on strength. We put this name forth for readers a few months ago in the low to mid $90s and stated that we thought the stock was in the midst of another major uptrend, with $100 being the next step up followed by $110, $115 and finally $120; essentially a classical breaking of par and stepping up if you will. Well the shares have now reached the level we had figured was the upper range for our move higher and it took place far quicker than we anticipated. The nearly 30% gain should be taken in whole, or in part, at this time and we will find another place to put these funds. We still love the company, its management team and where it is going, but a trade is a trade and gains must be respected so this morning we are advising that the gains be booked and if necessary (to keep market exposure) simply place in an index fund until another individual stock is discussed as a suitable source for this capital.
It is time to step away for now after this great run and book profits. We may be leaving money on the table, but we have been spot on in our analysis this far and since the story played out just how we initially summarized it, then booking profits at the predetermined price of $120/share seems prudent this morning, even with the market showing strength.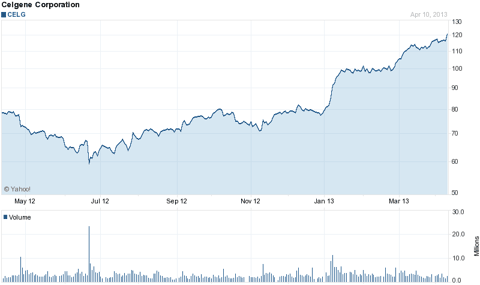 Chart courtesy of Yahoo Finance.
Blue Chips
We have been constantly watching this move higher in the S&P 500 to new highs and trying to see what was and was not holding it back when it was having headwinds. As we have been saying over the past few months, this general market move higher has been led by the big names in the consumer goods sector, the financials and other household names (i.e., the blue chips). Yesterday as we did a scan of the new 52-week highs and all-time highs, a daily routine after the market closes, we noticed that it is no longer one or the other taking control on a given day and leading the charge higher, but instead it is a group effort.
American International Group (NYSE:AIG), which is a name we have been bullish on, managed to crack the $40/share level yesterday to set a new 52-week high (an all-time high is still VERY far away and essentially out of the picture at this point in time) and although many are calling for financials to lead the way lower we tend to disagree on that point. The well run, well capitalized entities have been stagnant for some time, in fact JP Morgan Chase has been trading in the same range now for not months but years! Go figure. Those names will lead the next move higher as new investors come off the sidelines and seek healthy names that they know and trust, and honestly the table is set for those companies to outshine their poorer performing brethren at this point because profits and yield are beginning to come into focus.
Also on our list of interest was Procter & Gamble (NYSE:PG) which we have been touting as a great play for retirement funds. The company has a stable of brands which generate huge cash flow and they also have tremendous upside in developing markets. The shares rose over 1% yesterday, continuing their Chinese water torture of any shorts with the continuous small ticks higher each day of 0.50-2% gains and setting new highs in the process, but we are now approaching the $80/share level which might very well provide some resistance and serve as a ceiling for the shares in the near-term. Our thinking has been that the company will need to raise the dividend to get it back into respectable territory for investors, especially those seeking yield, and that would surely add some fuel to the fire here. We remain bullish here, but would not add to positions unless there is a 5-10% pullback as we think there are better opportunities for yield elsewhere within the sector.
And has anyone recognized the rally in restaurant shares lately? That is a story we were on over a year ago as we discussed the US consumer coming back from the recession and for the most part all of those names we threw out are up and quite a few are at 52-week highs. McDonald's (NYSE:MCD) is one which we found interesting yesterday as they are fast food and kind of buck the trend of the core group of outperformers in the industry (the casual dining chains), but we attribute this to their excellent management team and ability to change the menu to accommodate the economic climate as well as their clients' desires for various price entries.
The shares are back over par and now approaching all-time highs, so investors need to be aware that there may be some resistance ahead as this level is tested and either taken out or put off until another time when the bulls have stronger numbers. With the history here, the yield and our thinking that large sums of capital will be flowing into the markets, we could not argue with readers who wanted to either allocate further funds to this name or set up a position here.
Looking at the chart below it also is obvious that the uptrend is still intact and that we could be setting up for another run like the one seen after the pullback from the financial crisis.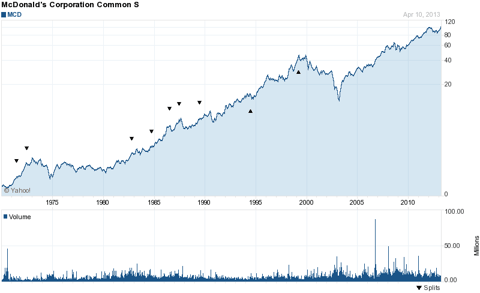 Chart courtesy of Yahoo Finance.
Disclosure: I have no positions in any stocks mentioned, and no plans to initiate any positions within the next 72 hours. I wrote this article myself, and it expresses my own opinions. I am not receiving compensation for it (other than from Seeking Alpha). I have no business relationship with any company whose stock is mentioned in this article.