Chris Martenson's last major market call was in 2008, just before the financial crisis. Today, as the S&P surged to an all-time high, the author of "PeakProsperity" believes that the S&P 500 could fall 40% to 60% to 600-800 levels by this fall. This article discusses Chris Martenson's views and the probable reasons for a correction in the markets in the second half of 2013.
According to Chris Martenson -
I see recessionary signs all over the landscape. In particular, Europe is already in recession [and] Japan is already in recession...We are looking at global economic slowdown... Fundamentally there always has to be some connection between where markets actually are and their price... The Fed's monetary policy has reached a point of diminishing returns and could result in a pretty significant market pullback... This is not the time to be greedy...
My Opinion -
I had discussed four reasons for equities to correct in one of my earlier articles. I do believe that equities are headed for a correction over the next 3-6 months and it might be suicidal to consider fresh exposure to equities at these levels. I also believe that investors need to lighten up on their equity portfolio as the S&P surges to an all-time high. At this point in time, it might be more beneficial to be in short-term Treasuries and cash than to be in equities.
The next important thing to discuss is the probability of a correction as deep as 40%. It is certainly difficult to give exact targets. However, I would share Dr. Marc Faber's opinion in this case. According to Dr. Faber, if markets continue to rally, investors can expect a crash later in the year. In other words, the extent of decline depends on the extent of the rally or correction over the next few weeks or months. If markets do rally another 10-15% from these levels, I can say with a lot of conviction that a 40% correction is entirely possible. On the other hand, if markets witness 10-15% correction on an immediate basis, a crash can be ruled out.
A natural follow-up question would be - Can we expect a correction now or a crash later?
I see a higher probability of a crash than an immediate 10-15% correction. In either case, investors need to remain in cash for the second half of 2013.
Why a Crash is likely -
The first reason is the rise in speculation in the markets driven by excessive liquidity. The growth in margin debt is a good indicator of rising speculative activity and invariably leads to a deep correction as a small correction translates into margin calls. For January 2013, the margin debt stood at $364 billion and is only the second-highest after the $381 billion margin debt witnessed in July 2007. This is a clear indicator of the high level of speculation in the equity markets.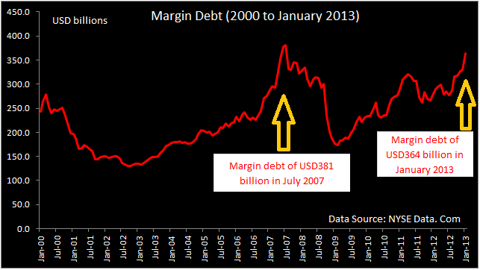 Another significant chart to look at is the growth in margin debt (month-on-month). The surge in margin debt for January 2013 has been among the highest in the last 13 years. This is suggestive of a substantial increase in speculative activity in 2013. The latest data shows that margin debt has surged further to $366 billion in February 2013.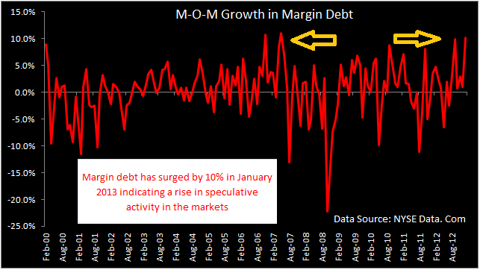 These two charts clearly suggest that the current rally is liquidity driven rather than being fundamentals driven. I did point out in my earlier article that S&P 500 operating earnings and as reported earnings peaked out by the second quarter of 2012 and declined since then. Clearly, equities are going in the direction opposite to real fundamentals. Even if we consider the broader economy, things look bleak. Europe is in a recession. China and India are witnessing a sharp slowdown. Also, the U.S. economic growth remains anemic and the employment market worse than the headline numbers suggest. So what exactly is the equity market discounting?
It is therefore a good idea to avoid equities and consider exposure on a meaningful correction. Another important point, which was touched upon by Chris Martenson is the diminishing impact of QE on the real economy. I discussed this factor in detail in one of my recent articles. The expansionary monetary policies are having minimal impact on real economic growth and as market participants get over the current over exuberance, markets will slide on a futile monetary policy action.
These factors combined make a perfect recipe for a market crash. To top these factors, the sovereign debt crisis still remains unresolved in the eurozone and a deeper recession can spark renewed concerns and rising yields leading to a panic driven sell-off in equities. I am not trying to scare investors away from equities. However, for now, it makes more sense to stay away than to stay invested.
Besides holding cash, two ETF suggestions for the current scenario would be -
Vanguard Long-Term Corporate Bond ETF (NASDAQ:VCLT) - I am suggesting the VCLT as I believe that quality corporate bonds are a relatively better risk-free investment compared with government bonds (especially long term). The ETF seeks to provide a high and sustainable level of current income through investment in high-quality (investment-grade) corporate bonds.
Vanguard Short-Term Government Bond ETF (NASDAQ:VGSH) - The ETF might be attractive in the near to medium-term when risky asset classes have a high probability of witnessing a meaningful correction. The ETF seeks to provide current income with modest price fluctuation with investments in high-quality (investment-grade) U.S. government bonds (maintains a dollar-weighted average maturity of 1 to 3 years).
The next 3-6 months will give investors a good opportunity to buy quality stocks at cheap levels. On any crash or correction, investors can consider the following options -
SPDR S&P 500 ETF (NYSEARCA:SPY) - It has been proven that beating the index is not an easy task. Therefore, the strategy should be simple -- beat the index or invest in the index. From this perspective, SPY looks interesting. The ETF provides investment results that, before expenses, generally correspond to the price and yield performance of the S&P 500 Index.
BP Plc (NYSE:BP) - is an attractive long-term buy due to several reasons: excellent and diversified asset base, presence across the value chain, presence in alternative investment themes and a good dividend yield of 5.2%. Further, the TTM P/E is at an attractive level of 11.5. Overall, BP is well positioned to take advantage of the long-term appreciation in crude oil prices.
iShares MSCI Emerging Markets ETF (NYSEARCA:EEM) - Global diversification is necessary, and exposure to emerging markets is critical. Over the long term, emerging markets will outperform developed markets in terms of equity price appreciation. The cumulative mutual fund inflow into emerging markets has been higher in the last five years compared with developed markets. The iShares ETF corresponds generally to the price and yield performance, before fees and expenses, of publicly traded securities in emerging markets, as represented by the MSCI Emerging Markets Index.
Johnson & Johnson (NYSE:JNJ): This is a good investment option. I like this highly diversified healthcare company, with products as well as regional diversification. Further, the sector catered to by JNJ is not very prone to economic shocks. JNJ has been a good dividend payer in the past, with a dividend yield of 3.0%. In my opinion, the stock is excellent for the long-term portfolio as well. It also commands a higher rating than the U.S. sovereign rating.
Disclosure: I have no positions in any stocks mentioned, and no plans to initiate any positions within the next 72 hours. I wrote this article myself, and it expresses my own opinions. I am not receiving compensation for it (other than from Seeking Alpha). I have no business relationship with any company whose stock is mentioned in this article.