With the retail sector outperforming the S&P 500, I have been investing in several stocks in the space. Some of the larger retail companies traded up to new highs, including Wal-Mart (NYSE:WMT) and Macy's (NYSE:M). However, I am also focused on small and mid cap retailers that have unique brands. Currently, my top holdings in this space are Tumi (NYSE:TUMI), Steve Madden (NASDAQ:SHOO) and Under Armour (NYSE:UA). All three have been in trading ranges for a while and I am looking for them to breakout. Even if I am a bit early, all three companies are unique retailers that I am bullish on for the long term. In this article I will look at the recent performance of the retail sector and then explain my bullish thesis on each company.
Retail Sector Performance
The following chart shows the performance of two retail sector ETFs compared to the S&P 500 over the last three months. The SPDR S&P Retail ETF (NYSEARCA:XRT) is generally used as a proxy for the retail space.
However, the XRT has an odd bunch of companies as top holdings
Best Buy (NYSE:BBY) - 1.33%
Conns (NASDAQ:CONN) - 1.30%
Gamestop (NYSE:GME) - 1.26%
Supervalu (NYSE:SVU) - 1.25%
Walgreen (WAG) - 1.21%
Therefore, I prefer to look at the Market Vectors Retail ETF (NYSEARCA:RTH), which has the following top holdings (and is intended to track the 25 largest retail companies):
Wal-Mart - 11.22%
Home Depot (NYSE:HD) - 8.99%
Amazon.com (NASDAQ:AMZN) - 8.13%
CVS Caremark (NYSE:CVS) - 5.92%
Walgreen - 5.16%
The RTH has an $18 million market cap, so it risky from an investment perspective. Nonetheless, it can be helpful as an indicator.
XRT data by YCharts
Either way, the retail space has done well. I recently wrote about Wal-Mart, see "Bullish On Wal-Mart As Record Highs Demand A New Approach To The Stock", but now I want to focus on smaller companies.
Tumi
Tumi recently completed a secondary offering, which drove the shares down to ~$21 (see: "5 Reasons To Travel With Tumi After Secondary Offering").
Tumi IPO-ed in April 2012 and was previously owned by a private equity firm. The private equity firm has been selling down its stake in secondary offerings. Because of the relatively high IPO valuation and the overhang from the private equity stake, the stock has mostly been rangebound.
There are two ways to look at the stock chart, but both show the multi-month consolidation.
(Source: FreeStockCharts.com)
At this point, the private equity firm has sold most of its stake, so the overhang is reduced.
More importantly, Tumi's P/E ratio has been coming down and is now near the lowest point as a public company. Its forward P/E is ~25x.
Tumi's stock is not cheap, but it is growing earnings at ~20% annually and has a lot of runway for future growth. I consider Tumi a growth-at-a-reasonable price (GARP) stock. Now that Tumi has a lower multiple, its earnings growth could start to drive the stock higher.
Furthermore, Tumi's valuation is sandwiched between that of its core comps, Michael Kors (NYSE:KORS) and Coach (COH).
Tumi has a great brand and is small enough that larger luxury companies may be interested in acquiring it.
The following is the financial profile for Tumi:
Bottom line: I currently own shares of Tumi. In the short/mid term I am looking for the stock to reach the top of the range at around $24.50. I also think it has potential to break higher from the range, but I am not sure about timing.
Steve Madden
Steve Madden has a unique brand in shoe retailing. More importantly, it has a strong and diversified platform of approximately 20 other brands and wholesale operations. Its diverse brand portfolio allows it to sell to department stores ranging from Wal-Mart and Kmart on the low end to Neiman Marcus and Saks (NYSE:SKS) on the high end.
In fact, the wholesale business accounts for approximately 85% of revenue.
Steve Madden's model is based on three elements:
Proven Design Team
Test-and-React Strategy
Speed to Market
The way this works is that the company's designers quickly design new shoes and rush them to a few stores for testing. If a design sells they will expand its production and if it fails they will drop it and move on.
This allows the company to keep up with (or set) trends and focus on selling products that have already achieved success with customers.
The first chart shows Steve Madden's stock price on a monthly basis. On this timeframe it has been a big winner and is continuing its strong momentum. However, the chart of the last two years shows that the stock has been choppy. After rallying the last few days, it is now sitting at record highs.
The choppy trading over the last two years was mainly reflective of the overall market conditions. The stock also seemed to need a pause after the run-up from 2009. However, it may be positioned to move into new record territory soon.
(Source: FreeStockCharts.com)
Steve Madden is projected to grow earnings at ~10% annually going forward (it achieved higher growth in the past) and has a reasonable valuation at 15.5x FY1 P/E.
Furthermore, it is trading at 8.9x TEV / EBITDA and has no debt. A company with this profile could be an attractive LBO candidate. The history of Steve Madden (the company) is complicated because of Steve Madden (the person), so an LBO may not work out. Even without an LBO Steve Madden has an attractive valuation with room to use the balance sheet to reward shareholders in the future.
Steve Madden's valuation is in-line with Deckers (NASDAQ:DECK) and a premium to Crocs (NASDAQ:CROX).
SHOO PE Ratio TTM data by YCharts
Finally, Steve Madden has growth potential with room to further penetrate its department store base. Additionally, it is opening new stand-alone stores and has opportunities internationally.
Under Armour
Much like Steve Madden, Under Armour's stock had a strong run from the 2009 low, but traded sideways over the last year as there have been concerns about its growth rate and valuation.
Under Armour has a great brand in the sports apparel segment and is branching out to reach the mainstream in addition to the high-end athletics market.
(Source: FreeStockCharts.com)
Under Armour is not a cheap stock. It is trading at a trailing P/E of 45x and a forward P/E of ~37-38x. However, it still has an impressive growth rate and is expected to grow earnings in the 20-25% range going forward.
Under Armour will probably not experience multiple expansion in the future and its P/E multiple may even need to come down a bit more before it can make another big move higher. However, with growth in the 20% range, the stock price may not go down to a "cheap" level soon.
UA PE Ratio TTM data by YCharts
The following is a financial and valuation summary of Under Armour: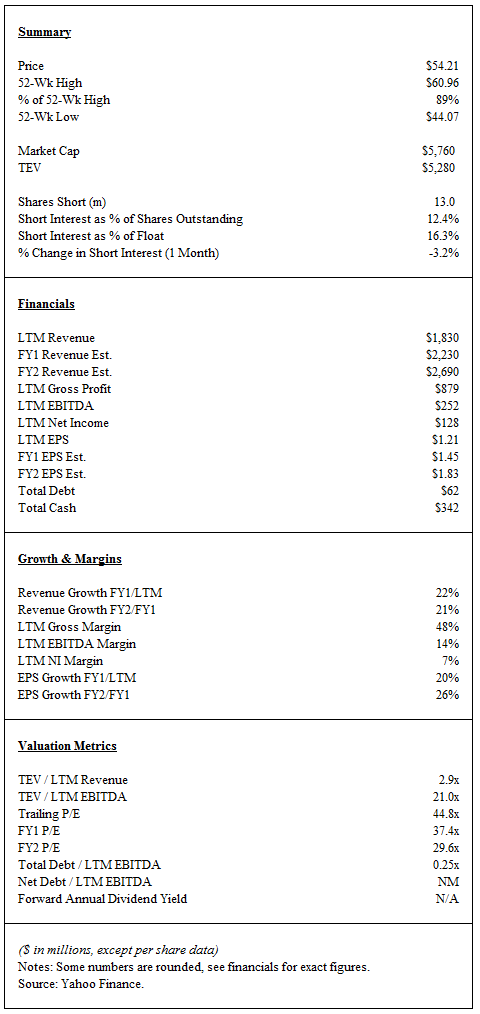 Under Armour is trading in-line with Lululemon on a valuation basis, but has a premium valuation compared to Nike:
UA PE Ratio TTM data by YCharts
Under Armour's stock price is at $55 and at multi-month highs. I am looking for it to rise to the $60 range in the short/mid term and continue to move up over the long term.
Conclusions
I am bullish on three unique, small/mid cap retailers: Tumi, Steve Madden and Under Armour. The retail space is performing well and these companies have leading brands in their segments. Tumi and Under Armour have valuations that are a bit high, but they both are growing fast and deserve premium valuations. Steve Madden has a very compelling valuation.
The stock prices of the three companies have been rangebound and I am looking for them to breakout of their ranges. Steve Madden is best positioned to breakout first.
Finally, all three companies also have good long term potential because of their growth opportunities and strong brands.
Although I mention my expectations for the stock prices, please do not consider these recommendations or investment advice and I may not update this information in the future. Everybody has a different investing style. I like to establish a long term outlook for a company and then invest using shorter timeframes. I may be bullish on a stock and still sell it if I think it went up too much or if have concerns about the overall market (and the opposite as well). I don't mind moving to the sidelines and getting back in at a later point (even at a less advantageous prices) and I sometimes prefer to sell before earnings to reduce risk. I may invest in the opposite direction of my long term view if I think the market over-reacted one way or another. There is a difference between a good company and a good stock. I like to hold positions for the long term, but I use stops to cut my losses. Everybody has a different investing style, experience, tax status, risk tolerance, comfort range, etc.
Disclosure: I am long TUMI, SHOO, UA, WMT, SKS. I wrote this article myself, and it expresses my own opinions. I am not receiving compensation for it (other than from Seeking Alpha). I have no business relationship with any company whose stock is mentioned in this article. I may trade any of the securities mentioned in this article at any time, including in the next 72 hours.
Disclaimer: The opinions expressed above should not be construed as investment advice. This article is not tailored to specific investment objectives. Reliance on this information for the purpose of buying the securities to which this information relates may expose a person to significant risk. The information contained in this article is not intended to make any offer, inducement, invitation or commitment to purchase, subscribe to, provide or sell any securities, service or product or to provide any recommendations on which one should rely for financial, securities, investment or other advice or to take any decision. Readers are encouraged to seek individual advice from their personal, financial, legal and other advisers before making any investment or financial decisions or purchasing any financial, securities or investment related service or product.
Information provided, whether charts or any other statements regarding market, real estate or other financial information, is obtained from sources which we and our suppliers believe reliable, but we do not warrant or guarantee the timeliness or accuracy of this information. Nothing in this article should be interpreted to state or imply that past results are an indication of future performance.
THERE ARE NO WARRANTIES EXPRESSED OR IMPLIED AS TO ACCURACY, TIMELINESS, COMPLETENESS, OR RESULTS OBTAINED FROM ANY INFORMATION IN THIS ARTICLE OR ANY LINKED WEBSITE.