Yesterday was not a rough day for the portfolio, but a disappointing day as we were marginally lower by ever the slightest fraction but trailed dramatically the general market. Such is life, as a consolidation is probably due and we do want to point out to readers that we want to be a bit more cautious on some of the names which have been big movers lately and sold off into yesterday's close. When up early, and strongly so, ending lower with a cliff jump is hardly bullish...although it is not bearish either at this point, but something to take note of.
Commodity prices this morning are as follows:
Gold: $1559.40/ounce, up by $0.60/ounce
Silver: $27.545/ounce, down by $0.106/ounce
Oil: $94.55/barrel, down by $0.09/barrel
RBOB Gas: $2.8718/gallon, up by $0.0067/gallon
Natural Gas: $4.107/MMbtu, up by $0.022/MMbtu
Chart of the Day:
Something to think about this morning...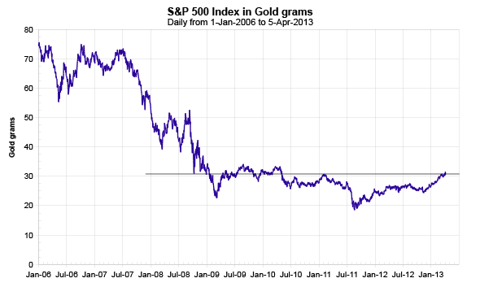 Chart courtesy of pricedingold.com via Robert Shiller.
Oil & Natural Gas
One name we have watched simply for the fireworks is Royale Energy (NASDAQ:ROYL) which has had a rough go of it the past few months. Yesterday however was an entirely different story as the stock actually shot off like a firework to finish at $3.34/share after ending the session higher by $1.34 or 67% from the previous day's close. Volume was also strong with 6.1 million shares trading hands and all of this was due to news that the company had agreed in principle with a buyer to sell a portion of its Alaskan North Slope acreage for roughly $1,200/acre. The deal would cover all seismic costs and two horizontal wells and the cash and options should help the company with their financing issues that have worried many investors. This is something to watch now that someone has agreed to put up the money to get this project rolling and on a pullback might be worth deploying some speculative funds to.
It is quite possible that yesterday's news could be when the bleeding officially stopped for shareholders....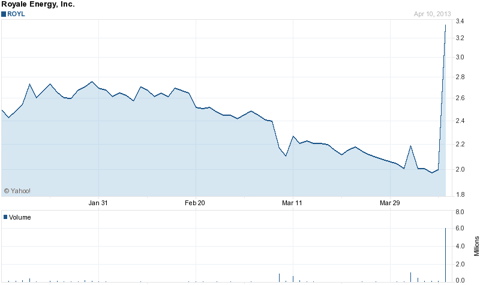 Chart courtesy of Yahoo Finance.
Setting a new 52-week high yesterday was Rex Energy (NASDAQ:REXX) and that continues a string of wins for the stock since announcing, what we perceived to be, their hugely successful initial results in the Utica. We like other plays just a bit more in that area right now but are buyers on a pullback and extremely bullish if the company is able to work out a deal with neighbors in order to drill longer laterals and really prove how great their acreage is (remember their laterals were not nearly as long as other names in the area which have been posting monster results).
Our advice earlier this year to add at $10/share looks brilliant at this point, but not so much the fact we booked profits early at $13...hopefully readers had a bit more horse sense than us.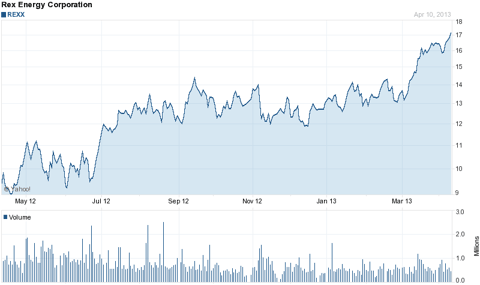 Chart courtesy of Yahoo Finance.
Like Gulfport Energy (NASDAQ:GPOR) which hit another new all-time and 52-week high yesterday. One cannot say enough about the moves the company has made, and tying up the acreage they did at the end of last year and beginning of this year will surely be looked back upon as a masterful move. We continue to hold all of our shares and noticed yesterday that for readers who have followed our advice and purchased exactly when we have that those positions are now up 100%, providing a doubling of the capital deployed. We shall continue to hold our entire position, but we do recognize that many readers like to sell half when they get a double and we respect that, thus our bringing it to your attention this morning.
Precious Metals
Usually the saying goes 'you win some, you lose some' but for those involved in the precious metals markets these days it sure seems like 'you're damned if you do, and damned if you don't' would be a far more accurate mantra. Barrick Gold (NYSE:ABX) was a big loser yesterday with shares down $2.23 (8.36%) to close at $24.46/share while Silver Wheaton (SLW) saw shares give up recent gains as they fell $1.54 (5.16%) to close at $28.32/share. In rough markets if you have to be invested in the area you stick with the big names and the low cost producers with a proven ability to expand their production (if they are in the mid-major category), thus the reason our attention is upon these names right now for potential to be added to the portfolio. Now when the markets reverse and an uptrend is established, one has to move down the food chain towards the junior miners. Now is not the time for that, and we wanted to point that out as we have gotten quite a few emails with questions directed at precisely this point. With all of the liquidity central banks are creating one would think that in all currency terms the metals would be rising, but that is not the case especially in US$ terms, something we have discussed in detail here, and with the US Fed releasing minutes yesterday which indicated they had far more members worried about the effects of the QE programs now, precious metals got pounded. This is something that would be expected although the past few months have been the exact opposite. One point though, and that is even if they stop injecting capital into the economy there is still a ton of it already there, just sitting idly and when that gets flowing and the velocity picks up overall that is when inflation will tick higher and the trade is no longer based on volume of dollars in the system but rather a store of wealth.
Disclosure: I am long GPOR. I wrote this article myself, and it expresses my own opinions. I am not receiving compensation for it (other than from Seeking Alpha). I have no business relationship with any company whose stock is mentioned in this article.