Starwood Property Trust (NYSE:STWD) is a commercial mortgage REIT founded in 2009. Since its inception, it has been a stellar performer, rising to the higher end of the S&P 500 smaller market caps and showing excellent growth, returns, and income distributions.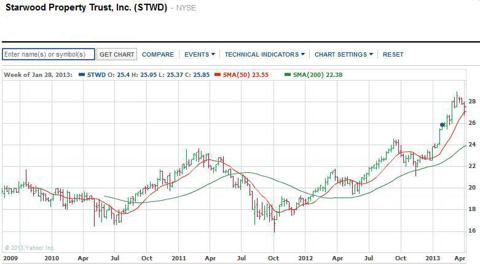 (Click to enlarge) (source: schwab.com)
The traditional valuation fundamentals also show strong performance. Book value, enterprise value and return on invested capital show good performance and growth.
STWD Book Value Per Share data by YCharts
Like most REITs, Starwood is first and foremost a dividend income equity investment. As such, the marketplace values it for its dividend distribution. The price of shares tends to move to a point where the effective yield rate on distributions is competitive to what investors believe is equivalent with alternative investments of equal risk. This is a classic mathematic relationship linking price, distribution and effective yield rate of Y=P/D (Y for yield, P for price, D for distribution rate). In an idealized model, for a given Distribution, Price will be constant at a level resulting in an effective yield competitive to alternative offerings of equal risk.
A look at the YPD chart for STWD shows a declining yield rate curve during a history of steady distribution. This indicates that the marketplace still has not reached a share price reflective of a fair value competitive yield on the existing distribution rate. Share prices can be expected to continue a rising trend until the market reaches a stable equilibrium yield rate at this current distribution level. For a more detailed explanation of the use and interpretation of YPD charts, please see my earlier articles introducing the YPD charting tools at Today's YPD Dividend Idea and BP Prudhoe Bay - Introducing A New Screening Tool.
STWD data by YCharts
The company's announcement of a new secondary offering of 26.5 million shares priced at $27.30 per share was met initially with disappointment by traders in the market with the shares shedding 3.8%, down to $27.15 on Tuesday, April 9th. Wednesday, shares bounced back about 1% to 27.43 by the close of trading. This rebound above the pricing of the new offering is a well deserved vote of confidence by investors not driven by the superficial negative inherent in the new shares and their pricing. I suggest that wise investors will likewise take this opportunity to establish new positions or grow existing ones at this time.
As we enter the 5th year of a market rise from the lows of 2008, this late phase bull market is traditionally a time of mergers and acquisitions. The addition of over $700 million in new equity capital along with the $250 million credit facility available to the company add to its cash on hand to give it over $1 billion for leveraging in new acquisitions. With a current market cap of $3.7 billion and enterprise value of $4.96 billion, I believe it is likely that an outright takeover of a similar size or larger mortgage REIT may well be in sight. This is further supported by management's discussions of spinning off the portfolio of residential mortgages and home rental properties into a separate entity. At the very least, management's historic track record of generating returns on invested capital over 5.5% indicates the new cash raised will translate very well to the bottom line in future results.
Currently, 6 analysts rate the stock as a strong buy or buy (3 of each) and 1 as a hold with a range of price targets from $28.00 to $35.00 and a mean target of $30.10.
Conclusions and recommendations:
Investors have no reason to wait on staking out positions in Starwood Properties. The current share price of $27.43 represents good value with an attractive yield rate. Short and long-term outlooks for share price growth and distribution increases are excellent from this well managed company that shows the ability to deliver results to shareholders.
Disclaimer: I am not a licensed securities dealer or advisor. The views here are solely my own and should not be considered or used for investment advice. As always, individuals should determine the suitability for their own situation and perform their own due diligence before making any investment.
Disclosure: I am long STWD. I wrote this article myself, and it expresses my own opinions. I am not receiving compensation for it (other than from Seeking Alpha). I have no business relationship with any company whose stock is mentioned in this article.