The general markets have received investors' favor this year. The S&P 500 has rallied 12% reaching all-time high levels. Further, the S&P retail sector ETF (NYSEARCA:XRT) has slightly outperformed the market by rallying 15%. As markets continue to rally, it is worthwhile to look at underperforming companies in strong sectors, such as the retail sector, that may bring capital growth to investors. One example may be Abercrombie & Fitch (NYSE:ANF) (Figure 1). Its shareholders have not seen capital appreciation this year, but the company's price-per-share may rally in the interim for the reasons herein presented.
| | | | | |
| --- | --- | --- | --- | --- |
| Underlying | P/E | Forward P/E | Performance YTD | Dividend |
| SPY | 14.2 | - | 11.91% | 2.01% |
| XRT | - | - | 14.78% | 1.39% |
| ANF | 14.8 | 11.8 | 0.46% | 1.67% |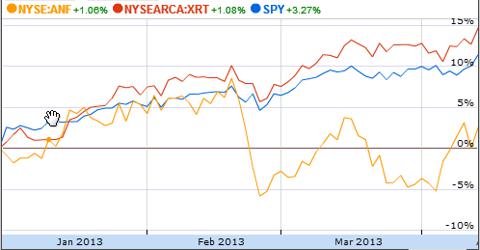 Figure 1. Year-to-date performance of S&P 500 (blue), Retail Sector SPDR ETF (red), Abercrombie & Fitch (yellow).
Why a long position must be considered?
Abercrombie and Fitch is an apparel company largely favored by youngsters. The company also carries other brands such as Abercrombie and Fitch Kids and Hollister. Its stores may be found practically in every mall in the United States. I believe a steady number of customers may be expected for this company, as global economies recover from recession and citizens begin spending money once again.
According to the company's most recent annual earnings report, the company's sales on a year-over-year basis increased 8% from $4.15 billion in 2011 to $4.51 billion in 2012. As a result, its net income rose significantly from $143.1 million in 2011 to $237.0 million in 2012. Furthermore, the company only inaugurated six new stores in 2012; however, its business model allowed it to increase its free cash flow by 700% from $46 million in 2011 to $344 million in 2012, and its balance sheet does not carry a sizable debt.
A solid performance in 2012 led to an increase of the company's EPS from $1.61 in 2012 to $2.85 in 2011.
Moreover, the company hiked its annual dividend after five years, starting in 2013, from $0.70 to $0.80 due to record sales and strong earnings growth for the fourth quarter of 2012. This gesture should put investors' mind at ease since the company is confident in its cash generation ability.
From the fundamental analysis point of view, the company is trading with a P/E of 14.81, and a forward P/E of 11.82. The stock is highly attractive to the value investor as shares are considered to be inexpensive at current levels. Further, it offers a modest dividend yield of 1.67% to its shareholders, which account $0.70. Future dividend hikes may be expected due to the company's boost in net income. Further, its return-on-equity is 14.47%. It also operates with a 5.3% profit margin due to a solid business model. Finally, from the technical analysis point of view, it is currently trading near its 20-day and 50-day moving averages, and a long position may be initiated here.
The take home message
In conclusion, Abercrombie and Fitch looks attractive to the value investor because it is trading at an inexpensive earnings-per-share ratio. As global economies stabilize, its sales should increase. Due to a solid business model, the company's sales increased 8% on a year-over-year basis. Further, its free cash flow jumped 700%. As a result, shareholders were rewarded with a hike in the dividend offer. For these reasons, a position may be considered for the long markets.
Disclosure: I have no positions in any stocks mentioned, and no plans to initiate any positions within the next 72 hours. I wrote this article myself, and it expresses my own opinions. I am not receiving compensation for it (other than from Seeking Alpha). I have no business relationship with any company whose stock is mentioned in this article.