About a month ago, I published an article outlining the bull case for Western Union (NYSE:WU). My investment thesis was based on WU's valuation and WU's potential for additional margins to be gained from penetrating underdeveloped markets with its broad service offerings. At the time I wrote the article, WU was trading around $14.50 per share, and its security price has remained relatively the same ever since. In addition, nothing fundamental in nature about WU's business model has changed either, and its security price continues to be priced cheap at a favorable discount.
To further elaborate on my original thesis, I decided it is highly relevant for investors to understand that WU's management does agree with the fact the greatest room for margin improvement lies at the heart of penetrating developing markets and continuing to expand its digital business in foreign countries. On March 20, members of WU's management team presented at Barclays Capital Emerging Markets Forum and provided valuable insight regarding the key segments of WU's business and where it's headed next in terms of global expansion. This article outlines items discussed at the presentation that are relevant to augmenting WU's valuation and includes addition insight corresponding to the key points made by WU's management. Furthermore, I will provide a DCF model extending six years forward that incorporates attributes pertinent to expected revenue from increasing market share. To conclude, investors will be provided with an intrinsic share price estimate for the end of FY 2013.
Western Union's Management Presentation at Barclays Capital Emerging Markets Forum: What You Need to Know
Present at the conference was WU's Senior Vice President and General Manager of WU's Digital Ventures, Khalid Fellahi, and several analysts who choose to remain anonymous. The full transcript can be obtained here. Khalid has been a lead manager at WU for over 10 years. Currently, Khalid is responsible for WU's African business, and within the past two years has transitioned his focus toward expanding WU's digital business. In my opinion, WU's digital business is one of its greatest growth prospects. Last year, its electronic revenue channel increased by 27%, which is considerably attractive. In terms of future growth, emerging markets and foreign countries provide the greatest opportunity for expanding WU's digital business - which management has clearly recognized.
WU's widespread network remains one of its most lucrative and largest assets. Currently, WU's network is includes more than 510,000 agent locations that are strategically positioned throughout 200 countries. As mentioned in my previous article, WU's marketing and business channels are primarily business-to-consumer, but recently WU's business-to-business service offering is gaining traction. During the presentation, Khalid pointed out a few of the specifics:
The strong consumer base with 231 million consumer-to-consumer transactions worldwide. That's about 70 million people sending money, and then you have the receivers. And obviously, for the past few years, we've also developed a B2B business, and we operate on a base of approximately 100,000 B2B customers.
WU's 231 million consumer-to-consumer transactions worldwide accounted for 81% of its revenue for FY 2012, which equates to roughly $4.617 billion of $5.7 billion in total revenue.
Figure 1: WU's FY 2012 Revenue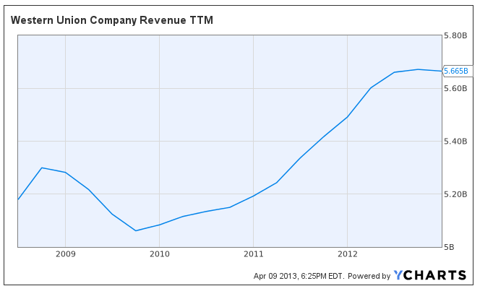 Traditionally, WU has gained a notable reputation for its cash-to-cash business, yet its digital business received significantly less attention for the value it has to offer customers. The past few years reveal signs that a transition is taking place. The shift and expansion towards targeting customers through WU's traditional business channels with its new digital products and services is only beginning. WU's increasing capital expenditures can be associated with the construction of new infrastructure to solely diversify WU's channels. As you are beginning to see, looking ahead, WU's growth potential is tremendous, and Khalid makes investors recognize this by focusing on market share:
I mean, I don't know if I really have to convince people, but this is definitely a growing market opportunity. We have still a very small market share, so the growth is in front of us. We have an opportunity to capture a lot of market share in this particular channel. The channel adoption growth is high, we're talking about 24% CAGR just on originating from online.
Valuation
At a market price of about $14.50 and with 568.77 million shares outstanding, WU's market capitalization is $8.247 billion. In contrast to its peers, WU lies below the median in terms of market capitalization. WU currently trades at a low P/E of about 8.17, which is significantly lower than the majority of its peers. Looking at return on equity [ROE], WU's ROE of 111.79% exceeds all its peers without a doubt. Most of its peers have an extremely low dividend yield if any, yet WU manages to provide its shareholders with a dividend yield of 2.94%
Figure 2: WU's Relative Value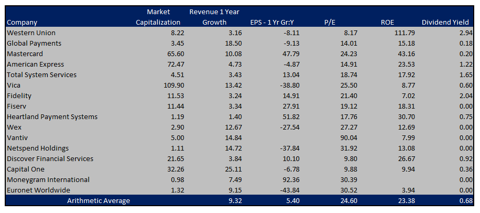 Right now, Western Union is trading at the bottom quartile of its two-year valuation based on its P/E, P/B and P/S. As you saw above, WU's P/E was considerably low. Shown in figure 3 below is WU's P/B, P/S, as well as its price-to-earnings growth ratio [PEG]. The PEG ratio allows us to determine a stock's value while taking earnings growth into account. WU's PEG ratio is 0.1815, which is extremely low. The unique feature about this ratio is that it becomes very meaningful when it is less than 1 and is complimented with a P/FCF ratio of less than 15. This is a strong preliminary indication that the stock is indeed undervalued. Given WU's PEG ratio is less than 1 and its P/FCF is less than 15 at only 12.88, we can safely make the assumption that WU is undervalued.
Figure 3: WU's P/E, P/S, P/B, & PEG Ratio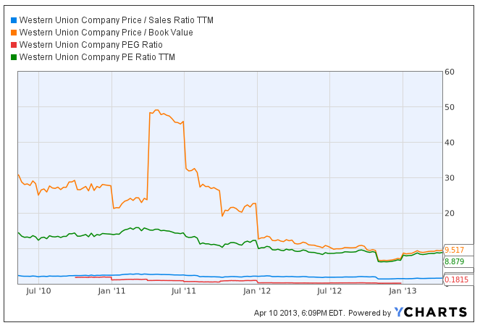 In my previous article, I stated Western Union is currently trading at a discount of about 38% to fair value, which I still feel is a valid assumption. However, 38% is moderately conservative when taking into account WU's continued development and growth into new markets. To increase accuracy, I forecasted several of WU's relevant balance sheet and income statement items to project WU's expected free cash flows for the next six years. Next, I used the traditional discounted cash flow model [DCF] with WU's current weighted average cost of capital [WACC] as the risk-adjusted discount rate. Based off WU's current capital structure, I computed a WACC of 7.34%. To derive an intrinsic share price estimate for 2013, I divided the net present value [NPV] by WU's number of shares outstanding and arrived at a fair value of $29.87 per share. This implies an upside of roughly 100% from its current valuation. Note I attempted to make this estimate highly conservative through using a perpetual growth rate of only 2.75% for computing the terminal value and by increasing operating costs to 23% of revenue for each year. Historically, WU's operating costs have been concentrated around 21% of revenue. Also, WU's management has been effectively working to reduce costs, and there is a high probability that by 2016 WU's operating costs may fall below 20% of revenue.
Figure 4: WU's DCF Model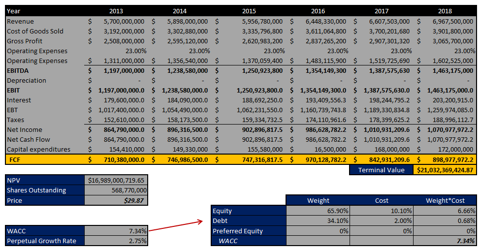 Conclusion
The bottom line is - Western Union is extremely undervalued. Patient value investors not only have the advantage, but the opportunity to achieve a substantial return on an initial investment. WU's existing customer base and expansionary plans for further penetrating new markets, makes its business model feasible and will enable it to sustain in the long run. In addition to the discount to fair value highlighted in my first article, factoring in WU's market potential makes it an extreme bargain at its current share price. In conclusion, I recommend buying WU as a long-term investment.
Sources: TD Ameritrade, Google Finance, Yahoo Finance, Seeking Alpha's Transcript, and The Wall Street Journal.
Disclosure: I am long WU. I wrote this article myself, and it expresses my own opinions. I am not receiving compensation for it (other than from Seeking Alpha). I have no business relationship with any company whose stock is mentioned in this article.