Tesla Motors (NASDAQ:TSLA) was the center of media attention lately. CEO Elon Musk was active in social media before the announcements, saying that "he is going to put his money where his mouth is." On April 1st, the company announced that it will report a profit in the first quarter, and the shares shot up to new all time highs. A day later, Musk came out with a "revolutionary" financing option for the Model S, which did not cause a further rise in the share price, and the stock pulled back. However, this might be a turning point for the company.
Company guidance
Tesla announced that sales of its Model S exceeded 4,750 units in the first quarter and surpassed company guidance for 4,500 vehicles. In addition, the company guided for full profitability in Q1 on both a GAAP and non-GAAP basis.
Analyst estimates have gone up in the last 30 days, but they still expect the company to report a $0.01 loss in the first quarter. Full year estimates are up from $0.01 to $0.14 in the last thirty days and from $1.30 to $1.41 for 2014.
Tesla also announced a "revolutionary" financing option for the Model S. Buyers can purchase a Model S for a 10% down payment, and monthly payments that would cost the customer $500 after factoring gas savings. After 36 months, buyers can return the car to Tesla "for the same residual value percentage" as a Mercedes S Class vehicle, and it comes with a personal guarantee by CEO Elon Musk, as he backed the guarantee with his personal assets. His confidence might sound fascinating, but it remains a question whether the effort will translate into higher sales.
CEO Elon Musk said on his twitter account that the financing option announcement was actually the second part in a "5 part trilogy," so further surprises are to be expected soon.
Growth is on track
The company seems very well on its way to increase production, grow sales and eventually become profitable, and sooner than they expected. In its annual shareholder letter in February, the company said that it reached a few key milestones. From the 2012 plan to produce hundreds of Roadsters a year, they transitioned to a plan to produce hundreds of Model S vehicles per week. The annualized production stood at 20,000 units per year, and they plan to introduce the Model S around the world. First deliveries in Europe and Asia are scheduled for later this year. Reservations stood at 15,000 at the end of 2012, and are up from 13,000 at the end of Q3 2012, indicating strong demand.
Tesla reported 2012 revenue of $413 million, a 103% increase over 2011. All the growth came from the last quarter. Fourth quarter sales growth was 676%, and accounted for more than 70% of total 2012 revenue. Revenue is expected to increase 367% this year to almost $2 billion. Analysts expect the company to become profitable this year, with full year EPS of $0.14. Earnings are expected to increase 900% to $1.41 next year.
Earnings and price cycle
Tesla is transitioning to the second stage of the Earnings Maturation Cycle. The second stage includes positive earnings and sales surprises and positive estimate revisions. We can see those characteristics in Tesla. Those are the characteristics that most often cause the stock price to move up substantially.
The share price is also indicating a start of the stage two growth cycle as it reached new all time highs, and broke out of a long-term consolidation. These characteristics put Tesla in my potential new "Superperformance" stocks. The recent pullback in lower volume is constructive, and it is important for the stock to hold the $40 price level.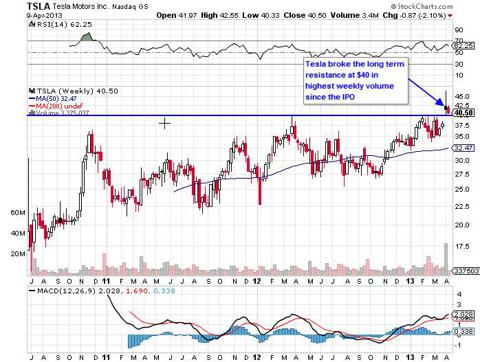 Source: Stockcharts
Conclusion
Tesla's growth is going the right way. A ramp up in production, strong reservations backlog, substantial sales growth and the expectation for turning a profit this year are great signs of improvement. Earnings estimates and positive surprises, combined with a breakout to new all time highs, provide a catalyst for the stock price to go higher in the future.
Disclosure: I have no positions in any stocks mentioned, and no plans to initiate any positions within the next 72 hours. I wrote this article myself, and it expresses my own opinions. I am not receiving compensation for it (other than from Seeking Alpha). I have no business relationship with any company whose stock is mentioned in this article.