I recently ran a screen for safe stocks that yielded at least 2%. One of the interesting stocks that came up was Computer Programs & Systems Incorporated (NASDAQ:CPSI). CPSI is an information technology company that specializes in the healthcare market, specifically in providing Electronic Health Records systems for small (rural and community) hospitals. When I looked into CPSI more closely, I found that one of its quasi-competitors, Quality Systems (NASDAQ:QSII), also had a lot of the things I look for in a stock. It was weeded out of the original screen because it had a higher beta than I was looking for, but would have shown up otherwise.
Both companies develop and market medical records / information systems. CPSI focuses on the small hospital market, while QSII's target market is more at the practice level. I am generally bullish on the healthcare sector with the aging population and Obamacare; I'm sure you have heard the arguments before. I also like the Software as a Service business model. It provides ongoing revenue for the provider and allows it to deliver incremental improvements rather than focusing on one fixed release date for a new version. You can pretty much think of it as the difference between doing a lot of small projects throughout the year or having one final exam. A better product means happier customers, and in the long run, having happy customers usually means happy investors.
So, this article will compare CPSI and QSII on several fundamental factors and a few more qualitative ones.
Gross Profit Margin - The first place I look when examining any business that has passed whatever initial screen I am working from is the gross margin. Earnings ultimately come from being able to sell things for more than they cost you. There are all sorts of things that can interfere with the bottom line in the short run, but if you see a business with a consistently high gross margin the odds are that they are making money for their shareholders. As we can see from this chart (data from gurufocus, excel work all my own), both companies have pretty strong Gross Margins.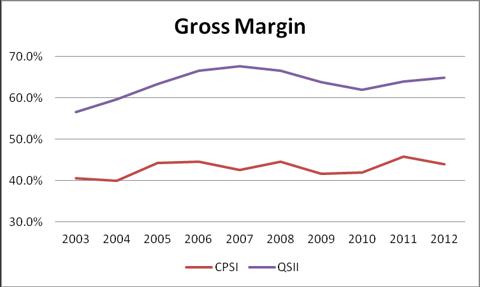 CPSI consistently manages a gross margin of above 40%; last year was 44%, and they are showing a pretty nice uptrend over the last ten years. QSII's gross margin has been above 60% for the last eight years (last year's was 64.8%), although the trend is downwards since the highs of 2007. Both companies perform well in this category, but I am going to give the edge to QSII (in no small part because they raised gross margin the last two years, which suggests they will maintain the 60-65% range).
Net Margin
The bottom line is obviously important to investors. It measures how well the company converts its revenue into money for you.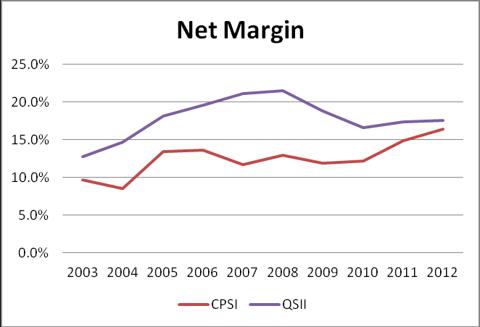 The two companies are much closer in net margin than in gross margin. This is mostly due to QSII incurring higher selling general and administrative expenses, presumably because they sell to more (but lower value) customers than CPSI. QSII's net margin has been better than CPSI's for the last ten years (it was 17.6% to 16.4% last year). However, CSPI has been improving its margin faster and more consistently, so it may well be better in the future. Overall, this one depends on whether you believe in history or prospects. I'm actually going to give the edge to QSII, because they have proved their ability to make a better profit.
Cash and Debt
Both companies carry no long term debt and have not had any for the last ten years. CPSI's total liabilities were 26.5% of assets last year. QSII's total liabilities were 33% of assets, but their year ends in March, and the most recent quarter was 27.1%, so it looks like the two are pretty comparable at the moment. Both companies have healthy cash balances too. CPSI has 25% of assets as cash or equivalents QSII is almost identical at 24%.
It would be unfair to say that one of these basically debt-free and cash-rich companies was better than the other. This round is a draw (but the good kind).
Return on Assets
Return on Assets measures a company's ability to put your money to work effectively.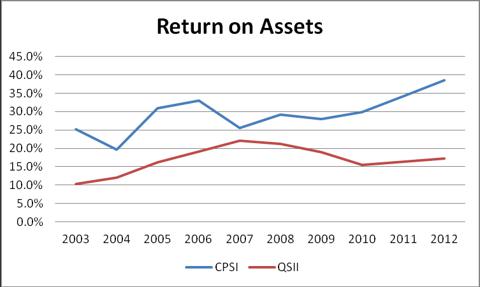 CPSI has a higher return on assets (38.5% to 17.2% last year) and a more positive trend. One contributing factor to this might be that QSII have 28.5% of its reported assets in intangibles, while CPSI do not report any intangibles. It is difficult to make intangible assets produce income. The edge in this round goes to CPSI.
EPS growth
CPSI has grown EPS by 17.8% per annum over the last five years, and analysts are forecasting 14% per annum over the next five years. QSII has grown at the slower rate of 10.2% over the last five years and forecasts for the next five are a more modest 10.5%. You should obviously take forecasts with a pinch of salt (both companies have a recent track record of missing earnings forecasts), but I am giving the edge in this category to CPSI.
Dividend
Cash generating companies like these two should be able to pay their stockholders a decent dividend. Sure enough, they do. CPSI currently yield 3.85% and QSII are just a touch behind at 3.74%. QSII only began paying a dividend in 2008 but have raised it every year since then. CPSI have paid a dividend since 2003 (26c per share) but it was flat between 2006 and 20011 (except for 2009 where they cut it to $1.08). I do not put as much faith in having increases every year as many people do (especially when a company announces a tiny increase in dividend to keep a streak alive). I prefer to judge my dividend increases by their size over a longer period rather than a streak. The two companies are pretty close in dividend metrics and both have history of paying a special dividend when their cash starts to pile up. I am going to have to say this round is a draw.
Valuation Metrics
CPSI is trading at 19.6 P/E. QSII is a little cheaper at 17.9. However, CPSI trades at a much more reasonable 1.08 PEG compared to QSII's 1.59.This suggests that the market expects more growth out of CPSI but also that their growth is cheaper than QSII. It is not a bargain, but it is a reasonable price. The advantage in this one goes to CPSI.
Market Share / Prospects
Both companies are major players in their niches. However, competition appears to be hitting QSII harder as more companies try to move into the physician market (small hospitals are not yet worth the time for big vendors to try and sell to). It also appears that QSII's products are less well regarded than CSPI's (although this is based on a very quick and unscientific study on my part, so it might just be that clinic users are more inclined to complain on the Internet than hospital users). CPSI also probably has an advantage in customer retention, as it is more inconvenient to switch a hospital from one system to another than a clinic.
So, the final score after seven financial metrics is CPSI 4 vs QSII 2 and 2 draws. That's quite close. Overall, both of these companies are appealing investment prospects. From my analysis, and for my investment style, I prefer CPSI. However, QSII's current performance is slightly better. If you are more of a bird in the hand type rather than looking for two in the bush, then you would be entirely logical to prefer QSII. Another thing to consider is that they are both somewhat small companies with one main market. This makes them riskier than many traditional income stocks. Therefore, I will be looking to initiate half-sized positions in both stocks when buying opportunities arise (I'd really like to get PEG below 0.95 or P/E of 16 but we shall see).
Disclosure: I have no positions in any stocks mentioned, but may initiate a long position in CPSI, QSII over the next 72 hours. I wrote this article myself, and it expresses my own opinions. I am not receiving compensation for it (other than from Seeking Alpha). I have no business relationship with any company whose stock is mentioned in this article.