By Michael Vodicka
With the S&P 500 hitting an all-time high, stocks have been stealing the headlines. But behind the scenes, there is a market that is just as hot.
And when this market accelerates as it did in early 2008, prices can easily jump 50% in a few months. Take a look at the big move below.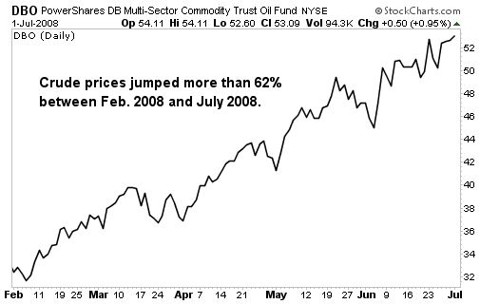 This is a chart of West Texas Intermediate [WTI] crude oil prices. Crude oil just logged its best five-day run in eight months, trading near the key $100 level.
That bullish movement has been driven by big institutional investors sending capital into commodities, with hedge and fund managers increasing their net long positions across a basket of 18 U.S. futures and options markets by 10% in the week ended March 26. That mirrors a larger trend, with bets on commodities up 67% in the past three weeks, the biggest gain since May 2009. And one of the biggest destinations of those bets is into crude.
That's because peak consumption in the spring and summer is right around the corner, and the smart money is betting prices will move higher. With monetary stimulation from the central banks of the world fueling potential inflation, the stage is set for crude to make another run to its all-time high above $147 per barrel this summer.
Buying a crude-oil exchange-traded fund such as Powershares DB Oil (NYSE: DBO) is a good way to profit from rising oil prices, as demonstrated in the chart above. But there's a better way: Buyshares in exploration and production (E&P) companies that own and extract the commodity from the ground. [These are the special kinds of stocks and opportunities that my colleague Nathan Slaughter looks for in his Junior Resource Advisor newsletter.]
Exploration companies provide unparalleled leverage to crude prices, reaping huge gains in sales andearnings when prices surge higher.
But the group has been under pressure in the past two years after energy stocks collapsed in the spring of 2011. That has E&P stocks trading at record low valuations and carrying big-time dividend yields.
Here are seven E&P stocks with yields up to 9%.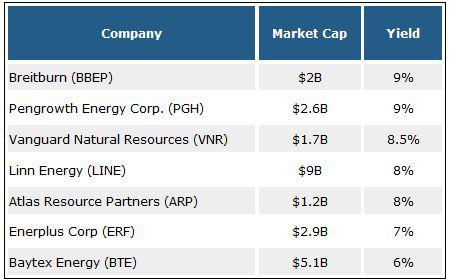 From this group, I like Breitburn Energy Partners (Nasdaq: BBEP) because of its outsized dividend yield, and Atlas Resource Partners (NYSE: ARP) because of its earnings power.
Breitburn Energy Partners
Breitburn explores and produces oil in Texas, California, Wyoming, Indiana and Kentucky. The company also explores for natural gas, providing additional leverage to another growing segment of the global energy market.
Despite the S&P 500's big gains in the past two years, Breitburn's shares are down 7% during the same period. No doubt that has a lot to do with crude trading mostly sideways and natural gas falling sharply. But with both markets on the mend, higher crude and gas prices would be a boon to the company.
Analysts are looking for earnings per share [EPS] of 86 cents in 2013 and 96 cents in 2014. That has shares trading with a forward price-to-earnings (P/E) ratio of 23, a slight premium to its peer average of 19. But when you add in the dividend yield of 9.4%, Breitburn offers strong growth and income.
Atlas Resource Partners
Atlas Resource Partners explores and produces with interests in some of the biggest and most lucrative energy properties in the country. That includes assets in the Barnett and Marcellus shale plays, two of the largest shale formations in the country. Atlas has also been struggling, with shares down 17% in the past year.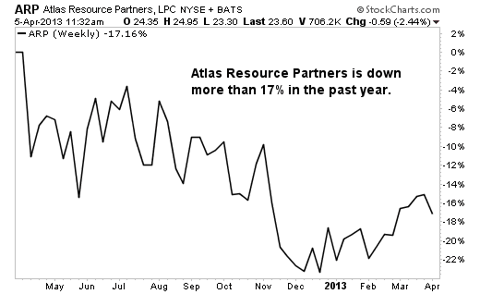 But with analysts expecting EPS of $1.15 in 2013 and $1.61 in 2014, that has sweetened the valuation picture considerably. As it stands, Atlas's forward P/E of 21 is a sharp discount to its 10-year average of 33. And when you throw in a hefty dividend yield of 8%, there is compelling value and income to be had.
Risks to Consider: Oil E&P stocks are some of the most sensitive energy stocks in the market. Any signs of slower GDP growth or weakness in the global economy will weigh on the group heavily.
Crude just logged its best five-day run in eight months. That's a bullish signal heading into spring and summer, which are peak seasons for consumption. These seven E&P stocks stand to benefit the most from higher crude prices, but the group still trades at historically low valuations after falling sharply in the past two years. My favorites are Breitburn Energy Partners because of its outsize dividend yield and Atlas Resource Partners because of its bullish earnings growth projection.
Disclosure: I have no positions in any stocks mentioned, and no plans to initiate any positions within the next 72 hours. I wrote this article myself, and it expresses my own opinions. I am not receiving compensation for it. I have no business relationship with any company whose stock is mentioned in this article.