By Brendan Gilmartin, VP Research & Content
Citigroup (NYSE:C) is scheduled to report 1Q 2013 earnings before the opening bell on Monday, April 15. The results are expected to come through at approximately 8:00 a.m. EST with a conference call to follow at 11:00 a.m. Citigroup has the potential to impact the broader market indices, including the S&P Index Futures and corresponding ETFs. The earnings also come after Friday's releases from JP Morgan Chase (NYSE:JPM) and Wells Fargo (NYSE:WFC).

Outliers & Strategy
Citigroup is expected to post earnings of $1.18 per share (Low: $0.93/High: $1.51). Revenues are forecast to come in at $20.10 bln, a 3.6% increase from the year-ago period. (Source: Yahoo Finance)
In light of the recent strength in the share price, look for Citigroup to deliver EPS in the $1.40-$1.50 range in order to sustain the momentum. Options traders are currently pricing in a roughly 3% move off the earnings, consistent with historical announcements.
Despite the recent run-up, Citigroup shares are at a steep discount to tangible book value of $51.19 per share (as of 4Q 2012).

Recent News
03/19: Deutsche Bank raised the price target on Citigroup from $46.00 to $53.00, according to a post on StreetInsider.com. The positive view was based on its strong capital base and earnings upside. The firm also maintained a Buy rating.
03/18: Citigroup agreed to settle a class action lawsuit brought on behalf of investors who purchased Citigroup debt and preferred stock during 2006 through 2008. Under the terms of the proposed settlement, Citi would pay a total of $730 million.
03/14: Citigroup reported the Federal Reserve had no objection to its capital plans, which include a $1.2 bln share repurchase plan and maintenance of the current $0.01 per share quarterly dividend.
03/11: ISI Group reiterated a Buy rating on Citigroup and raised the price target from $46.00 to $53.00, according to a report on Benzinga.com. The firm cites higher estimates for 2013-2015 and improving U.S. economic and housing conditions.
Technical Review
Citigroup shares have been rallying in recent months, gaining more than 30% since early December. Should earnings surprise to the upside, look for the shares to retake the recent highs near $48.00 (52-week high was $47.92 on 3/11). Conversely, support is at $43.00, with downside risk to $42.00. (Chart courtesy of StockCharts.com)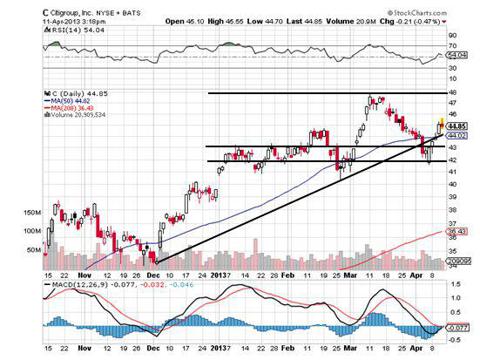 Summary
Citigroup shares have been rallying over recent weeks, en route to the highest level since mid-2011 on a split-adjusted basis. An improving economic backdrop in the U.S., ongoing restructuring efforts, stronger fundamentals, including rising Return on Equity (ROE), a new management team, and expense controls are among the factors contributing to the recent gains. Against this positive backdrop, look for earnings to therefore come in at the upper end of consensus forecasts. Flat to in-line results could trigger a "sell the news" scenario, while earnings below Street estimates would be seen as a major disappointment in the context of the recent advance. Finally, earnings Friday from Wells Fargo could influence the direction of Citigroup ahead of its release.
Disclaimer: By using this report, you acknowledge that Selerity, Inc. is in no way liable for losses or gains arising out of commentary, analysis, and or data in this report. Your investment decisions and recommendations are made entirely at your discretion. Selerity does not own securities in companies that they write about, is not an investment adviser, and the content contained herein is not an endorsement to buy or sell any securities. No content published as part of this report constitutes a recommendation that any particular investment, security, portfolio of securities, transaction or investment strategy is suitable for any specific person.
Disclosure: I have no positions in any stocks mentioned, and no plans to initiate any positions within the next 72 hours. I wrote this article myself, and it expresses my own opinions. I am not receiving compensation for it (other than from Seeking Alpha). I have no business relationship with any company whose stock is mentioned in this article.