VIX - Market Sentiment
Thursday just like clockwork S&P continued to again move to new highs as resistance now moves to the 1600 level. The market rally was fueled by a drop in unemployment claims which came in at 346K vs. the expected 362K level. Tomorrow we have Core retail sales, PPI m/m, and Retail sales all expected to be released with Fed Chairman Bernanke set to speak at 12:30 pm. These numbers will most certainly be market movers as we continue yet again to move the market higher. For the bears out there claiming the market is "Overbought" I would refer you to the NYMO. Currently sitting at +13, I would again expect this to move higher but it is nowhere near the +80 overbought level at this point.
The spot VIX or CBOE Volatility index and futures had an interesting day today. Getting crushed again early kissing the 12.15 level before rebounding back towards the 12.60 level. This was of course until the late day rally algorithms kicked in yet again pushing volatility down yet again. Volatility ETF (NYSEARCA:VXX) and 2x ETF (NYSEARCA:UVXY) unlike the last 4 days did not see large put inflows as reported on the sonar (here). Today it was call buyers dominating the net premium buying VXX calls to the tune of 1.1M vs. puts only seeing 19K in net premium inflows. Again VXX activity remains high, but the interesting part to me today was the calls were bought on the offer 53% of the time against puts only seeing 37%. Large buyers of the May 20 and April 23 strike VXX calls were out in force today but it is hard to determine if these are new or closing positions. Check OI tomorrow to see if total options increased or decreased.
Click to enlarge images.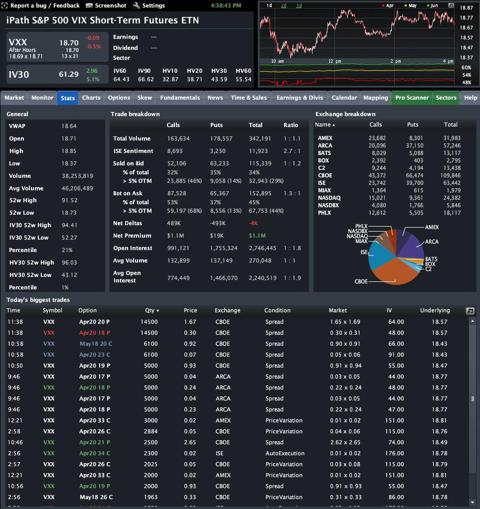 Source: Statistics and screenshot provided by LiveVol.
VIX futures are listed below.
Yesterday
April VIX futures 13.00
May VIX futures 14.50
June VIX Futures 15.50
Today
April VIX futures 13.10
May VIX futures 14.50
June VIX Futures 15.40
Options Paper
MBIA Inc (NYSE:MBI) was on the sonar just yesterday (here) for unusual call activity. After one trader bought the Aug. 13-16 call spread to the tune of 1.5M worth just yesterday, this trader is back again buying the weakness in MBI again today buying the same call spread again another 10K times for a total 35K contracts. Amazingly this name continues to see volatility climb as these contracts continue to be bought up another 2.5% again today. This additional 666K in premium on top of yesterday's 1.5M now has this trader laying more than 2M betting MBI will head higher prior to August expiration. Options again today were more than 2x average daily volume with calls outnumbering puts more than 13 to 1. On any serious correction I would and continue to look to get long this name.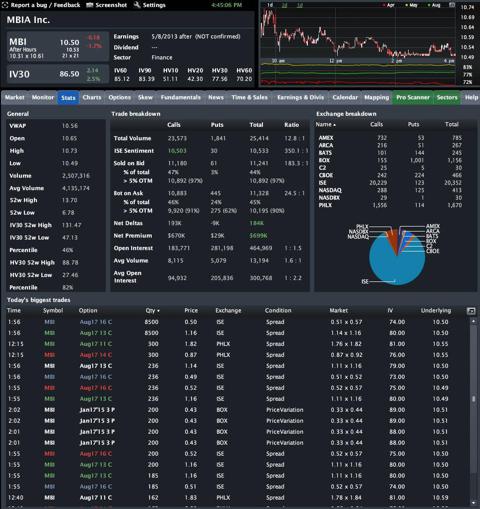 Source: Statistics and screenshot provided by LiveVol.
Hewlett-Packard (NYSE:HPQ) is a name for those who follow me and my trades on twitter know I went short on Tuesday. This name has gone absolutely vertical in 2013 looking for a rebound, but has been slapped down yet again on terrible computer sales numbers and estimates released yesterday. Down 6.4% today many asked me if I took off my short and the answer is no. Although my put position is up 50% in 2 days there were heavy put inflow's today specifically a put buyer of the Jan. 25-15 put spread 8K times for just under 5.00. Additionally, large call sellers also came into the market today selling the January 25 strike call just 1 hour later for .96 7.5K times. Overall net puts saw inflows of 452K and calls saw outflows to the tune of 834K as the stock retreats back to the 20 level. This name is in secular decline and I believe the next few months will prove challenging for this PC maker and options as of now agree with me.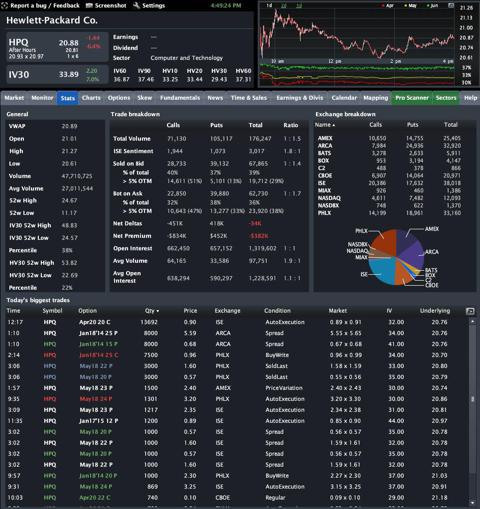 Source: Statistics and screenshot provided by LiveVol.
Popular ETFs and Equity Names With Bullish/Bearish Paper:
Bullish Option Flows -- ISE and % OTM calls bought on offer
Cablevision (NYSE:CVC) 97% -- 6K OTM calls (second consecutive day of big OTM call buying)
Canadian Natural Resources (NYSE:CNQ) 94% -- 9.7K OTM calls
Penn Virginia (PVA) 94% -- 5.8K OTM calls
Bearish Option Flows -- ISE and % OTM puts bought on offer
Hercules Offshore (NASDAQ:HERO) 100% -- 2K OTM puts bought
Cemex (NYSE:CX) 96% -- Big put buyers more than 10K worth more than 354K in premium
ConAgra (NYSE:CAG) 87% -- 4.5K OTM puts bought
Disclosure: I am long AGNC, BA, BAX, CBB, CIM, CONE, DNDN, DRYS, HEK, IOC, LNG, NQ, and TLM, and I am short ASH, BBBY, CF, EA, EMR, HPQ, JOY, LULU, and SPY.
Trades Today: Shorted JOY with leap puts
Disclaimer: The opinions in this document are for informational and educational purposes only and should not be construed as a recommendation to buy or sell the stocks mentioned or to solicit transactions or clients. Past performance of the companies discussed may not continue and the companies may not achieve the earnings growth as predicted. The information in this document is believed to be accurate, but under no circumstances should a person act upon the information contained within. I do not recommend that anyone act upon any investment information without first consulting an investment professional as to the suitability of such investments for his or her specific situation.