By Michael Rawson, CFA
Investors poured $16.9 billion into exchange-traded funds in March, bringing the first-quarter total to $53.1 billion. ETFs have gathered more than $50 billion in four of the past five quarters. U.S.-stock funds were particularly popular last month, as they attracted $11.2 billion, the most of any asset class. The strong flows into U.S.-stock ETFs did not come at the expense of bonds, as bond ETFs gained $4.6 billion. For the month of March, commodities and international stock were the only asset classes to see outflows.
Within the U.S.-stock asset class, large value and small blend experienced strong inflows, while the growth style experienced weaker inflows. In large value, iShares MSCI USA Minimum Volatility (BATS:USMV) had inflows of $1.7 billion for the quarter, while PowerShares S&P 500 Low Volatility (NYSEARCA:SPLV) attracted $841 million. The low-volatility theme has resonated with investors by offering the potential for a smoother ride. Over the long term, low-volatility stocks have offered comparable returns but lower risk than the broad stock market. Also in large value, Vanguard Value ETF (NYSEARCA:VV) attracted $1 billion, while iShares Russell 1000 Value (NYSEARCA:IWD) brought in $690 million. Within small blend, iShares Russell 2000 Index (NYSEARCA:IWM) attracted $3.4 billion. PowerShares QQQ (NASDAQ:QQQ) had outflows of $1.1 billion, weighing on the large-growth category. Both of Vanguard's dividend ETFs saw strong flows: Vanguard Dividend Appreciation ETF (NYSEARCA:VIG) attracted $1.2 billion, while Vanguard High Dividend Yield Indx ETF (NYSEARCA:VYM) saw $594 million of new money.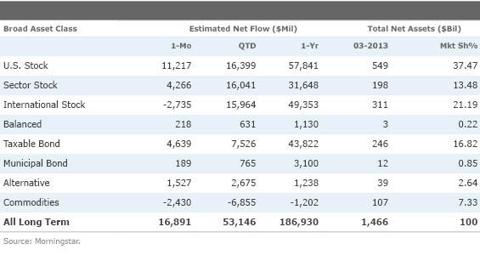 Short-term bond and bank loan were the two most attractive categories within the taxable-bond asset class, while intermediate government and long-term bond had outflows. For the quarter, Vanguard Short-Term Bond ETF (NYSEARCA:BSV) attracted $2.2 billion and PowerShares Senior Loan Portfolio (NYSEARCA:BKLN) had inflows of $1.5 billion. Two longer-duration funds, iShares Barclays TIPS Bond (NYSEARCA:TIP) and iShares iBoxx $ Investment Grade Corporate Bond (NYSEARCA:LQD) had outflows of $1.5 billion and $1.4 billion, respectively.
In March, investors pulled $4.1 billion out of diversified emerging-markets ETFs, their first monthly outflow since May 2012. For the quarter, investors swapped out $1.5 billion from iShares MSCI Emerging Markets Index (NYSEARCA:EEM) but added $911 million to iShares MSCI Emerging Market Minimum Volatility ETF (BATS:EEMV) and $693 million to iShares Core MSCI Emerging Markets ETF (NYSEARCA:IEMG). Although they are similar, EEM charges 0.69% and IEMG charges just 0.18% and tracks a more comprehensive index that includes small-cap stocks. EEMV offers exposure to emerging-markets stocks but attempts to achieve lower volatility than the broad market and charges 0.25%.
Also within the international-stock asset class, WisdomTree Japan Hedged Equity (NYSEARCA:DXJ) brought in $1.1 billion for March and $3.9 billion for the quarter. Assets in the fund now sit at $5.6 billion, up from just $600 million a year ago. The ETF, which hedges its exposure to the Japanese yen, is up 19% from a year ago compared with the 8% return in iShares MSCI Japan Index (NYSEARCA:EWJ), which does not hedge currency exposure.
Alternative ETFs gained $2.7 billion in flows in the first quarter as traders placed bets on both a decline in the equity market by placing $2.5 billion in trading-inverse equity ETFs and a spike in volatility by placing $1.2 billion in volatility related products, mostly on the long side. ProShares UltraShort S&P 500 (NYSEARCA:SDS), which offers twice the inverse of the daily return of the S&P 500, attracted $800 million in assets for the quarter. IPath S&P 500 VIX ST Futures ETN (NYSEARCA:VXX) gained $678 million. VXX benefits from an increase in the VIX, which would generally be associated with a sharp decline in equity markets.
Balanced funds gained $631 million in assets for the quarter. Balanced funds account for less than half a percent of ETF assets compared with 10% of open-end fund assets. Balanced funds such as target-date or target-risk funds are popular within retirement savings accounts, but ETFs have yet to meaningfully penetrate this distribution channel. The expense ratio and tax-efficiency advantages of ETFs over open-end funds have less impact within retirement accounts, and the intraday trading and lack of fractional shares present a challenge for retirement-plan providers.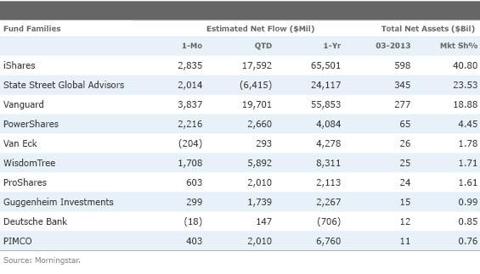 At the firm level, Vanguard continues to gain market share, leading all ETF providers for the month and the quarter. Vanguard's market share has grown to 19% from 17% one year ago. IShares, the largest ETF provider in terms of ETF assets under management, collected the second biggest flow for the month and quarter, yet its market share has slipped by about half a percent over the past year. State Street, the second-largest ETF provider, saw outflows of $6.4 billion in the quarter, dragged down by outflows of $8.1 billion from SPDR S&P 500 (NYSEARCA:SPY) and $6.8 billion from SPDR Gold Shares (NYSEARCA:GLD). State Street has lost 1.2 percentage points of market share over the past year. Combined, iShares, State Street, and Vanguard hold 83% of ETF assets under management.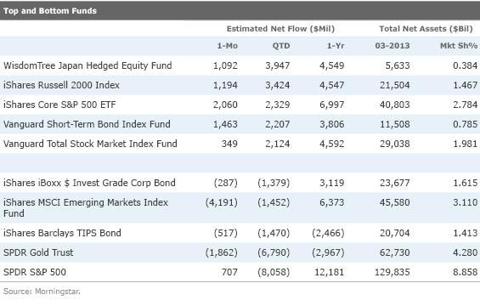 Beyond the Big Three
The remaining 17% of ETF market share is divided up by 47 ETF providers, with a number of new entrants looking to join the fray. Over the past year, WidsomTree, PIMCO, and Schwab have gained market share while PowerShares, Van Eck, ProShares, and Deutsche Bank have lost ground. WisdomTree has benefited from continued interest in international investments, where it has a number of dividend-themed products. In addition to the recent surge in in DXJ, WisdomTree Emerging Markets Equity (NYSEARCA:DEM) and WisdomTree Emerging Markets Local Debt (NYSEARCA:ELD) have seen strong flows over the past year. PIMCO's growth has been driven by the performance and buzz surrounding PIMCO Total Return ETF (NYSEARCA:BOND). The largest actively managed ETF has grown to $4.6 billion in assets. BOND has returned 11.2% over the past year compared with 7.9% for the open-end

PIMCO Total Return (PTTRX). Since its entry into the ETF market in 2009, Schwab has consistently gained share from its suite of low-cost, portfolio building-block ETFs. During the quarter, Schwab announced its ETF OneSource platform, which offers commission-free trading on about 100 ETFs in addition to Schwab's own ETF lineup. The ETFs offered in the OneSource platform are considerably more niche than Schwab's own ETFs and noticeably absent from the list are any ETFs from Vanguard or iShares or any ETFs that would compete directly with Schwab's ETFs.
A Look at S&P 500 ETFs
Despite the positive flows into U.S.-stock ETFs, SPDR S&P 500 had outflows of $8.1 billion. Meanwhile, its two competitor ETFs that track the S&P 500, iShares Core S&P 500 ETF (NYSEARCA:IVV) and Vanguard S&P 500 ETF (NYSEARCA:VOO), had inflows of $2.3 billion and $1.5 billion, respectively. Over the past year through the end of March, SPY has returned 13.81% compared with 13.90% for IVV and 13.93% for VOO. Expense ratios can explain only a portion of that return discrepancy as SPY charges 0.09% compared with 0.07% for IVV and 0.05% for VOO. As a unit investment trust, SPY is prohibited from engaging in share lending or reinvesting dividends, two techniques that most modern ETFs can use to lower costs and improve index tracking. Among the three ETFs, VOO has doubled its market share of assets devoted to the S&P 500 Index over the past year and now has nearly $9 billion in assets compared with $130 billion for SPY and $41 billion for IVV. SPY remains a favorite for those looking to quickly gain access to the market as it is the most liquid ETF available, trading roughly $19 billion a day. Relative to its $130 billion asset base, that represents a turnover of about seven days, much shorter than the 35 days of IVV or 151 days of VOO.
Disclosure: Morningstar, Inc. licenses its indexes to institutions for a variety of reasons, including the creation of investment products and the benchmarking of existing products. When licensing indexes for the creation or benchmarking of investment products, Morningstar receives fees that are mainly based on fund assets under management. As of Sept. 30, 2012, AlphaPro Management, BlackRock Asset Management, First Asset, First Trust, Invesco, Merrill Lynch, Northern Trust, Nuveen, and Van Eck license one or more Morningstar indexes for this purpose. These investment products are not sponsored, issued, marketed, or sold by Morningstar. Morningstar does not make any representation regarding the advisability of investing in any investment product based on or benchmarked against a Morningstar index.