Yesterday, on April 9, Barrick Gold (NYSE:ABX) released a rather terse statement confirming earlier news reports on the suspension of certain development activities of the Pascua Lama mine due to a Chilean court order considering environmental concerns by indigenous groups.
When completed, the Pascua Lama mine will be the largest and one of the lowest cost gold mines worldwide. The mine sits atop the Andean mountains up to 5200m above sea level (that's 17000 ft for non-metric folks) and straddles the border between Chile and Argentina. Workers on the Argentinian side are not affected by the court order, which means that construction of the majority of infrastructure for this project can continue for the time being. However, large portions of the intended open pit are situated on the Chilean side of the border, and pit development cannot continue for the time being. Court sources quoted by Reuters (article linked above) anticipate the dispute to go to the Chilean Supreme Court, which could mean delays on the order of several months. The suspension is the latest in a series of setbacks to the Pascua Lama project. Target dates for initial production have been delayed, and cost estimates had to be corrected at least twice. Numerous activities by environmental groups have presumably also caused plenty of headaches for Barrick management.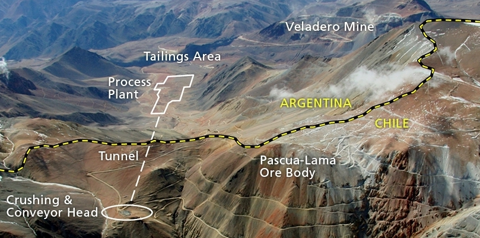 (source: Barrick website)
Barrick Gold is the world's largest gold mining company with an annual production of 7.4M ounces in 2012 and a market capitalization of $24.5B despite a share price that has been dropping even faster than the rest of the senior gold mining sector in recent times.
In order to finance the construction of the Pascua Lama mine, Barrick Gold entered into a streaming agreement with Silver Wheaton (SLW) in 2009. Silver Wheaton is a streaming company providing up-front financing for the development of precious metal mines in exchange for metal streams that give it the right to acquire a portion of the life-of-mine production for a fixed and heavily discounted price. In the case of the Pascua Lama mine, Silver Wheaton agreed to provide total upfront cash payments of $625 million over three years, of which $212.5 million was payable on closing and three further payments of $137.5 million were due on the first, second and third anniversaries. In exchange, Silver Wheaton has the right to purchase 25% of the life-of-mine silver production for a price of $3.90 per ounce.
In the present article, we would like to look at the implications of the construction suspension for Silver Wheaton.
At the time of finalizing the streaming agreement for the Pascua Lama mine, Peter Barnes, President and Chief Executive Officer of Silver Wheaton called this silver stream a cornerstone asset and commented:
This is a transformational acquisition that propels Silver Wheaton to the next level in terms of size and growth profile. We are extremely excited to be partnering with Barrick, the world's largest gold mining company, on what is expected to be one of the biggest and lowest cost gold mines in the world.
The Pascua-Lama Mine hosts 676 million ounces of contained silver within the proven and probable gold reserves, with an additional 185 million ounces of contained silver within the reported measured and indicated gold resources. For the first five years of operation, Barrick expects to produce 35M ounces of silver per annum, which computes to 8.75M ounces of silver per year for Silver Wheaton. Considering that total attributable silver production for 2012 was 29.6M ounces for Silver Wheaton, the significance of this deal becomes apparent.
The streaming agreement between Silver Wheaton and Barrick Gold contains certain precautionary measures cushioning Silver Wheaton against delays in mine construction, including the present situation.
Barrick has provided Silver Wheaton with a completion guarantee, requiring Barrick to complete Pascua-Lama to at least 75% of design capacity by December 31, 2015.
Silver Wheaton also acquired all silver mined at the Barrick mines at Lagunas Norte, Pierina and Veladero until 2013. During 2014 and 2015, Silver Wheaton will be entitled to the silver production from the Lagunas Norte, Pierina and Veladero mines to the extent of any production shortfall at Pascua-Lama, until Barrick satisfies the completion guarantee.
In 2012, total production attributable to Silver Wheaton from the Lagunas Norte, Pierina and Veladero mines was 2.7M ounces of silver. This amount would have offset less than four months of lost nameplate production from Pascua Lama.
Prior to the suspension, Barrick had anticipated initial production at Pascua Lama in H1 2014, leaving ample time to reach 75% of design capacity by the guarantee date at the end of 2015. With new delays to be expected due to the suspension, it can be speculated whether or not this final deadline will be kept. A comment regarding the procedures that might eventuate in such an event can be found on Barrick's website:
In certain circumstances, including failure to achieve project completion and customary events of default, the agreement may be terminated. In such an event, Barrick may be required to return to Silver Wheaton the upfront cash deposit of $625 million less a credit for silver delivered up to the date of that event, which is determined using the difference between the market price and $3.90 per ounce for silver deliveries where the prevailing market price exceeded $3.90 per ounce.
In Conclusion
Silver Wheaton continues to receive the silver from the Lagunas Norte, Pierina and Veladero mines until Barrick brings production at Pasua Lama to 75% of the design capacity. As long as Barrick manages to reach this target before the end of 2015, everything will go according to the existing playbook. Silver Wheaton's growth might be delayed, but the capital cost of this delay should be more than offset by the extra silver from the three mines payable during the time of the delay. Unfortunate, but not a major drama would be our verdict in this case.
The game changes if Barrick cannot bring Pascua Lama online by the end of 2015. Such an event would more than likely spell major trouble for Barrick, which has pegged much credibility and future economic success on bringing Pascua Lama to production. In this case, a lot will depend on whether or not there is still a realistic chance of bringing Pascua Lama into production within a reasonable time. If there is, then we would expect a deal to be cut between Silver Wheaton and Barrick. Even more unfortunate, but probably still no major drama, in our opinion.
The worst outcome for all parties (except maybe environmental activists) would be for December 2015 to roll around and there not being a realistic chance of Pascua Lama going into production in the foreseeable future. Whether or not Barrick would still be able to pay back the upfront cash deposit in such an event is anyone's guess. And even if it is able to pay Silver Wheaton out at this point in time and a decision is made to proceed along these lines, then this would be a decidedly negative outcome for Silver Wheaton. Having had significant funds tied up without realizing the associated growth potential would most likely do some visible damage to the share price. It is probably fair to say that such a course of events would constitute a major drama for Silver Wheaton.
Present development may have the potential to significantly delay the project and put the 2015 deadline into question. In fact, first analyst opinions have already been published putting first production assumptions at 2016. Keeping a close eye on proceedings in Chile is highly advised for Silver Wheaton investors during the coming months.
Disclosure: I am long SLW. I wrote this article myself, and it expresses my own opinions. I am not receiving compensation for it (other than from Seeking Alpha). I have no business relationship with any company whose stock is mentioned in this article.