Viacom (NYSE:VIA) is expected to report 1Q09 EPS of 26 cents on revenue $2.97 billion. Both figures produce negative year –over-year growth as the company struggles with weak ratings at its TV networks, higher programming expenses to fix the ratings, and continued lagging performance for its film studio.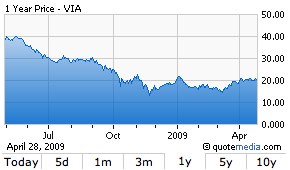 Despite bleak fundamentals, the stock has rallied sharply off the March lows, rising more than 40%. VIA shares have been among the better performing large cap media stocks. Some hope that ratings might improve and a comment from the COO that advertising is showing signs of stabilizing are helping build on investors' improved confidence that an economic recovery will materialize.
In 1Q09, investors will focus on advertising trends. Domestic advertising is project to drop by 7-8%, an acceleration from 4Q08. International advertising is protected to fall mid-single digits. The outlook for 2Q will be even more important with the hope that declines will get no worse.
Helping 1Q09 should be another 10% plus rise in affiliate fees at the cable networks.
Viacom probably faces slowing growth for its Rock Band video game. This should be evident in 1Q results. How the company plans to reignite growth, especially ahead of Christmas 2009 will be of particular interest?
Paramount is off to a good start at the box office this year hoping to reverse years of lagging performance relative to its peers. The studio has a promising slate this summer including Star Trek, G.I. Joe and Transformers 2. Unlike 2008, when VIA distributed huge box office winners, in 2009 the studio owns the films. This could lead to a big profit gain if the films prove popular. Early buzz on Star Trek and Transformers is positive.
I prefer media investments focused on cable networks as is the case with Viacom. However, I find other cable network focused companies more attractively positioned. Thus, while I can see an upside scenario for VIA shares, I think better risk-reward trade-offs can be found elsewhere.