Slovenia is on the wires a lot. I thought it would be useful to do a review of what's out there on Slovenia, to make some sense of what's going on, and look for fuses in the future.
Much of the quoted text has already been rehashed again and again on various news sites so I didn't specify where I got the text unless it was from a sole source, or it was numbers that needed a citation.
Opinions from the "Yes, there's fire!" Camp
1. Bond yields/ CDS spreads etc.
Yield on Slovenia's dollar-denominated bonds maturing in 2022 surged to a record 6.31 percent on March 27. CDS spreads worsened the fastest after the Cyprus deal, rising from 250 on March 15 to 414 on March 28. This strikes me as just an eye-catching headline though. Slovenia's 10-year bond yields fell to around 6% (varies a bit depending on whether you're quoting the local bonds or the dollar-denominated bonds maturing in 2022).
However, panic slightly abated as a Cyprus deal was reached. Then came the wall of money from Japan and increased risk appetite.
2. Bad loans 20% of GDP
When the official amount of bad loans is 20% of GDP, you know something's wrong. Slovenia gets a lot of heat for having a mostly state-owned banking sector, with around 25%-30% of commercial loans bad. (However, Balkans.com Business News contends that "the calculation of NPLs is fairly conservative in Slovenia. Any loans in arrears for more than 90 days are immediately counted as NPLs, regardless of the underlying collateral.")
Bad loans have also been on a rapid rise, from 3.7 billion EUR in December 2010 to 7 billion in September 2012, even while total loan claims fell from 50 bn to 49 bn during that period. This is likely to create some uncertainty over the exact amount of bad loans, as this is highly dependent on economic circumstances, which could be more easily and rapidly influenced by adverse market situations as Slovenia is a small country.
3. Local bank associated with Cyprus by stigma.
An often seen paragraph would go like this: "Slovenian banks such as Nova Kreditna Banka Maribor d.d., have been hit by the recession and the collapse of the construction industry, the pre-crisis driver of growth. Nova Kreditna, which had a 205 million-euro loss last year, was one of four banks that failed last year to meet European capital targets set by regulators. Bank of Cyprus Pcl, Cyprus Popular Bank Pcl, known as Laiki Bank, and Italy's Banca Monte dei Paschi di Siena SpA (BMPS) were the others. Laiki was closed as part of the island nation's bailout." (This is quoted from Bloomberg)
Nova KBM has a market share of 13% and is Slovenia's second largest bank.
4. Slovenia is in a recession
Slovenia's economy contracted 2.3% in 2012, is expected to contract around 2% this year and grow 0.5% next year. Household spending (50% of GDP) was down 5.8% in the final quarter of 2012. According to statisticians, "Up until now, the crisis has failed to cut into household spending, but now it appears that the current wave of crisis is taking trouble also to this area," Karmen Hren of the Statistics Office said.
Gross capital formation decreased rapidly in 2012 (Q4 2012 -22.4% YoY), though this is mostly accounted for by the sharp decline in buildings and structures investment (-18.5%).
Opinions from the "No, it's fine!" camp
1. Low debt to GDP
Analysts claiming they are not too worried or optimistic about Slovenia point out that it has a low debt to GDP of around 54% now and is projected to be only 63% by 2014. This is significantly lower than Cyprus's 86.5%. A haircut to government debt is not the main remedy for the challenges it faces, so bondholders might have less to worry about.
2. Less bloated banking system
With banking assets at 130% to GDP, it's less than Cyprus's 800%. But Cyprus was a financial center and Slovenia is not. The comparison is likely to be appealing on the surface but lacks substance.
3. Slovenia has a plan to deal with the issues
Slovenia has a 4 billion euro plan to sort out the mess in the banking sector and the optimists believe it can implement the plan successfully.
4. Slovenia has cash on hand
People who argue the situation isn't so bad like to point out that Slovenia has over 2 billion euros in deposit and can be funded till autumn, even if a 1 billion euro liability comes due in June. Skeptics believe the 2 billion euros may be there to provide funding for the banks and Slovenia does not actually have that much leeway.
My take:
1. Official line prone to backtracking
Slovenia's central bank governor, finance minister and PM have all gone on the record saying it doesn't need a bailout. Other European countries like Estonia and even Finland have expressed confidence in it.
Well, now even the slightest whiff of a rumor that Slovenia is in talks with Eurogroup/IMF/ECB, even as a Plan B, will lead to panicky emotions.
Somehow Slovenia is also successively getting a lot of exposure in the media, with the IMF, European Commission, OECD and the Institute for International Finance all issuing statements/comments that can be construed as relatively negative.
2. Bond yields remain elevated
Despite the supposed wall of money from Japan, bond yields remain elevated (see here).10-year yields are still well over 6% in a relatively benign environment.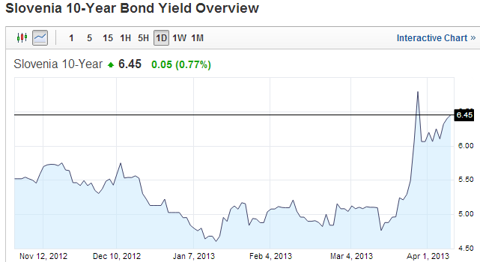 Source: investing.com Slovenia 10-year bond yield
3. Bank stocks underperforming
Take the example of Nova KBM (the second largest bank by market share). Its stock price was flat in the second half of 2012 (now it's crashing) when even Spain and Greece managed to eke out some rally.
4. Market conditions may worsen as time drags on
With Italian yields back to near pre-Euro crisis levels, further gains for peripheral bonds are probably limited, especially considering the hardline Germany is likely to take pre-September. Uncertainty over Portugal and Spain is building and there does not appear to be any solution for that anytime soon.
In the worst case scenario, Slovenian officials could be like a trader holding a losing trade, hoping for better market conditions to issue bonds in but seeing yields edge up consistently, finally soaring above sustainable levels, triggering a bailout. A confidence crisis leads to sharply lower economic activity and bad loans continue soaring, leading to a bigger hole and so on.
In accordance with my previous call, Cyprus Fall-In: Where Did The Goalposts Go?, Eurozone help may come slowly and this could lead Slovenia to play a prominent role in creating uncertainty and volatility in the coming weeks after excitement over the QEs wears off a bit. I believe emerging markets (NYSEARCA:EEM) will be negatively impacted in such a scenario (the effects on (NYSEARCA:FXE) are likely to be more nuanced) and will continue to follow the situation closely. I do not suggest any immediate action and will only take action if things shape up in a certain direction.
Disclosure: I have no positions in any stocks mentioned, and no plans to initiate any positions within the next 72 hours. I wrote this article myself, and it expresses my own opinions. I am not receiving compensation for it (other than from Seeking Alpha). I have no business relationship with any company whose stock is mentioned in this article.
Additional disclosure: Still looking for catalyst(s) to short Hungarian Forint and South African Rand.