Even though I usually focus on dividend paying stocks, I'd like to take a moment to look into Yahoo! Inc. (YHOO). I have been reading YHOO's annual reports (which can be found on their website), as well as its Q4 2012 earnings report, and I believe I have found some possible catalysts for further stock price and EPS growth.
#1: Strong growth in EPS is expected
In 2012, Yahoo! Inc., sold its shares in Alibaba for $2.7 billion, raising the earnings per share to an amazing $3.28. However, even if we exclude this sale from the EPS calculation, it's still at $0.99, which is a lot higher than in 2011 ($0.82). Expectations are YHOO will continue to increase its earnings per share in 2013 and 2014.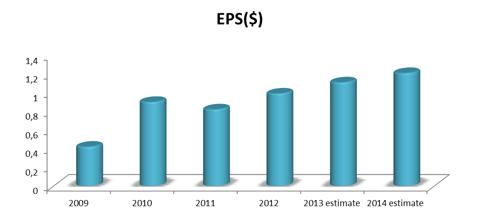 With its exceptionally high EPS for 2012, YHOO now has a price to earnings ratio of only 7.39 (at its current $24.20 price). Excluding the sale of Alibaba shares, the p/e ratio is at 24.4. Let's compare Yahoo!'s valuations to those of Google (NASDAQ:GOOG).
| | | |
| --- | --- | --- |
| | Yahoo! | Google |
| Price to earnings ratio | 24.4 | 24.5 |
| 2013 forward price to earnings ratio | 21.8 | 17.3 |
| 2014 forward price to earnings ratio | 19.8 | 14.7 |
| Price to book value | 1.8 | 3.6 |
| Price to sales | 5.7 | 5.0 |
While YHOO is certainly expected to grow, it can't match Google's expected rate of growth. However, it is a lot cheaper when looking at its price to book ratio.
#2: Share buybacks are increasing EPS
Share buybacks lead to higher earnings per share, as the profit will have to be split over fewer shares. Every time YHOO buys back shares, its existing shareholders gain a larger 'slice of the pie'.
In 2012, YHOO bought back 126 million shares for a total of $2.2 billion. Yahoo!'s total number of shares has been declining since 2009. Back then, it was at over 1.4 billion, a number which has since decreased by over 200 million.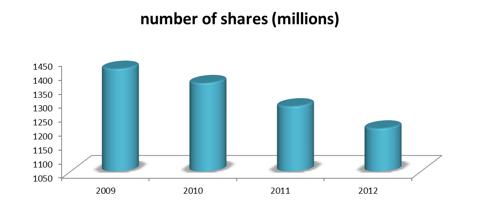 #3 YHOO has never been this rich
After selling its share in Alibaba , YHOO now has a huge pile of money. As stated in Yahoo!'s Q4 2012 earnings report:
"Cash, cash equivalents, and investments in marketable debt securities were $6 billion at December 31, 2012 compared to $2.5 billion at December 31, 2011, an increase of $3.5 billion."
This represents well over 20% of YHOO's current market cap of 26.65 billion dollars. With this much cash, I wouldn't be surprised if there are more share buybacks in the near future. In fact, with earnings per share expected to reach $1.11 this year, YHOO could even safely pay a dividend. At a 40% payout ratio YHOO would have a dividend yield of 1.8%, which would draw in a lot of dividend growth investors.
Conclusion:
YHOO is sitting on quite a bit of money now, and with its increasing EPS and strong share repurchase programs, I could see this stock going a lot higher. The price to earnings ratio is a bit high, but I believe this to be reasonable, due to the high expectations in EPS growth.
Let me know what you think about YHOO by commenting below!
Disclosure: I have no positions in any stocks mentioned, but may initiate a long position in YHOO over the next 72 hours. I wrote this article myself, and it expresses my own opinions. I am not receiving compensation for it (other than from Seeking Alpha). I have no business relationship with any company whose stock is mentioned in this article.