The past couple of years have not been very good for BlackBerry (NASDAQ:BBRY), the Canadian mobile phone and tablet maker. The company's products fell out of favor as names like Apple (NASDAQ:AAPL) started to dominate the space. The company's PlayBook tablet didn't gain traction and revenues started to fall off a cliff. Shares that traded for more than $140 in 2008 fell to just $6 and change in 2012.
Part of the reason for the stock's fall was the launch of BlackBerry 10, which faced delay after delay. With the product launch being pushed further back, the company was forced to rely on sales of older phones that were just not competitive in the space. Well, the company finally launched those phones earlier this year, and they sold about a million of them in their fiscal fourth quarter, which ended in February.
Now that the BlackBerry 10 launch has come and gone, it's time to review this name again. Today, I'll explain why I think this company is set up for a decent future, and why that means that this beaten down stock could prove to be one of this year's biggest winners.
Results are finally starting to improve:
As we waited and waited for BlackBerry 10 to finally launch, the company's revenues continued to fall. As you can see from the chart below, the company's revenues plunged from $5.17 billion in Q3 of fiscal 2012 (which ended in November 2011) to just $2.68 billion in the recently reported quarter. However, current estimates call for those revenues to start rising again this quarter, as BlackBerry 10 continues to gain traction and hit new markets. The current estimate for $3.34 billion in quarterly revenues would represent a 25% sequential rise in revenues. This would be BlackBerry's highest revenue quarter in over a year, and I've put that estimate in the chart here.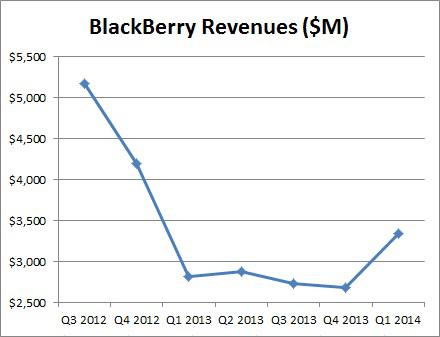 Although revenues came in down over Q3 levels and the $2.68 billion figure missed analyst estimates for roughly $2.85 billion, there were a number of positive factors. The table below shows the company's margins over the past six quarters. As you can see, the company reported strong year-over-year and quarter-over-quarter margin growth, with a surprise profit in this quarter.

The company was able to significantly reduce their cost of goods sold which certainly helped all three primary margin categories. In terms of the company's margins and outlook going forward, the company provided the following statement in their report.
"The company will be increasing its marketing investment in the first quarter of fiscal 2014 in support of the global launch of BlackBerry 10. Including the anticipated 50% sequential increase in marketing spending, the company believes it will approach breakeven financial results in the first quarter based on its lower cost base, more efficient supply chain, and improved hardware margins."
In fiscal Q4, the company's selling, marketing, and administration expenses were $523 million. If you estimate a rise in 50% for that expense category, you are looking at roughly $260 million more on the operating side. However, from the numbers I gave above, analysts are currently expecting about a $660 million rise in revenues. Once the marketing spend goes down in future quarters, you could see these margins start to rise even further, maybe back to levels we saw in some of the good years.
It's also interesting to see how BlackBerry's gross margins have started to rebound at the same time as Apple's gross margins have declined. The chart below shows each company's gross margins over their past four fiscal quarters. In Apple's fiscal second quarter last year, the company hit a "perfect storm" of events that pushed gross margins up to 47.37%. During that comparable quarter for BlackBerry, Apple had a gross margin lead of 1937 basis points. That lead fell in half over the next two quarters, and in their latest quarter, BlackBerry actually had a 151 basis point lead.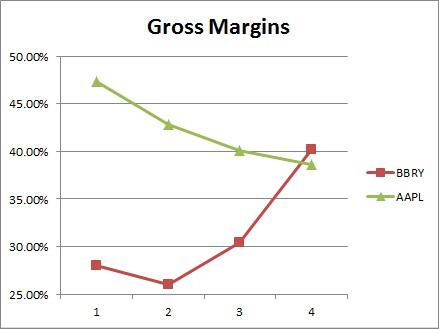 Apple's margins are expected to continue declining thanks to the iPad mini and a potentially cheaper iPhone, while some think there is still room to the upside for BlackBerry's margins. If that were to be true going forward, it might make a purchase of BlackBerry worthwhile for Apple, if Apple needs to increase margins. More on that later.
A very clean balance sheet:
Some may think that a company whose revenues have fallen in half recently would be in financial trouble. With BlackBerry, the opposite is true, as this company's balance sheet is in very good shape. The table below shows some key balance sheet ratios for the company over the past eight quarters, with dollar values in millions.

*Liabilities-to-assets ratio.
The cash pile declined by $63 million, but that doesn't tell the whole story. Accounts receivable increased by $179 million, which had an impact on the cash balance. If accounts receivable had stayed flat quarter-over-quarter, the cash pile would have increased. The current ratio and working capital declined slightly, due to current liabilities rising a little faster than current assets. The company saw an increase of $400 million in accounts payable, which makes sense given the BB10 launch. I'd expect those payables to come down a bit next quarter, so I expect to see those two balance sheet numbers rise a bit then. Total liabilities rose a little faster than total assets, mostly for the same reasons, which had a slight impact on the debt (liabilities to assets) ratio. However, this company has less than 30 cents of liabilities for every dollar of assets, and no outstanding debt. Additionally, this was the first quarter in a year-and-a-half where the stockholder's equity (book value of equity) rose.
If you don't believe me that BlackBerry has a very good balance sheet, what would you think if I compared it to Apple? Let's look at a couple of key numbers between the two firms. All the numbers below are as of their most recently reported quarter, except for market cap, which is as of Thursday's close.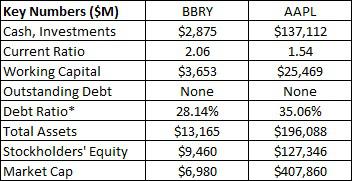 *Liabilities-to-assets ratio.
I understand that Apple's cash pile has grown since these numbers were reported, but that's not the main point. BlackBerry has a current ratio higher than Apple, and a lower debt (liabilities to assets) ratio. Here's a couple of quick comparisons:
Apple's market cap is roughly 58.5 times the size.
Apple's cash pile is probably now about 50 times the size.
Apple's total assets are about 15-16 times, but stockholder's equity is only about 14-15 times.
Apple's working capital is about 7-8 times that of BlackBerry.
We're comparing two very different size companies here, but that doesn't mean that BlackBerry isn't in a strong financial position. Some of BlackBerry's ratios are even better. Everyone says it is a positive that Apple has roughly one-third of its market cap in cash. Well, BlackBerry is at about 41% of cash to market cap. That doesn't include the more than $2.3 billion in accounts receivable that BlackBerry has as well. The company can get some serious cash from there as well.
A much lower valuation:
Since BlackBerry's profitability right now is a question mark, you really can't use price-to-earnings as an effective valuation metric. However, there are two valuation metrics that do show this company is extremely undervalued. The table below shows BlackBerry against Apple, Google (NASDAQ:GOOG), and Microsoft (NASDAQ:MSFT). For price to sales, I've used BlackBerry's currently expected figure for the fiscal year ending in February 2014, which currently stands at $13.46 billion. For the other three names, I've provided rough estimates for their next twelve months of sales. My sales numbers might be slightly different than where others might expect, but you'll see why it doesn't make a difference. The price-to-book number uses each company's book value of equity at their last report. All numbers use market caps as of Thursday's close.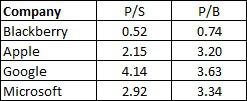 On both metrics, BlackBerry appears significantly undervalued. Given the problems in the past few years, that does seem a little understandable. However, I think it's a bit ridiculous for BlackBerry to be trading at just 0.52 times this year's expected sales. Now I'm not arguing that BlackBerry should be worth 4, 3, or maybe even twice sales like some of the other names. But even at a price-to-sales figure of just 1, you're looking at a stock price that could be nearly double where it is. That's roughly $26.
The valuation is just as low when you look at the market value compared to the book value of equity. BlackBerry trades for less than 0.75 times book value, while the other names are at 3.2 and above. Again, I'm not saying that BlackBerry is worth as much as those names, but even a 1.5 price-to-book ratio would seem respectable.
A potential large short squeeze:
As you can imagine, the number of non-believers in this name have certainly increased over the past few years. Even over the past year, the number of shares short has greatly increased, as you can see from the chart below. In the past 11 months, the number of shares short has gone from 53.7 million to 155.7 million.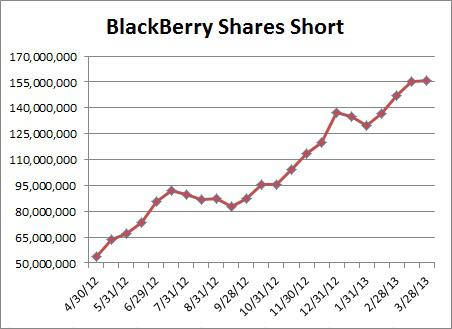 As of the latest quarterly report, BlackBerry had 524.16 million shares outstanding. That means that just under 30% of the outstanding share count is short. There have been many calling for a short squeeze in BlackBerry for some time now, and I've said one will come once we get some really good news. That might be at the next quarterly report, and who knows where the short count will be by then. At the rate the short count is increasing, it could be 200 million.
A potential buyout:
Although I don't believe the chances of a buyout are extremely high, I think that there is a possibility that one could occur. BlackBerry currently has a market cap of $7 billion, and a large chunk of their balance sheet is in cash. In terms of size, it's not even out of the question that some firms (or a group) could even try to take this name private.
Obviously, Microsoft, Apple, and Google are discussed as likely candidates for this acquisition. I don't think Google will purchase BlackBerry within the next few months, as they are still in the process of swallowing Motorola Mobility fully. Apple doesn't make large acquisitions, ones in the billions of dollars, so that might seem out. However, Apple's cash pile is getting so large that it might eventually make sense. If Apple's gross margins keep declining, and BlackBerry's go up some more, it might make additional sense. As Microsoft has struggled a bit with the Windows 8 and Surface launch, maybe they even decide they need to boost their revenue base.
Right now, I'd put the chances of a buyout at 25% or less. However, if one to occur, now might be the time to do it. If BlackBerry 10 sales do materialize fairly well, a number of the reasons I presented above could push this stock to $20 or even $25. With a market cap of $7 billion currently, a deal now would look better than one when the market cap is $10 billion to $15 billion (pre-deal announcement). It's not a good strategy to buy any name on the hopes of a buyout, but if it is one of several reasons, it makes more sense. The fundamentals have to be there, and for BlackBerry, they are improving.
The market likes a good comeback story:
With the market rallying to new highs, investors are putting money to work. Over the past couple of years, a number of high profile names saw their stocks crushed. Recently, those names have come back, and in a large way. The following table shows nine examples of names that have soared from their 52-week lows: Netflix (NASDAQ:NFLX), Green Mountain Coffee Roasters (NASDAQ:GMCR), Deckers Outdoor (NASDAQ:DECK), First Solar (NASDAQ:FSLR), Hewlett-Packard (NYSE:HPQ), SodaStream (NASDAQ:SODA), Best Buy (NYSE:BBY), Sprint (NYSE:S), and Groupon (NASDAQ:GRPN).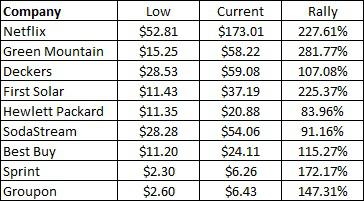 Yes, BlackBerry is up about 118% from its 52-week low, but it was up even more than that when it traded for more than $18 in late January. Investors are giving many names a second chance now, and with money flooding into this market, BlackBerry could be a beneficiary.
Recap / Final Thoughts:
BlackBerry is on the road to recovery. Revenues for the current fiscal year are expected to rise by more than 21%, and margins are starting to improve as the company's restructuring plan is working. The company has a very good balance sheet with a large cash position that will help it moving forward. The stock trades at a huge discount to many others in the space, which makes a potential acquisition possible. Short interest is also at a high, making a short squeeze possible on good news.
To me, BlackBerry could be this year's winner for all of the reasons listed above. You could form a buy recommendation on any one of these reasons, but the combination of them makes this name one worth watching. For those looking to take a flyer on a stock that could potentially double, BlackBerry has a better shot over the next year than Apple, Google, or Microsoft do.
Disclosure: I have no positions in any stocks mentioned, but may initiate a long position in BBRY over the next 72 hours. I wrote this article myself, and it expresses my own opinions. I am not receiving compensation for it (other than from Seeking Alpha). I have no business relationship with any company whose stock is mentioned in this article.
Additional disclosure: Investors are always reminded that before making any investment, you should do your own proper due diligence on any name directly or indirectly mentioned in this article. Investors should also consider seeking advice from a broker or financial adviser before making any investment decisions. Any material in this article should be considered general information, and not relied on as a formal investment recommendation.