Silver Wheaton (SLW) is in midst of a downtrend, caused by falling silver and gold prices. The stock had a tremendous run from 2009 lows, rising 1,200%, along with a 400% silver price rise. Since the climactic run in the first half of 2011, both silver and Silver Wheaton have suffered, as they are about 40% down from their respective peak prices of mid-2011. Gold and silver are at their long-term support levels, which might prove as a critical level for both precious metals and Silver Wheaton.
Earnings highlights and recent developments
Silver Wheaton reported $0.50 EPS in the fourth quarter, a cent above analyst estimates, and a 23% increase over the same quarter a year ago. Revenue increased 50% to $287 million. The company raised the quarterly dividend to $0.14, and the forward yield is now 1.9%.
Full-year revenue rose 16% to $849.6 million, and earnings per share rose 7% to $1.66.
The company guided a 13% year-over-year increase in its 2013 attributable production to approximately 33.5 million silver equivalent ounces. The company also gave a five-year production guidance of 53 million ounces of silver equivalent production, which would be an increase of 79% from 2012.
Silver Wheaton announced in February that it agreed to acquire gold streams from Vale (NYSE:VALE) for $1.9 billion. The deal gives Silver Wheaton an amount of gold equal to 25% of the life of the mine gold production from the Salobo mine in Brazil, and 70% of the gold production from some of Sudbury Mines in Canada.
Earnings growth cycle
Silver Wheaton had a high growth phase in 2009-2011 period coinciding with its strong price run. Revenue increased 43%, 76% and 72% respectively from 2009 to 2011, and earnings growth was 15%, 118% and 42% respectively in the same period. Profit margins were also expanding, from 40% in Q1 2009 to a peak of 82% in Q4 2010. The growth slowed along with the price drop in precious metals, and earnings and revenue grew 7% and 16% in 2012. Margins dropped to 70% in mid-2012, and recovered since.
Analyst earnings estimates trend is still down. Current quarter estimates were revised down from $0.53 ninety days ago to $0.45, and full-year estimates are down from $2.20 to $1.99 in the same period.
The downtrend in share price, significant growth slowdown and negative estimate revisions indicate that Silver Wheaton is in the fourth stage of the earnings maturation cycle. I regard the cycle as very important to get a long-term picture, and I never buy stocks that are in the fourth stage of the earnings cycle. It takes time to digest the prior move in the growth stages, and a stock can remain in a downtrend or a price consolidation for a very long time. However, transitions to the growth stage might be quick, and a focus on changes is needed in order to catch the next move, and Silver Wheaton has a vast growth potential, which is closely tied to the prices of silver and gold. Weakening of the dollar and rising inflation are an environment where silver and gold prices will thrive.
Price action
Silver Wheaton remains in a downtrend which started in early November. The share price corrected more than 30% since. A look at a longer timeframe reveals that the stock is "stuck" in a $22-$45 range, since the top in mid-2011. Both gold and silver are at critical support levels, and their price did not go under those levels since the 2011 peak. A break below that level might bring an accelerated move to the downside. On the other hand, it may prove to be a long-term bottom for the precious metals if they are able to hold the level and rally, so the price movements should be closely monitored.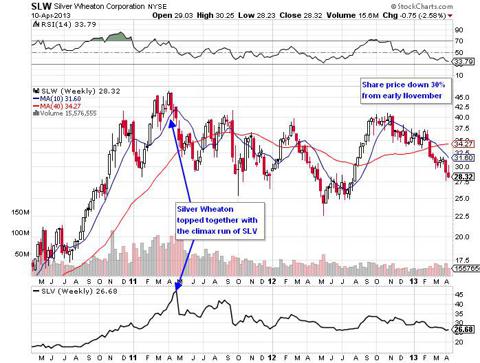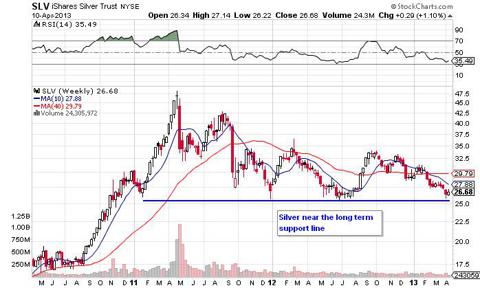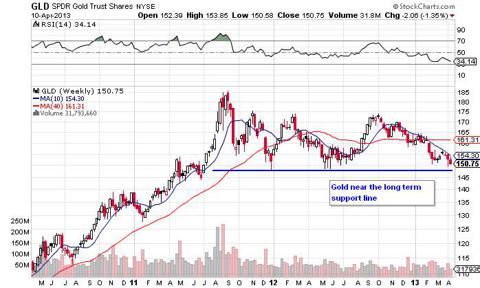 Source: Stockcharts
Conclusion
When all the evidence is combined, Silver Wheaton is currently on my "avoid and monitor list." It is to be avoided because of the overall negative sentiment and downtrend in the precious metals and because the stock is in the fourth stage of the earnings maturation cycle. However, the long-term perspective looks very compelling, and a return to strong growth in the company's fundamentals, weaker dollar and rising inflation puts Silver Wheaton and the precious metals in a great position to increase in value.
Disclosure: I have no positions in any stocks mentioned, and no plans to initiate any positions within the next 72 hours. I wrote this article myself, and it expresses my own opinions. I am not receiving compensation for it (other than from Seeking Alpha). I have no business relationship with any company whose stock is mentioned in this article.