The market's move over the last two days has pushed the S&P 500 into extreme overbought territory (more than two standard deviations above its 50-day moving average). It looks as if this breakout will form a new trading range at a higher level for the index, but whenever we get this extended, it's hard to continue higher in the very near term. The last time the market was this extended was last September, and you can see in the chart below that it marked a short-term peak.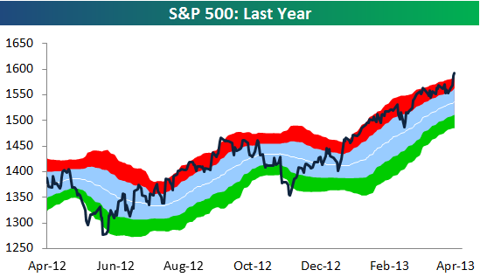 Along with the S&P 500, nine of ten sectors are now overbought as well, with five in extreme territory. Health Care is the most overbought sector of them all, followed by Telecom and Utilities. The consumer sectors are the other two that are more than two standard deviations above their 50-days.
While the defensive sectors have been overbought for quite awhile, the cyclicals like Energy, Financials, Industrials, Technology and Materials have all seen big moves higher over the last week. (The dot in the table below represents where each sector is currently trading, while the tail represents where it was one week ago.)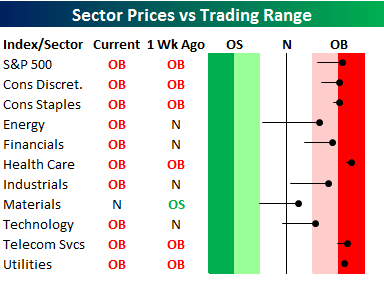 As shown below, 81% of the stocks in the S&P 500 are currently above their 50-day moving averages. This is a healthy number, but it's not nearly as high as the reading seen earlier this year when the market was five percentage points lower than it is now. This means that breadth is not quite as strong now as it was during that run.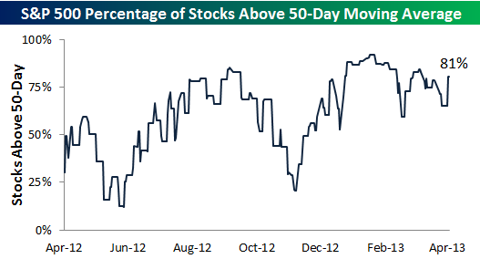 Another thing to keep an eye on is the market's valuation. As shown below, the S&P 500's trailing 12-month P/E ratio is now up at 15.70, by far its highest level over the last year.