JPMorgan Chase (NYSE:JPM) reported Q1 earnings this morning and the results continue to paint the picture that the broader economic conditions are continuing to strengthen, justifying the all-time market highs investors are seeing. The company reported Q1 EPS of $1.59 on revenues of $25.8 billion. While top line performance was in line with projections, EPS were $.20 (14.3%) higher than the Street's estimate. The earnings beat was due primarily to the financial benefit of reduced mortgage and credit card loan loss reserves, which contributed an estimated $.18 to EPS. The strengthening in both of those markets - mortgage and consumer credit cards - is a positive indicator for the broader market. Consumers are defaulting far less often than in months and years past.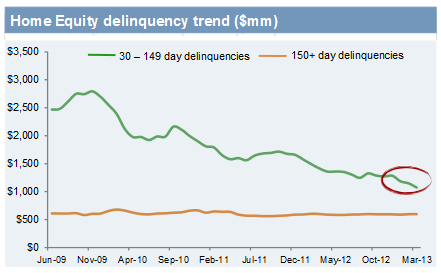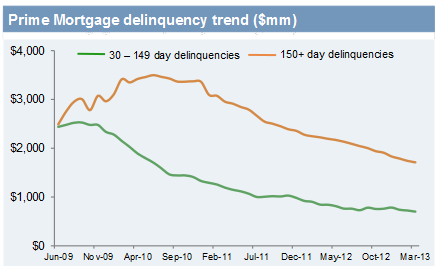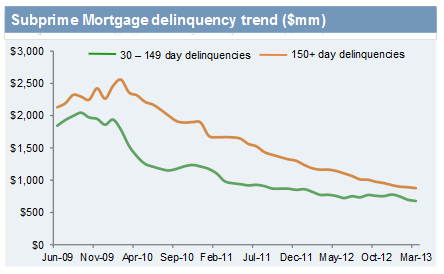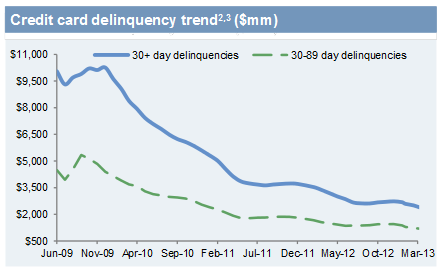 The charts above show delinquency in both the mortgage and credit card business experiencing a significant decrease since 2009, and that downtrend continues to show strength. Fewer delinquencies are a telling sign that the individual consumer is feeling the effects of the growing economy.
JPM is a behemoth of the banking business and is engaged in many different businesses, all of which deal with different types of customers. From individual consumer banking to car loans, credit cards, and mortgages, and all the way up the line to underwriting mega M&A deals with the world's top firms, JPM continues to perform seamlessly on nearly all levels. Here are Q1 operational highlights for JPM's different business units:
Consumer & Community Banking: #1 ATM network; #1 most visited banking portal
Consumer & Business Banking: Average total deposits of $421.1 billion, up 11% year over year and 4% quarter over quarter
Mortgage Banking: Mortgage originations of $52.7 billion, up 37% YoY and 3% QoQ
Card, Merchant Services, and Auto: Net income of $1.3 billion, up 8% YoY
Corporate & Investment Bank: Net income of $2.6 billion on revenue of $10.1 billion; ROE of 19%
Commercial Banking: Net income of $596 million, flat YoY
Asset Management: Net income of $487 million, up 26% YoY
Corporate/Private Equity: Net loss of $182 million on net valuation losses of private investments
Additionally, JPM used Q1 to maintain current relationships in Europe but deleverage its risk, as firm-wide net exposure dropped 11%.
JPM continues to be one of the top-performing financial companies in the world. In Q1 the company ranked #1 in global IB fees, global debt, equity, and equity-related volumes, global long-term debt volumes, global M&A announced, and global loan syndications.
As the broader markets and overall economy have continued their rally into Q2 of 2013, investors and analysts have become wary of committing new money to the market with fears of an imminent correction. While a short-term correction may very well take place, earnings continue to reiterate strength in the markets. JPM's beat comes as no surprise; the company is one of the top performers in the financial sector. The nature of the beat - 90% of which was due to continued lower risk and fewer defaults in the consumer-centric mortgage and credit card arenas - is the encouraging statistic to take away from this release.
*All graphics courtesy of JPM Investor Presentation
Disclosure: I have no positions in any stocks mentioned, and no plans to initiate any positions within the next 72 hours. I wrote this article myself, and it expresses my own opinions. I am not receiving compensation for it (other than from Seeking Alpha). I have no business relationship with any company whose stock is mentioned in this article.