The quality of this rally is low…. The move is powerful but the underlying raitonale weak.
- Greg Feirman, Top Gun FP Client Note: The Facts Are Stubborn, April 27
[The bounce was] in extraordinarily dubious quality names. These were names you would have had to have a lot of courage to be invested in [prior to the rebound].
- Mathew Rothman (subscription required), Global Head of Quantitative Equity Strategies, Barclays Capital
The Wall Street Journal hit the nail on the head in an article on the front of yesterday's Money & Investing section: "Can A Rally Last On Diet of Junk? Low Quality, Low Priced Companies Have Ruled the Day - So Far, At Least" (subscription required), Tom Lauricella, The Wall Street Journal, C1, April 27.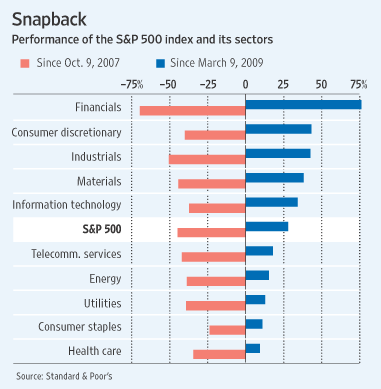 As you can see from the chart from the WSJ article, the rally has been led by financials and consumer discretionary companies: up 76% and 43% since March 9, respectively - compared to a 28% gain for the S&P 500 overall. These are the companies with the worst fundamentals.
Four of the five biggest contributors to the S&P's rally have been: JP Morgan (NYSE:JPM), Wells Fargo (NYSE:WFC), Bank of America (NYSE:BAC) and General Electric (NYSE:GE). E*Trade (NASDAQ:ETFC) is up 319%, Citi (NYSE:C) 204% and Huntington Bancshares (NASDAQ:HBAN) 200%. PF Chang's (NASDAQ:PFCB) has more than doubled while McDonald's (NYSE:MCD) is up just 4%. Walmart (NYSE:WMT) hasn't particpated in the rally at all - up just 1% since March 9.
This kind of market action suggests speculation and unsustainability to me.