The divergent fortunes within the $200 billion global smartphone market were laid bare this week when Taiwan's HTC (OTC:HTCCY) reported a 98% slump in profits, confirming Samsung (OTCPK:SSNLF) and Apple's (OTC:APPL) seemingly unassailable lead over their rivals.
In 2010, HTC was the world's biggest maker of smartphones that used Google's (GOOG) Android operating system. Now it has joined two other former titans, Nokia (NOK) and BlackBerry (BBRY), in a desperate search for profit and growth.
As HTC reported a slump in first-quarter profits, Samsung Electronics, the world's largest maker of mobile phones and smartphones, was basking in a forecast that its quarterly operating profit would be around 7.7 billion.
The market is splitting into three tiers that allow only for high-end products in developed markets, a bevy of barely profitable products in the middle, and a hugely competitive low-cost segment in developing markets such as China.
In the last quarter of 2012, the last period for which figures are available, Apple and Samsung together shipped 111.5 million smartphones, according to researcher IDC. That's more than 50% of a market that has tripled in volume over that time - and compares to a combined share of less than 20% back in the second quarter of 2010, when the once mighty Nokia had 37%.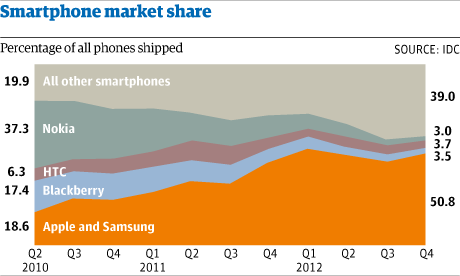 Source: International Data Corporation
The plight of HTC is even more stark when its market position is viewed through the prism of Google's Android software. Android is the leading operating system thanks to Samsung, beating Apple's iOS system and Microsoft's Windows Phone, which is used by Nokia. If consumers are flocking to Android phones, they are choosing Samsung and not HTC.
Benedict Evans, technology and telecoms analyst at Enders Analysis, calls the Android smartphone market "Samsung and the seven dwarves" - a reference to the 1960s when IBM (IBM) dominated the mainframe market, and its seven rivals fought for scraps. The modern equivalents are China's Huawei, Lenovo (OTCPK:LNVGF) and ZTE (OTCPK:ZTCOF), Korea's LG (LG), Japan's Sony (SNE), the now Google-owned Motorola (MSI), and HTC.
But Steve Brazier, chief executive of the research company Canalys, thinks that the HTC One phone, launched in February, offers a way back. "The HTC One is hot," he said. "The problem is it's not really shipping yet, which is why their first-quarter figures were bad. The product was delayed." Nonetheless, it faces a significant challenge from the Samsung Galaxy S4 phones, which also hits retailers' shelves this month.
Brazier adds that there is hope too for the other also-rans. For BlackBerry, he thinks it first needs to calm its U.S. government clients, who have been eyeing the iPhone as an alternative. For Nokia, the solution is easier said than done: "It needs something radically different from what's out there."
HTC, BlackBerry and Nokia are fighting against a rapid decline. Since 2010, they have been squashed down from an aggregate market share of 61% to barely 10%. Now, none has more than 4% of the market. Samsung is at the top with 29%, ahead of Apple with nearly 22%.
So what does this mean for Apple fans and investors? Well for one, it shows that the tech giant isn't doing nearly as bad as the stock portrays it to be doing. It's no secret that in recent months, Apple has taken one of the largest dives in market history - going from a high of $705/share in September of 2012, to a dismal current price of $443.66/share. Sure, the company's profit margins and sales have been declining steadily over the last few months, but is that vindication for the precipitous decline? One of the biggest investment banks on Wall Street, Goldman Sachs (GS), has been quoted saying that they think Apple is the most undervalued stock they cover. Goldman Sachs' research department has put out a list with the top 40 most undervalued companies compared to its analysts' price targets; Apple was the unanimous winner.
A decade ago, Apple cornered the markets in small hard drives and then solid-state storage to build its iPod, and then iPod nano, and dominate the music player market. Now it uses its growing cash pile to hire factories and production well ahead of time - locking rivals out. "HTC has a real scale problem," says Evans, the Enders analyst. "It's a problem that Nokia is starting to face as well. It's a problem of the reach and power that Apple and Samsung can bring to the market."
Analysts argue that Apple needs to do something radical too to catch the growth in emerging markets as the west becomes saturated. A low-cost iPhone is widely expected. That could consolidate the Apple-Samsung duopoly more firmly. Although many believe that Apple is just coasting on the aftershock of Steve Jobs' successes, the aforementioned statistics clearly show that Apple still has a considerable market share and remains one of the smartphone leaders. With these numbers, and analyst proclamations that Apple is undervalued, I strongly believe it is a stock you should consider and definitely keep an eye on in the succeeding months.
Disclosure: I have no positions in any stocks mentioned, and no plans to initiate any positions within the next 72 hours. I wrote this article myself, and it expresses my own opinions. I am not receiving compensation for it (other than from Seeking Alpha). I have no business relationship with any company whose stock is mentioned in this article.