Real-time Monetary Inflation (per annum): 7.8%
Among the categories of commodities traded on the world's bourses is one that sounds quite, well, exotic. In fact, that's the sometime-moniker for the group of goods otherwise known as soft commodities, or "softs," for short.
Among the softs are cocoa, coffee, orange juice and cotton.
July cotton finished Monday with a near-term high close of 53.07 cents a pound, planting a milepost in a 10-cent ascent from its March lows. The 53-cent level represents strong resistance, after attempts to close above it failed earlier this year.
After a climb like that, you might think the market would take a pause to catch its breath before deciding where to go. After all, the rally was hardly punctuated by setbacks.
The future direction of July cotton could well be foretold by its past. Over the past 10- and 20-year periods, the contract has exhibited a strong tendency for bull moves in the first two weeks of May. Based upon these trends, there's a possibility of an up move equal to the rally we've just seen. If cotton trades to its trend line, the milepost just planted by the market marks only a halfway point.
ICE/NYBOT Cotton (July '09)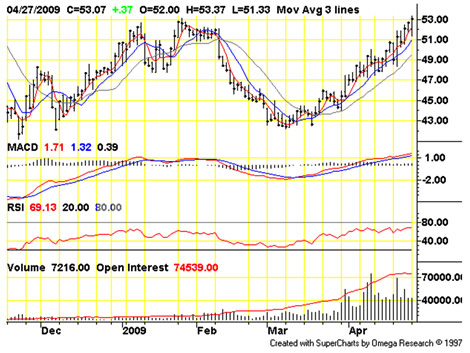 The strength of the cotton market is mirrored in the value of the iPath Dow Jones-AIG Cotton ETN (NYSE Arca: BAL), which closed up 40 cents to $25.92 Monday.
Since bottoming in early March, the lightly traded exchange-traded note has gained 26.8%. A repeat from here of that gain may seem pretty inviting, but the "lightly traded" part ofttimes scares traders. Barely 3,580 of the notes, on average, change hands daily.
iPath DJ-AIG Cotton ETN (BAL)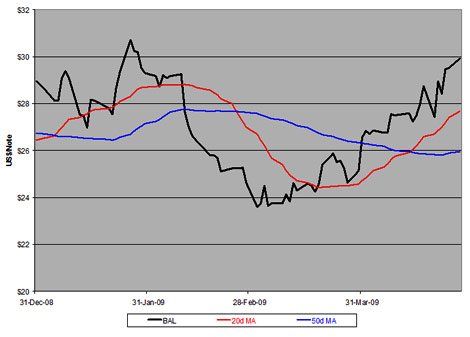 That shouldn't deter a thoughtful investor, though. At last look, the note's bid/ask spread was 8 cents, or 0.26% wide. For a thinly traded issue, that's actually not bad at all. Based upon current trading patterns, you'd have to throw a 1,993-note order at the market maker to widen the spread a percentage point.
Just to be careful, though ... use a limit order.