By: Brendan Gilmartin, VP Research & Content
Goldman Sachs (NYSE:GS) is scheduled to report 1Q2013 earnings before the opening bell on Tuesday, April 16. The firm indicated it would provide a press release at 7:30 a.m. EST and follow with a conference call at 9:30 a.m. Please note that, in past reporting periods, Goldman Sachs reported earnings approximately 15 minutes ahead of the scheduled release time. Goldman's results also have the potential to impact the financial sector as well as the broader market gauges, particularly the index futures, given the investment bank's influence.

Outliers & Strategy
Earnings Per Share. The current Street estimate is $3.84 (up from $3.48 about 90 days earlier; Range: $3.12 - $4.27) (Source: Yahoo! Finance).
Revenues are seen coming in at $9.60 bln, a decline of nearly 3.5% y/y.
At a recent $149.07, Goldman Sachs shares are up nearly 30% since mid-December, and trades at 10.5x trailing profits and only a slight premium to book value of $144.67 (as of 12/31/2013). Given the recent run-up, the sell-side has become more concerned over valuation.
Keep an eye on the following as sympathy plays: Morgan Stanley (NYSE:MS) (reports earnings on Thursday, 04/19), Jefferies (JEF), Lazard (NYSE:LAZ), and Barclay's (NYSE:BCS).
The average price move off earnings in Goldman Sachs shares is 3.2%. The April options are currently factoring in a 1-day price change of 2.8%.
Last quarter, Goldman Sachs delivered EPS of $5.66 per share for the 4Q period, handily topping the consensus of $3.66, triggering a 4% increase in the share price. Expectations are slightly more elevated in advance of today's release.
Recent News
04/02: Bank of America/Merrill Lynch lowered its rating on Goldman Sachs from Buy to Neutral, citing limited upside, according to a post on StreetInsider.com. The firm cited valuation and limited upside at current levels.
04/08: Sandler O'Neill lowered its 1Q EPS figure on Goldman Sachs from $4.18 to $4.00 (consensus is $3.84), according to Barron's Online. Among the factors, the firm cited a decline in fixed-income, currencies and commodities (FICC) trading-revenue.
Technical Review
Goldman Sachs shares are rallying sharply ahead of the 1Q earnings release and now trade within earshot of the 52-week high of $159.00 established back on February 19. There are concerns that valuation is a bit stretched at these levels and should Goldman fail to surprise to the upside, there is downside risk to $145.00, followed by the recent low near $140.00. Near-term, the shares face resistance at the $150.00-level in the event of an upside surprise, nearly coinciding with the 50-Day SMA, before it's making a run back toward the aforementioned high near $159.00. (Chart courtesy of StockCharts.com)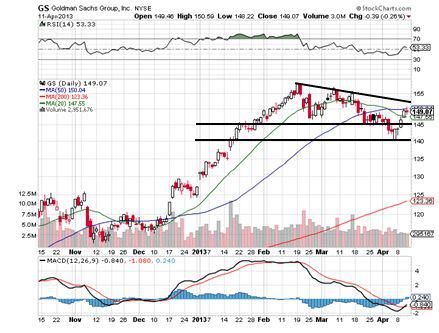 Summary
Goldman Sachs shares have been rallying in recent weeks, thanks to an improving economic backdrop in North America and a pickup in investment banking activity. Improving expense controls and a diminished competitive threat also bode well for Goldman. But in the wake of the recent run-up, the sell-side community has expressed renewed concerns over valuation, while Sandler O'Neill recently cut its 1Q numbers due to projected weakness in FICC trading. With that said, the market is pricing in fairly high expectations. Anything less than a solid beat on earnings and revenues could therefore be seen as a disappointment this Tuesday.
DISCLAIMER: By using this report, you acknowledge that Selerity, Inc. is in no way liable for losses or gains arising out of commentary, analysis, and or data in this report. Your investment decisions and recommendations are made entirely at your discretion. Selerity does not own securities in companies that they write about, is not an investment adviser, and the content contained herein is not an endorsement to buy or sell any securities. No content published as part of this report constitutes a recommendation that any particular investment, security, portfolio of securities, transaction or investment strategy is suitable for any specific person.
Disclosure: I have no positions in any stocks mentioned, and no plans to initiate any positions within the next 72 hours. I wrote this article myself, and it expresses my own opinions. I am not receiving compensation for it (other than from Seeking Alpha). I have no business relationship with any company whose stock is mentioned in this article.