The range of consumer choice for accessing music digitally has gained significant ground in recent years. As music subscriptions continue to advance steadily, new social network and sharing functions have been added to expand offerings to increasing droves of socially connected audiences. A new generation of smartphones and applications has made streaming services more available across different devices and has helped boost the popularity of music downloads in key markets. New commercial partnerships are taking shape between music companies, Internet service providers (ISPs) and mobile operators and the first services have emerged that enable consumers to access music from digital lockers or through home media devices, such as TVs.
The digital music streaming market is evolving and there is still plenty of room for growth worldwide. For the first time ever, digital sales are now growing faster than the loss in physical sales, which will lead to profitable businesses going forward.
Notable companies such as Pandora and Spotify have been able to provide an ad-based freemium model (with options to upgrade, removing ads and unlocking premium features) that has been able to pay artists' royalties for using their music while still providing the same level of digital access many online music seekers are accustomed to circa the old days of Napster (illegal unlimited music).
Consumers are embracing digital media, using new devices and changing the way they access entertainment across the board. In response, music companies have reinvented the way they do business, innovating with business models and licensing a wide range of music provider services.
According to a July 2012 report at Music Industry Blog, the site of former Forrester analyst Mark Mulligan, nearly a third of consumers in 25 countries around the world now use a music streaming service (see graphic below). This number will continue to see increasing usership in the years to come. Music streaming platforms are becoming a mainstream business model that represents the future of digital music.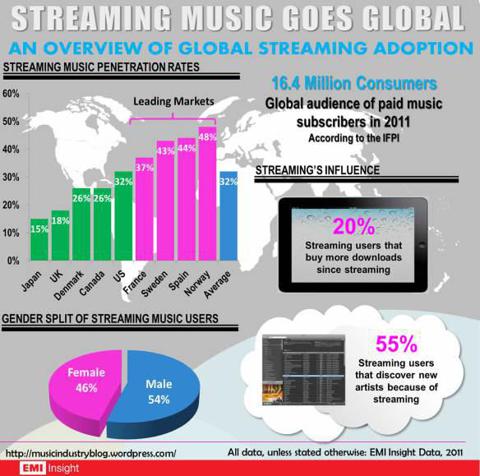 Source: musicindustryblog
Some numbers
Global recorded music industry revenues rose by an estimated 0.3 percent to $16.5 billion in 2012, the first year of industry growth since 1999. Digital revenues saw accelerating growth for the second year running, up 9 percent, with most major digital revenue streams - downloads, subscription and advertising-supported - on the rise.
The digital music business is globalizing fast, as smartphones and new licensed services span new and emerging markets. In January 2011, the major international download and subscription services were present in 23 markets. Today, they are in more than 100.
Digital revenues increased by an estimated 9 percent to $5.6 billion in 2012, now accounting for around 34 percent of global industry revenues.
The number of people paying to use subscription services leapt 44 percent in 2012 to 20 million. Subscription revenues are expected to account for more than 10 percent of digital revenues for the first time in 2012.
"Streaming music services such as Spotify and Pandora will be the key growth drivers over the next five years as usage and spending grow rapidly," Ed Barton, director of digital media at Strategy Analytics, said last year. "The industry will be hoping that digital can rebuild the U.S. music market to something approaching its former stature."
What choices do investors have if they want to allocate money into the digital streaming business?
Unfortunately Spotify has yet to announce plans of heading to a stock exchange. In July 2011 the company, began offering it services in the U.S. Despite the fact that shares are not publicly traded investors have a chance to participate by investing in U.S.-listed company GSV Capital Corp. (NASDAQ:GSVC). This business development company invests in emerging, high growth private companies and has also a small position in Spotify. The current stock price of $7.88 doesn't reflect the underlying value of their portfolio. As of the end of 2012 the net asset value was $13.07.
However, there are plenty of other viable opportunities available.
Pandora
Pandora Radio (NYSE:P), based in Oakland, California, operates as an Internet radio company available in the United States, Australia, and New Zealand. The company offers a range of display, audio and video advertising products across multiple platforms. Its advertising products allow advertisers to target and connect with listeners based on attributes, including age, gender, geo-targeting, and highly customizable music preferences.
Yesterday the company announced that it reached a milestone of 200 million registered users in the U.S. The popular personalized radio service had its first user register in the summer of 2005 and announced 100 million registered users in July of 2011, six years after the launch of the service. Pandora reached the 200 million registered user mark less than two years later.
I think Pandora will eventually go global in a few years. The major hurdle is licensing. The company operates in the U.S. under statutory license provided through the government. That same license doesn't exist anywhere else. The company needs a central license because it's otherwise impossible to manage direct licensing deals with the over 80,000 artists in Pandora.
Pandora is now trying to convert users of its free ad-supported radio services into subscribers. More subscribers will ultimately lead to profit. This year will be crucial and we will see profit going into Q3.
Microsoft
Last year October Microsoft (NASDAQ:MSFT) arrived with a new service, called Xbox Music. It puts Microsoft in the ranks of Spotify, Pandora, and other ad-based music streaming companies. It will also give Microsoft a selling point over Apple, which dominates sales of downloaded music but has yet to offer free streaming.
Xbox Music is expected to supplant Microsoft's Zune music service, which shares the name of the ill-starred portable music players Microsoft stopped selling in 2011. Besides hardware running the new operating systems, the service will be available on Xbox 360 videogame consoles and mobile devices running Windows Phone 8.
The service gives subscribers - at a price of $9.99 a month - the ability to download or stream songs on an ad-free basis. Microsoft, which styles Xbox Music as the first "all-in-one" music service, also will include an online store for downloads, the ability to synchronize playlists across devices and artist-based online radio stations, a feature made popular by Pandora.
It's not a first for Microsoft to offer new services that only work with new operating systems. But linking Xbox Music to Windows 8 and Windows RT does limit its immediate reach.
Microsoft's Zune service was compatible with computers running Windows XP, Windows 7, Windows Phone 7, Xbox 360, as well as Microsoft software released more than a decade ago.
Microsoft said it plans to offer software that will connect Android and Apple devices to its Xbox Music. Any unique selling point over Apple may not last long.
In many ways the foundation of the potential success of Xbox Music is built on the fact that music has long permeated the Xbox experience. The availability of the Xbox Live service across all devices is another way the Xbox brand will be successful in the digital streaming business.
Apple
Apple's (NASDAQ:AAPL) music streaming service iRadio may finally debut this quarter.
An Apple spokesman said the company offers more than 26 million songs on its service and has tallied north of 400 million registered iTunes accounts.
Apple may soon strike deals with two of the major record labels that would allow them to launch a Pandora-like radio service by this summer. While Apple seems to have made a deal that has it paying the labels less on a per-stream basis than Pandora, Apple's deal also includes new ways of generating revenue, according to Paul Sloan of CNET.
That includes a quick way for consumers to buy a song they hear, potentially boosting download sales from iTunes, as well as a revenue share of new audio ads Apple is planning to add to the free service, according to sources.
Warner Music and Universal Music Group are apparently very close to agreements with Apple, though the music publishers and Sony Music Group still need to sign up. Apple wants to have all deals in place for a launch this summer, which may coincide with an announcement at WWDC in June, or even the supposed August launch of the iPhone 5S.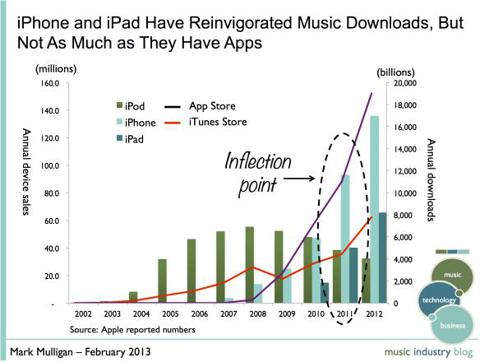 In February Apple announced that it had reached the milestone of 25 billion songs sold. Of course these are downloads. Downloads are just one part of Apple's business, and not a hugely important one at that. Apple sells downloads to improve its device proposition.
Time will tell if iRadio will also become so successful for Apple.
Final Note
The future growth in the music industry is coming from streaming services. Looking back, 2012 was the year that streaming really garnered a loyal mainstream fan base.
Streaming services are becoming the new standard and the big winners in this space are going to be the companies mentioned in this article. With the proliferation of innovative services such as Spotify, Pandora and Microsoft, we now have access to more music than ever before. Apple's entry in some months could bring even more fuel to the growth of the digital streaming music business.
One of the most elemental factors of streaming services is the shift in public attitudes and behavior when it comes to the consumption of music. Access is the only scalable model for the music industry. Offering users an attractive value proposition or a rich experience will lead the digital streaming business going forward.
Making money off music streaming is difficult. Pandora, which relies mainly on advertising for revenue had to cap free mobile listening at 40 hours per month. Other music services are now urging lawmakers in the U.S. Congress to pass the "Internet Radio Fairness Act," which would set royalty rates for subscription music services using the same standard that has so far been applied to other forms of radio. The issue of how recording labels and musicians will be paid is one of the biggest roadblocks to growth.
Despite that investors have to pay close attention and can still jump on the bandwagon in an industry that just started to get embraced.
Disclosure: I am long GSVC. I wrote this article myself, and it expresses my own opinions. I am not receiving compensation for it (other than from Seeking Alpha). I have no business relationship with any company whose stock is mentioned in this article.