In recent days a sense of complacency has no doubt set in, as government bond yields and CDS on euro area sovereign debt all fell in concert, quite likely in reaction to ever more insistent rumors that yield-starved and now thoroughly Kurodaized Japanese investors would flood into euro area bonds. Japanese investors are quite possibly crazy enough to do that, so it is not an idea one should dismiss out of hand. If an opportunity to lose gobs of money presents itself, they are often eager to grab it (for instance, sentimentrader runs a chart that watches the profits and losses incurred by Japanese margin traders: the rule of thumb is that whenever these guys have a profit, it is time to run for the hills. Continual losses of varying size are the normal state of affairs for them).
At the moment it seems however more likely that these market moves primarily represent front-running, as various investment committees in Japan likely haven't yet convened to discuss the optimal ways of losing money in the Kuroda era.
So we are basically witnessing the financial market equivalent of quantum entanglement, which Einstein termed "spooky action at a distance."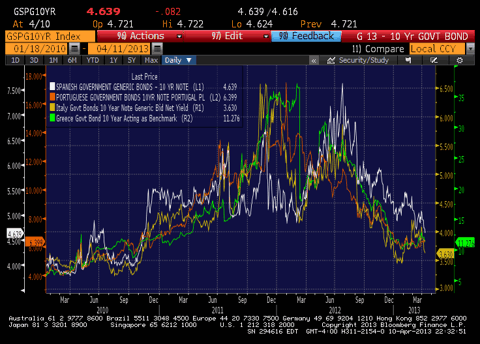 10 year government bond yields of Portugal, Italy, Greece and Spain.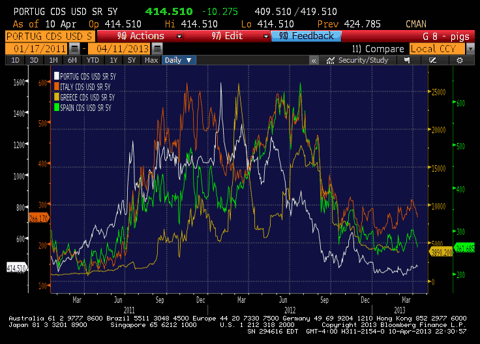 Five-year credit default swaps on the same quartet. Only Portugal's are a tad more reluctant to decline after the constitutional court struck down a large part of the government's spending cuts.
Changing Repayment Schedules
Another reason why euro-land debt may have been supported were reports that the Troika is now mulling whether to lengthen the terms of the bailout loans to various of its wards.
As Reuters reports:
"Ireland and Portugal should get seven more years to repay loans from the European Union to facilitate their return to full market financing, according to a recommendation from international lenders to EU policy-makers.

Such a move, if accepted, would mark a significant concession to Ireland, helping to seal its return to normal borrowing on markets, as well as offering a significant boost to Portugal as it struggles to push through spending cuts. Ireland and Portugal got emergency loans from the European Union in 2010 and 2011 respectively after investors refused to lend to them at sustainable prices.

The average maturity of EU loans to Ireland is 12.5 years and to Portugal between 12.5 and 14.7 years depending on which EU fund provided the money. Ireland is to return to full market financing late this year and Portugal in 2014. By extending the maturity, the payments are spread over a longer time, reducing the burden on the countries.

But Ireland will need to roll over around 20 billion euros per year in 2016-2020 while Portugal will need the same amount per year between 2015 and 2021, a paper prepared for junior EU finance ministers and central bankers said. The paper, seen by Reuters, was drafted by representatives of the European Central Bank, the European Commission, the International Monetary Fund, called the Troika, and the European Financial Stability Facility (EFSF). It will be presented to European Union ministers who meet in Dublin on Friday and Saturday to discuss the extensions. Because the meeting is described as informal, the ministers are likely to give only political support for the extensions for both countries with a formal decision to follow only next month.

But while Ireland is likely to get full support, the backing for more time for Portugal is likely to be made conditional on Lisbon finding new measures to fill a 1.3 billion euro gap in the 2013 budget following a ruling by Portugal's constitutional court that some of the earlier planned steps were illegal."
(emphasis added)
It should be noted here that while Ireland and Portugal have largely disappeared from the news, their economies remain utter disaster zones. In Ireland in particular there is a staggering backlog of future foreclosures. It matters little whether they do or do not happen, someone will end up eating huge losses.
Dominoes Lining Up: Slovenia Remains in the Crosshairs
The OECD let it be known that "Slovenia may need to do more to shore up its banks." You think? Reportedly 25% to 30% of the loans held by the biggest banks are duds (with the state-owned ones at the upper end of the range).
"The cost of fixing Slovenia's banking sector could be significantly higher than estimated, the Organization for Economic Cooperation and Development said Tuesday, even as the country's government reiterated that it wouldn't need external assistance.

Slovenia's government may exceed its estimate of the €1 billion ($1.30 billion) needed to boost the capital of the country's ailing banks because it has based its cost estimates on a "most likely already outdated" analysis, said the OECD, a Paris-based think tank.

The banking sector's troubles have raised fears that Slovenia may become another candidate for an international bailout. International bond markets have priced the country's debt at levels above that of Spain and other struggling eurozone countries.

"The authorities evaluate recapitalization needs at up to 3% of GDP (€1 billion)," the OECD said in its latest report on Slovenia. "Yet, capital needs are uncertain and could in fact be significantly higher." Some analysts have recently put the total capital needs for Slovenian banks at between €3 and €4 billion.

Slovenia's caretaker prime minister, Alenka Bratusek, said after the report's release that the country had no plans to seek an international bailout. The country will do "everything in (its) power" to solve its financial problems without requesting assistance from the euro zone, Ms. Bratusek said at a joint press conference with European Commission president José Manuel Barroso.

Mr. Barroso said that there was no indication Slovenia would request international aid, saying it was "abusive" to compare it to the latest euro-zone bailout country, Cyprus. Ms. Bratusek stressed that her country is nothing like Cyprus, despite both countries suffering from ailing bank sectors. "We are not a tax haven," she said, referring to a common criticism leveled at Cyprus.

Carefree lending by government-owned lenders during boom times before 2008 left the country's biggest banks with weak balance sheets. Three state-owned Slovenian banks, which together account for about two-thirds of the country's banking sector, are saddled with large amounts of nonperforming loans. This has added pressure to Slovenia's economy, which shrank 2.3% last year."
(emphasis added)
Let's summarize this: Slovenia uses outdated estimates for its bank recapitalization needs, which may in reality be up to four times higher. It is clear that if these estimates are correct, there is no way the country can swing this on its own. If anyone dares compare Slovenia to Cyprus, he is "abusive." We wonder what they think about this statement in Cyprus? And besides, everything must be alright, because Slovenia is "no tax haven."
Our own guess is that it is true that Slovenia is not Cyprus. It was also true that Cyprus was not Greece, Greece was not Portugal and Portugal was not Ireland. A bit further below we wanted to point out that France is not Spain, but perhaps we should get that one out of the way right away.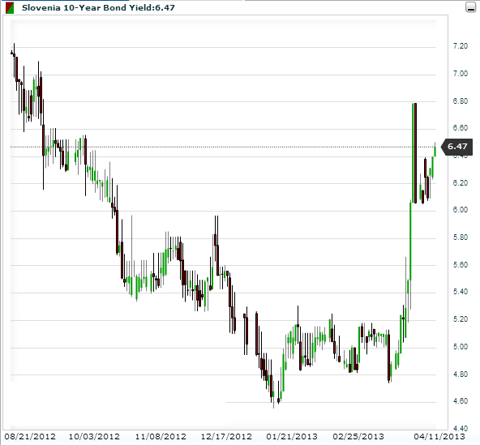 Slovenia meanwhile is trying to avoid having to apply for a bailout with creative moves designed to calm the evidently upset markets. These are a variation on the well-known three card Monte played in the euro area between governments, banks and the central bank.
"Slovenia, struggling to avoid following Cyprus into a bailout, announced plans on Thursday for the early rollover of debt maturing in June, a move that could calm markets and thwart a squeeze on its finances.

But in a decision that underscored concern over the three-week-old government's commitment to reforms, parliament postponed a vote on a "golden rule" seen as a condition if the nation of 2 million people wants to seek aid from its eurozone partners. Criticized in reports from international institutions this week and facing investor frustration over unclear plans to clean up its banks and cut its budget deficit, Slovenia has watched its borrowing costs jump since Cyprus' messy rescue.

[…]

"The Finance Ministry said it would try to refinance the debt early with an auction of around 500 million euros worth of 18-month treasury bills on April 17. At the same time, it said it would offer to buy back 855 million euros in June 6 bills at 99.525 percent of their face value.

Analysts said the operation - probably agreed ahead of time with Slovenia's mostly state-owned banking sector - could give the markets more time to calm down following Cyprus' rescue. "The government seems to be trying to roll over the debt prematurely so as to postpone the need for a bond issue until autumn," said Andraz Grahek of corporate finance advisers Capital Genetics. "I expect the issue will succeed but it will be mostly domestic banks that will purchase it while the interest rate is likely to be higher."
(emphasis added)
So Slovenia's government has trouble refinancing its debt because everybody knows the banks it owns to a large extent are insolvent and will require a bailout. The solution to this problem is to let the insolvent banks buy the government's bonds (and presumably subsequently pawn them off to the ECB). Europe is positively brimming with financial alchemy these days.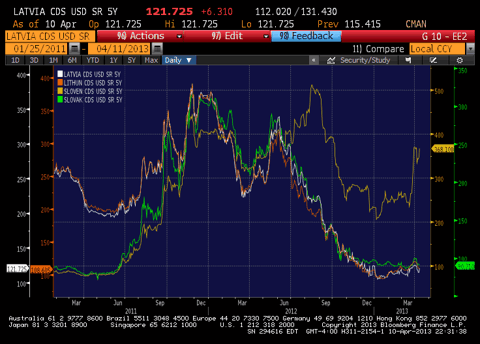 5 year CDS on the sovereign debt of Slovenia, Slovakia, Latvia and Lithuania. The markets apparently don't quite trust the latest Slovenian financial maneuvers just yet.
France and Italy Might Become a Problem …
It seems to be dawning on the eurocrats that not all is well in Italy and France. A recent report bemoans the sorry state of their economies. Olli Rehn is eying France specifically with some apprehension:
"The struggling economies of France and Italy are out of step with better-performing countries like Germany, raising the prospect of more trouble for the eurozone, the European Union's top economics official warned Wednesday. France and Italy are among the nations in the beleaguered bloc that need to accelerate the policy changes needed to improve their competitiveness and help the eurozone exit a lingering economic crisis, said Olli Rehn, the European commissioner for economic and monetary affairs.

[…]

A failure to address the problems in France could be particularly serious for the well-being of the common currency, Mr. Rehn said during a presentation of an annual report comparing the health and competitiveness of a number of Europe's national economies.

"France is, in terms of its size and geo-economic position, a very significant member of the euro zone and its health has a very direct impact on the overall health of the euro zone," Mr. Rehn said."
(emphasis added)
Well, duh. Maybe France should move from socialism to free market capitalism. That might actually help. However, as Charles Gave has recently pointed out, it looks very likely at present that the policies implemented by France's current leadership will lead to a deep recession. In his article Mr. Gave echoes what we have been saying here for a long time:
"In simple terms the fellows managing France's economy have organized a system such that the public sector can continually pillage the private sector. This institutionalized method of stealth robbery has created a self-reinforcing cycle of economic decay such that lower corporate profits feed into reduced private investment, and so on to lower economic growth, resulting in rising unemployment levels.

At its core, France's economic malaise is a failure of public morality. The public sector elites not only detest the private sector, but they also believe that it is a higher calling to steal money from entrepreneurs and give it to civil servants. Suffice to say this moral bankruptcy of the body politic means the situation is intractable- when the population is bombarded with propaganda that wealth creation is somehow dirty, while it is morally permissible for the state to expropriate all private gains, it will be hard to build an environment for economic growth.

The fact is that elites in France are convinced that communist technocracy is a superior system to capitalism, and this belief has been accepted by a large part of the population."
(emphasis added)
That is exactly the main problem. However, it won't help telling Hollande or Mountebank this. They are highly unlikely to change their stripes.
To be sure, France still enjoys the confidence of bond market traders. But which country apart from Slovenia doesn't at the moment?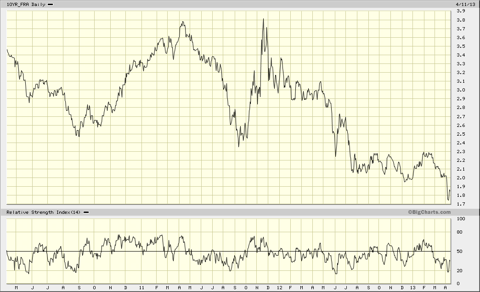 France, 10 year government bond yield: just a little off a 270 year low.
We suspect the time is yet to come when markets will become a tad more suspicious. It will probably get interesting once it it becomes clear by how much exactly the French government will miss its deficit target.
Conclusion:
Apart from the recent upheaval in Slovenian debt (a country that is so small that it cannot possibly upset the apple cart regardless of what happens), the eerie calm in the euro area continues, while economic fundamentals keep crumbling. Most recently the expected flows of funds out of Japan are lending additional support - in what is so to speak a prospective case of two drunks propping each other up.
We don't know for how long this will continue, but we strongly doubt that the crisis is truly over. Eventually market perceptions are bound to shift again.