The duopolistic smartphone industry is currently dominated by Samsung (OTC:SSNLF) and Apple (NASDAQ:AAPL). However, there have been numerous articles written recently about the rebound potential of out-of-favor mobile players such as BlackBerry (BBRY) and Nokia (NYSE:NOK). There is another mobile phone manufacturer that deserves a second look and that's HTC (OTC:HTCKF). In fact, HTC may very well be the best speculative play in the mobile space out of the three smaller competitors. The main reason is that HTC is OS platform neutral (the company manufactures both Android and Windows phones).
Platform Neutral: Why fight the trend? Android and iOS are the two dominating platforms in the smartphone industry. Windows is trying to break in as the third viable option, and BlackBerry's Z10 is an OS that probably will only remain relevant to the dwindling BlackBerry loyalists/subscribers. Given that HTC manufactures phones for both Android and Windows, it is well positioned to benefit from the stability and size of the existing dominant Android platform, as well as from the potential upside of the new Windows platform.
Valuation Comparison: Let's compare the valuation of HTC, RIMM and NOK side by side.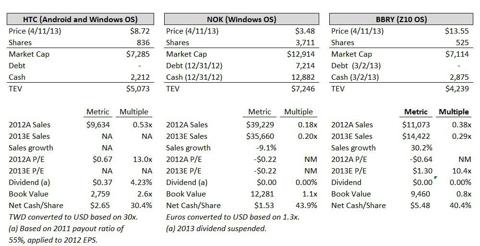 As you can see, all three stocks trade at a fraction of 2012A TEV/sales, with HTC at 0.53x, NOK at 0.18x (note that NOK has 80% of their sales coming from non-handset businesses like Nokia Siemens) and BBRY at 0.38x. On a 2012A P/E basis, only HTC actually made money in 2012 and therefore has a positive P/E multiple of 13.0x. For dividend yield, HTC has yet to announce current dividend payments (it announces once a year in July), but in 2011, 2010 and 2009 it paid out 56%, 81% and 92% of EPS. Assuming for 2012, if we assume they pay out 55% of EPS, it would imply a 4.2% dividend yield. Note however, HTC could also suspend dividend payments going forward, similar to Nokia. Finally, note that all three companies have net cash positions (before potential overseas tax), ranging from 30% to 44% of their market capitalization (Apple has approximately 33% net cash before tax, click here for more details).
Income Statement Comparison: Let's now compare the income statements of the three companies.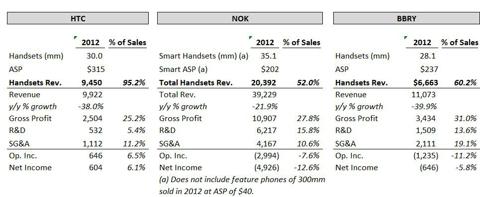 In terms of percent of sales coming from handsets, HTC has 95%, while BBRY has 60% (service revenue comprise the remaining 40%) and NOK has 52% (Nokia Siemens and Navteq comprise the remaining 48%). All three have had significant revenue declines in 2012, ranging from 22% to 40% (note that Nokia's overall sales declined 22%, but handset sales declined 34% and smartphone sales declined 50%. Click here for more details). In terms of handset units sold in 2012, HTC sold 30mm units, NOK sold 35.1mm smartphone units (does not include 300mm features phones sold) and BBRY sold 28.1mm units. HTC leads ASP (average selling price) among the three, with $315 per handset compared to $202 and $237.
Gross margins for the three companies range around 25-30% (compared to 45-55% for Apple and Samsung smartphones, click here for more gross margin details).
Finally, for net margins, HTC ended 2012 with 6% net margins, while RIMM and NOK lost money. One of the main reasons HTC was able to still turn a profit it because its R&D as % of sales is significantly less than RIMM and NOK, with HTC spending just 5% on R&D compared to 16% and 14%. This is again because HTC is a manufacturer first, and has no desire to attempt to build its own operating system (Nokia had its own Symbian OS before switching to Windows and RIMM has its own Z10 OS). This does not mean that HTC does not innovate, as we will discuss further below, HTC differentiates its products through add layers on top of the Android platform, such as the BlinkFeed in the new HTC One.
HTC Financial History: Back in 2011, HTC was the premier Android smartphone product on the market. Back then, HTC's stock was at an all-time high of 1,200 TWD per share, or approximately $40 USD per share (350% higher than current stock price).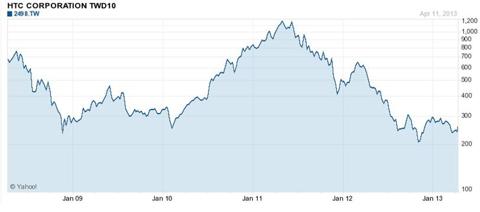 In 2011, HTC racked up $15.5 billion USD annual sales and sold 45mm units. It achieved net profits of $2 billion USD, representing a 12% net margin. EPS that year was $2.40 and dividend per share was $1.33 (which if it paid that amount at today's prices, it would represent a 16% yield). So what happened? Well, Samsung Galaxy S3 (a competing Android smartphone) was launched in May 2012 and began taking Android market share from HTC. As a result, HTC's annual handsets sold dropped from 45mm in 2011 to around 30mm in 2012, and sales dropped from $15.5 billion to $9.6 billion.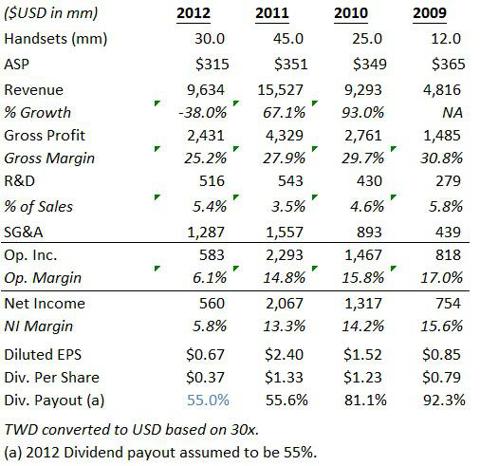 A look at the monthly sales of HTC from January 2012 - March 2013 shows the negative impact that competitor product launches has on HTC sales (as well as the positive impact when HTC launches a new product).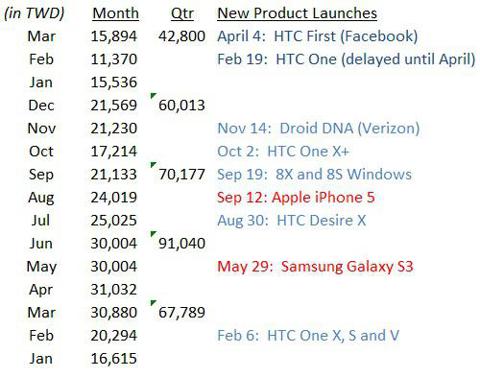 So the main question going into 2013, is how will HTC's latest HTC One do compared to Samsung's latest Galaxy S4, in terms of vying for Android market share? Let's compare the two products.
HTC One versus Samsung Galaxy S4: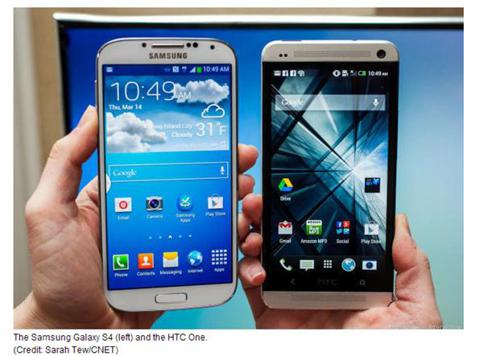 On February 19, 2013, HTC announced the new HTC One to rave reviews. The HTC One went on to win best new mobile handset, device or tablet at Mobile World Congress 2013. CNET gave the HTC One the following strong review:
That said, I can easily say the HTC One is the fastest, most beautiful phone I've ever used. It should be at or near the top of the list for anyone looking for a phone on Sprint, T-Mobile, or AT&T -- where it will be going head-to-head with the Samsung Galaxy S4.
Here is CNET's review of Samsung's Galaxy S4.
Although the handset's hardware isn't exceptionally beautiful and software isn't particularly inspiring, it has every essential feature and then some. Right now, the best way I can describe it is as the Gap clothing of smartphones. While you may not use or even like every item on display, it's long on basics, represents a certain high standard, and you'll be able to get it anywhere.
Obviously, you should read the full reviews of HTC and Galaxy S4, however the general summary is that HTC One is a bit more revolutionary, while the Galaxy S4 was a nice upgrade to an existing S3 product line (even less dramatic than the iPhone 5 upgrade from iPhone 4S).
Marketing Spend: One final point, HTC I believe realized through the Samsung Galaxy S3 experience in 2012 that marketing matters. As shown above, HTC's product quality is at the same level, if not better, than Samsung's products. However, Samsung did a tremendous job marketing the Galaxy S3 product last year, spending over $400 million on advertising in 2012 (remember all the TV ad commercials, including their long Super Bowl ad). Apple only spent $330 million in 2012.
Going into 2013, HTC has a new level of commitment to marketing. November 28, 2012, it brought in a new Chief Marketing Officer, Benjamin Ho. On April 5, 2013, HTC announced its integrated U.S. marketing plan for the HTC One, including the HTC BoomSound Lounge, HTC One Showroom, and HTC LIve Cinema Experience. HTC won't have the marketing budget to outspend Samsung, but its focus on more of a hands-on gorilla marketing, social marketing approach may turn out to be a very effective marketing spend.
Marketing only works well, if you also have a great product. HTC has a great product and its focus on marketing this year, hopefully will result in a strong financial rebound.
Disclosure: I am long OTC:HTCKF. I wrote this article myself, and it expresses my own opinions. I am not receiving compensation for it (other than from Seeking Alpha). I have no business relationship with any company whose stock is mentioned in this article.