I don't think enough attention is being paid to how important Google Now is for Google Inc.'s (NASDAQ:GOOG) business. It seems that the shiny new hardware of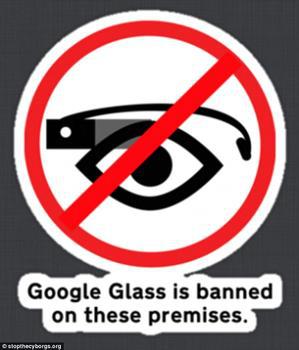 Project Glass has stolen our attention. In the following paragraphs, I hope to convince you of the importance of Google Now as a revenue driver over that of Glass.
Google's Bread and Butter
Let's not forget that practically all of Google's revenue comes from advertising. Almost every one of its seemingly disconnected moves have been to support its advertising business: The creation of Android was a prophylactic move to keep users' default internet search set to Google, among other things. And, as I outlined in more detail in a previous article, all of their free services help them learn more about you to sell more ads, etc.
Even with all that working for it, Google's baby, "search" is under attack. In a somewhat controversial article in the September 2010 issue of Wired magazine entitled, "The Web Is Dead. Long Live the Internet," Chris Anderson and Michael Wolff argue that we are leaving the Wild West of the Web, where Google search is king, and moving towards mobile and the "walled gardens" that apps provide. Recent data supports their thesis and shows a continuation of this idea. The trend may be a reason that according to a Stifel analyst, in Q1, Google saw "search spend dropping 1% Y/Y this quarter. For the past 8 quarters, the same metric has averaged up 18% Y/Y." Don't worry, though, Google is way out in front of this, releasing some of the most downloaded apps in Apple Inc.'s (NASDAQ:AAPL) App Store. However, THE killer app, and the one that will ensure their continued profitability, is Google Now.
Google Now's Power and Potential
Here's why Google Now is a big deal and a boon to Google's revenue.
People are suffering from app overload. Google Now is so useful that it can potentially replace apps for traffic, weather, sports, and maybe even Yelp (NYSE:YELP) or Foursquare.
Now is the next phase of the internet, Web 3.0, a personal assistant who learns about the user and brings the right information at the right time. Google no longer has to worry about people going to Google search; with Now, search will come to them and recommended deals, restaurants, etc. that favor Google's advertising partners. A more detailed explanation can be found here.
Google Now is currently awaiting approval for the Apple Inc.'s App store. It is also reportedly coming to Microsoft Corp.'s (NASDAQ:MSFT) Windows 8 and its own Chrome browser and OS. These are potentially huge plays in the tenuous "coopetition" that exists between the tech giants.
Google Glass is Half Empty
I admit, Glass is really cool and a perfect piece of hardware to fully accentuate Google's amazing services. But that's just it…the services can't be beat. If you watch the first concept video for Google Glass, you will notice that a big part of what makes it seem great, are features of Google Now and Google+. Anyway, as it turns out, there are plenty of other companies who have plans for similar hardware with some of the biggest players including Microsoft and Baidu, Inc. (NASDAQ:BIDU). Even Samsung Ltd. (OTC:SSNLF), who already sells eyewear, usually isn't far behind. Additionally, the commoditization of once revolutionary hardware happens too rapidly. For a recent example, remember that the iPhone was launched in 2008 and shortly became the "must have" item; however, by 2012/2013, its significantly upgraded versions have become an industry standard and just something to yawn about.
Even so, I am worried that broad adoption of Glass will not easily occur for a few main reasons:
The device is still too "science fiction" and the average person is not ready to walk around wearing one in public.
Even before it has been released, establishments are already starting to ban it and lawmakers are attempting to create laws against it.
Investment Takeaway
Don't buy Google based on the release of Google Glass! However, buy Google because of Google Now and its ability to continue and potentially expand Google core business.
I am bullish on Google in the long term, and will look to add to my position on further pullbacks. So far, though, Google's recent pullback was just to the bottom of the trend line and completely healthy (See chart below).
Future buying opportunities may occur based on a number of catalysts. Recently, Fred Hickey, noted tech stock investor, disclosed a short position in Google, citing an expected poor quarterly report. I have a feeling all the hot money that left Apple and poured in Google will throw a tantrum if this occurs…and I will gladly take their shares!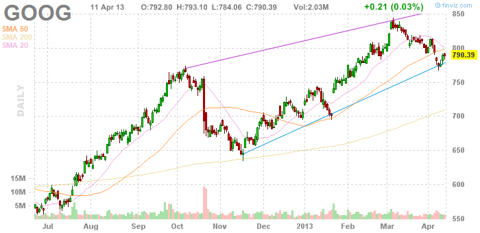 Closing Thoughts
I really believe that Google has a bright future, with driverless cars as one example of potential area of revenue growth. And, I think everyone can agree that Google has no trouble envisioning the future. However, it needs products/services that will make them money until consumers are ready for their science fiction dreams to become reality. Google Now is the real deal and a great opportunity for continued revenue growth. Approval for Apple's App Store and continued Android market share domination will ensure Google Now's success.
Disclosure: I am long GOOG, AAPL. I wrote this article myself, and it expresses my own opinions. I am not receiving compensation for it (other than from Seeking Alpha). I have no business relationship with any company whose stock is mentioned in this article.