McEwen Mining (NYSE:MUX) is a high growth gold, silver and copper mining company based out of Toronto. Rob McEwen is the CEO and largest shareholder in the company. By 2015, MUX hopes for inclusion in the S&P 500. This article will look at MUX mines and projects, then turn over to financial information and review the many risks associated with the company.
MUX has a long timeline of history. Back in 1979 Silver State Mining was incorporated and acquired the "Tonkin Springs" property 6 years later. Three years later in 1988, Silver State Mining was renamed U.S. Gold. Then, in 2005, Rob McEwen became the largest shareholder and then the CEO in the same year. In the following years U.S. Gold acquired many locations in Nevada and around the world. In 2011, a merger between Minera Andes and U.S. Gold was proposed by McEwen and carried out in January of 2012. Now MUX is in the midst of many key developments and projects.
San Jose Mine
The San Jose mine is located 20 km north of Goldcorp's Cerro Negro project in Santa Cruz Province in Argentina. MUX owns a 49% stake in the location, sharing with Hochschild Mining (HOC.L). The San Jose mine is an extremely high production mine that produced 85,700 ounces of gold and 5.9 million ounces of silver in 2012. Of this, MUX received 42,000 ounces of gold and 2.9 million ounces of silver. For 2012, the cash cost was $739 per gold equivalent ounce. 2013 forecasts include a rising share of 3 million ounces of silver and 45,000 ounces of gold. Cash costs per ounce of gold are to rise only slightly, to an average of $775 in 2013. The San Jose mine has a milling capacity of 1650 tonnes per day (tpd). Compare this to Endeavour Silver's (NYSE:EXK) largest mine, Guanacevi Mine, which can only mill 1350 tpd. Guanacevi produces 2.5 million ounces of silver and 7,800 ounces of gold, which is still less than MUX's 49% share in the San Jose Mine. Other San Jose mine facts include an 11 year mine life and 1,400 employees. Measured resources are 11 million ounces of silver and 165,000 ounces of gold.
El Gallo
The El Gallo mine is an open pit mine located in Sinola, Mexico. The mine is rather new, with its first gold pour having occurred in September 2012. Commercial production began January 1, 2013. The fourth quarter of 2012 yielded 6,500 ounces of gold and 4,500 ounces of silver with an average cash cost per ounce of gold equivalent being around $1,200. $1,200 is a very high cost and is expected to decline to around $800 an ounce per year. By year 2014, $600 an ounce is predicted. The 2014 estimate is part of Phase 2 of the mine, with a capex of $180 million. Measured resources of silver are 48 million ounces of silver and 400,000 ounces of gold. The mine is expected to last 8 years. Processing capacity is expected to be around 3,000 tpd.
Projects
The Gold Bar project is expected to be an open pit mine with construction expected in 2014. Production is to commence in the following year. In 2011, a pre-feasibility study was completed reporting the possible annual production and size of the mine. The report estimated an 8 year mine life with 50,000 ounces of gold annually. The average expected cost per ounce was around $700. The Gold Bar property is located in Eureka County, Central Nevada. The project is located 25 miles away from Barrick Gold's (NYSE:ABX) Ruby Hill mine. The Ruby Hill mine produced 41,000 ounces of gold in 2012 and is also an open pit mine. Average cash cost per ounce for ABX was $682.
The Tonkin Project, if you recall in the history lesson, was acquired by Silver State back in the 1980s. The location had proven reserves and production but had metallurgy that was too complex and expensive at the time. With current technology and gold prices MUX hopes to bring the mine back to life.
Los Azules is an Argentina exploration site. The location is a significant holder of high grade copper projects.
The resource contains 13.95 billion pounds of copper (inferred) and 4.5 billion pounds of copper (indicated). Gold resources are 680,000 ounces indicated, and 2.34 million ounces inferred. Silver resources are 18.3 million ounces indicated, and 83.8 million ounces inferred.
(source: McEwen)
A Preliminary Economic Assessment for the project is expected in the third quarter of 2013. This report will add key information to the possible profitability in Los Azules.
Customers
MUX was in an agreement with Argor-Heraeus and LS-Nikko Copper to purchase dore bars up until March 31, 2013. MUX is currently in negotiations with the two companies to earn the rest of 2013 purchases. Without the business of these two refiners, MUX will encounter difficulties in gaining revenue from mine production.
Management
Rob McEwen is the real gem in MUX. Not too many mining companies today still have the original CEO. Rob has a vision in mind for MUX and he knows what he is doing. He previously founded GoldCorp Inc. (NYSE:GG) and grew the market cap of GG from $50 million to $8 billion in thirteen years. Now the market cap for GG is $25 billion.
The rest of the Board of Directors have extensive mining experience themselves. Many held positions in GG at one point and a few are currently also CEOs of other mining companies. Dr. Leanne Baker is the CEO and Director of Sutter Gold Mining Inc. Michele Ashby is the founder of MINE, LLC., a company that promotes mining companies to the investment community.
Financials
So far, MUX looks promising. Mines are producing and projects are being explored. Here is a chart of recent costs for MUX:
Costs in thousands:
2012
2011
2010
total cost and expenses
118,206
60,185
35,783
mine construction cost
14,260
1,745
n/a
exploration costs
47,179
42,983
19,210
Total costs have been picking up in the last three years due to the increase in building and improvements at the mine and exploration locations. MUX has been investing deeply in exploration, primarily in the Los Azules location.
Cash Flow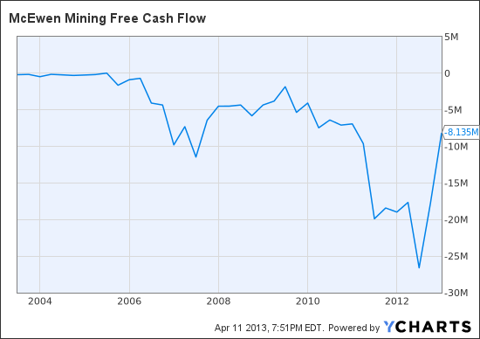 MUX Free Cash Flow data by YCharts
This chart of cash flow describes MUX's spending on its exploration and construction locations. The recent large declines are attributable to the increase in construction and exploration costs. The sharp rise in cash flow may signal better financial health for the company.
In 2011, MUX had $1.5 million in marketable securities. In 2012 MUX sold most of the securities with a remaining balance of $2,000. The securities were sold at a value less than the original fair value. This has not been the only sale in asset lately. In 2011 MUX had a total reserve of $22 million in gold and silver bullion. In 2012 most was sold and only $1.6 million remained. This is even lower than 2010 and 2009 levels of $4.5 million and $2.7 million, respectively. The majority of MUX's assets are in mineral property interests, which has tripled in the past few years to $767 million. The next largest chunk of asset is a $273 million investment in Minera Santa Cruz S.A.
MUX experienced a net loss in 2012 of $66 million. This is up from $61 million the previous year and double the loss in 2010 of $32 million. Since 1979, MUX has accumulated a deficit of $460 million. Note, MUX's market cap is $734 million. This deficit is an important aspect when looking to invest in the company.
Risks
Other than the risk of possibly never being profitable, due to the deficit, MUX has a long list of other risks. First, MUX has not reported proven and probable reserves in accordance with SEC guide 7. The only proven and probable reserves as defined in U.S. law are the 49% stake in the San Jose mine. The El Gallo mine also needs extensive additional expenses to become a profitable mine. The other problem is the Tonkin property. Much more additional expense is going to be needed to make this region profitable. There is no guarantee that the location will ever be profitable. MUX does expect to need additional financing to continue operations as mining revenue and cash will not be enough to continue. The Los Azules property is expected to cause logistical and developmental problems due to terrain. The location is only accessible by two mountain passes and eight river crossings, with only a dirt road for use.
According to the technical report prepared for Minera Andes with an effective date of December 1, 2010, capital costs were estimated to be $2.8 billion initially and $3.73 billion over the life of the mine with an accuracy target of plus or minus 35%.
(Source: McEwen)
These costs may render the site uneconomical to use.
Conclusion
MUX has many opportunities to profit with all of their properties. The San Jose Mine is a very valuable asset and the El Gallo mine is proving to become valuable too. The copper significance of Los Azules is also key. However due to the large deficit MUX is already in and the billions that will be added from construction may take all value away from the company. Success for MUX is hanging on the El Gallo mine and Los Azules property success, both of which need more financing to become profitable, if they can be profitable at all. The risks are heavy for MUX, the improvement in cash flow may signal change for the company, but outlook for production is very risky.
Disclosure: I have no positions in any stocks mentioned, and no plans to initiate any positions within the next 72 hours. I wrote this article myself, and it expresses my own opinions. I am not receiving compensation for it (other than from Seeking Alpha). I have no business relationship with any company whose stock is mentioned in this article.
Additional disclosure: Do your own research and consider all ideas. Hopefully this article will spark new idea for investors.